Top 5 Cyber Security Breaches of 2019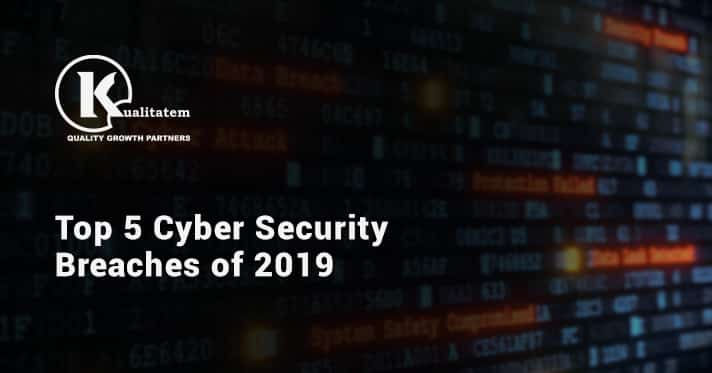 December 17, 2019
Hiba Sulaiman
Data breaches are not new in the digital sphere and companies have acknowledged the constant threat it poses for them in the future. During the first 9 months of 2019, 5183 breaches were reported that exposed a total of 7.9 billion records. As we round up the year 2019, let us recap the major cyber security incidents we have witnessed this year.
Cisco, a global leader in the IT and cyber security solutions reports that 31% of organizations have at some point have encountered cyber-attacks on their IT systems. According to security experts, the average cost of a data breach is estimated at $4million, which highlights why cyber security needs to be taken seriously. This is why businesses need to invest in cyber security testing services.
1. Social Media Profiles Data Leaked
This October, 4 billion records data was exposed and easily accessible to the public on an unsecured server. It is one of the largest data leaks from a single source in history, with almost 1.2 billion people being affected by this data leak. It contained their names, email addresses, phone numbers, LinkedIn and Facebook profile information. The ElasaticSearch server contained all the information unprotected. Users were not required to enter a password to access or download the data. This data is said to be unique because it contains data sets from two different data enrichment companies.
2. TrueDialog Data Breach
TrueDialog is an American communications company, based in Austin, TX, USA. It creates SMS solutions for small and large businesses and currently works with 900 cell phone operators around the world. The database leak compromised the data of nearly 1 billion people that contained their names, content of messages, email addresses, phone numbers, dates and times of the messages, TrueDialog account details and status indicators on messages sent.
3. Third-Party Facebook App Data Exposure
In April 2019, 2 third-party Facebook app datasets were exposed on the internet. One database was from Cultura Colectiva, a Mexico-based company and exposed more than 540 million records with details including account names, Facebook IDs, likes, comments and much more. The other third-party app called 'At the Pool' exposed their data on public internet via an Amazon $3 bucket. The database contained usernames, friends, likes, music, movies, check-ins, and much more.
4. Chinese Job Seekers MongoDB Data Breach
A cyber security expert from Hacken, Bob Diachenko found an 854 gigabyte MongoDB database that contained almost 202,730,434 records about job candidates in China. This database contained candidates' skills and work experience including their phone numbers, email addresses, marital status, driver's license information, etc., and originated from a third-party firm that collects data from different professional sites.
5. Verifications.io Data Breach
In April 2019, Diachenko and Vinny Troia, security researchers found a publicly accessible MondoDB database that contained 150 gigabytes of detailed marketing data. It was owned by the email validation company Verficiations.io and it leaked 808,539,939 records. There were three folders in the database that contained email records, email addresses with phone numbers and business leads.
Conclusion
Cyber security incidents are no longer news, in fact, it is a topic that companies are addressing due to the intensity of malicious attacks. But 2019 alone, has experienced major attacks. The total number of breaches exceeded more than 30% and the total number of records exposed up to 112%, said the Data Breach QuickView Report 2019 Q3. Let's hope this number reduces in the coming year and enterprises hire security testing companies to secure their networks and systems.