How Tech Giants are Dealing with Coronavirus?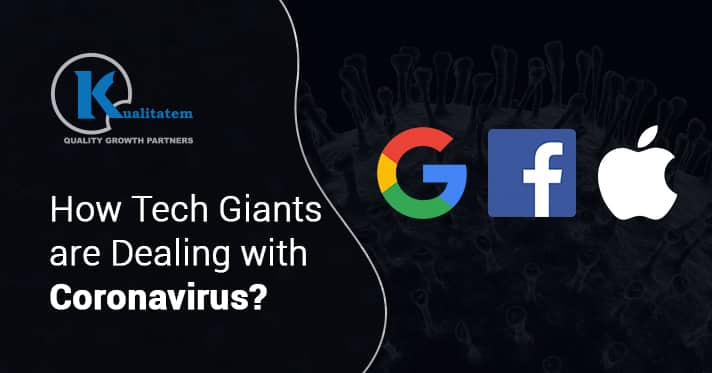 March 5, 2020
Hiba Sulaiman
The global death toll due to coronavirus outbreak has passed 3,200 with more than 95,000 people being diagnosed with the virus. The virus affected a total of 81 countries with 85% of the cases in China. According to WHO, the estimated death rate is 3.4%. The effects of the COVID-19 coronavirus have been far beyond human health. The world economy and businesses have been affected badly. Below mentioned are some of the tech giants who have suffered the most and how are they dealing with the coronavirus outbreak.
Microsoft
Microsoft is asking its employees – "who are in a job that can be done from home" – in San Francisco and Seattle area to work from home until March 25. This WFH policy came in effect after King County – where Microsoft is based – advised employers to allow workers to work remotely. It's still unclear how many employees are impacted by these guidelines. 10 of the eleven U.S. deaths related to COVID-19 occurred in Microsoft's home state of Washington, 9 of them in King County.
IBM
IBM announced on Wednesday that it is canceling its biggest event of the year, the developer conference IBM Think (which gathered more than 30,000 attendees) in wake of the COVID-19 coronavirus outbreak. Instead, it will now hold a digital event. The company is also placing restrictions on employees' domestic and international travel while also restricting them from participating in events with more than 1,000 attendees. In response to a false rumor about an IBM employee getting infected from the virus in Austin, IBM is assuring its employees that it's not true.
Apple
Apple has notified its retail store employees that the supply for replacement iPhones and individual replacement parts will be limited for the next several weeks. They are instructed to instead offer customers loaner devices or mail out replacement devices when they become available. Apple has already closed all of its 42 retail stores in China and its supply chain has been heavily hit since it's almost entirely dependent on factories in mainland China. The company also reported that it did not expect to reach its revenue goals for the quarter due to slow production and decreased demand in China. Apple has also restricted employee travel and is implementing safety measures to keep the store clean and protect workers and customers.
Google
Like IBM, Google also canceled Google Cloud Next event, which is its biggest annual conference due to the growing concern around coronavirus. The conference will instead be made digital. Last week, the company confirmed that one of its employees in Zurich's office tested positive for the coronavirus. It also restricted employees from traveling to South Korea, Japan, Iran, and Italy.
Facebook
Facebook also canceled its annual F8 conference which was scheduled to be held in San Jose in May. The company, however, plans to replace this event with locally hosted events, live-streamed content, and videos. It has also announced the cancellation of other high-profile conferences this month and pulled out of the Global Marketing Summit that is scheduled to be held on March 9. For employees, the travel restrictions are in effect and those who visited China are being asked to work from home.