AI-enabled Cyber Attacks are a Reality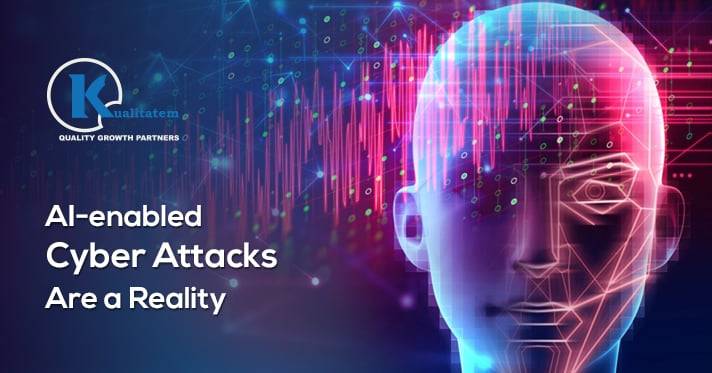 October 29, 2019
Hiba Sulaiman
The level of cyberthreats enterprises face is exponentially increasing, let alone the vulnerabilities associated with digital platforms. It is one of the most significant risks being faced by businesses globally. Over the past few years, there have been numerous digital attacks against governments and enterprises. While machine learning has played a crucial role in empowering cyber threats, there is a threat of malicious AI-powered cyberattacks causing massive damage globally. Malicious attackers not only aim at stealing data but also changing it. Artificial intelligence (AI) can be used by attackers to hack into critical systems. AI's abilities can be exploited to carry out sophisticated attack codes to learn about the environment and compromise data without possible detection. While keeping this in mind, enterprises need to look for cyber security testing services to defend their businesses against such attacks.
Sophisticated Malware & Cyber-Criminals, the Perfect Match
AI-enabled cyberattacks are not just based on a hypothetical theory. Much of what was expected from the use of AI in the future already exists. There are highly sophisticated malware and cyber-criminals that are ready to use any open-source AI-enabled projects that make sensitive data available in the public domain. On the other hand, people with AI skills are too highly paid to be involved in any criminal activity. However, AI-powered attacks are most likely to appear any time soon – which is why startups, SMEs and large organizations get cyber security testing services for their software applications.
Emotet Trojan
Machine learning tools are easy-to-use and criminals no longer need to find an expert in a certain degree to use them. The barriers to AI-breaches and attacks are lowering and so such cyberattacks are soon going to take back all industries. The Emotet Trojan is one of the most simple examples of a proptotype-AI attack. It uses a spam-phishing technique where an invoice scams users into clicking on malicious email attachments. It also has the ability to steal email data from the victims and the purpose behind this email is to send out phishing emails at large. Basically, it can insert itself into email threads, advising the victim to click on a malicious link or attachment, which is a malicious email. This is how cybercriminals use this trojan by phishing emails.
How to Protect Businesses from AI-Powered Attacks?
Almost all businesses are investing a huge amount in enhancing their cyber security. They also use AI solutions to detect and combat any threats that have a potential risk to compromise security. With the help of Defensive AI strategies, firms can make strong grounds to fight such malicious attacks. Rather than relying on security experts, enterprises now use AI to fight back against such problems.
The future of AI-enabled attacks will not rely completely on human response teams, yet they require the right blend of human intervention and AI to define all future defense strategies. When preparing defenses, hiring reliable cyber security services is important. In the digital battleground, enterprises will have to make their own choices. Since there is no quick-fix to AI-powered attacks, cyber security needs to be strengthened. Now it is time for the firms to prepare with their AI capabilities and make their way forward with this technology.