Kualitee Test Management Tool Version 3.0 Released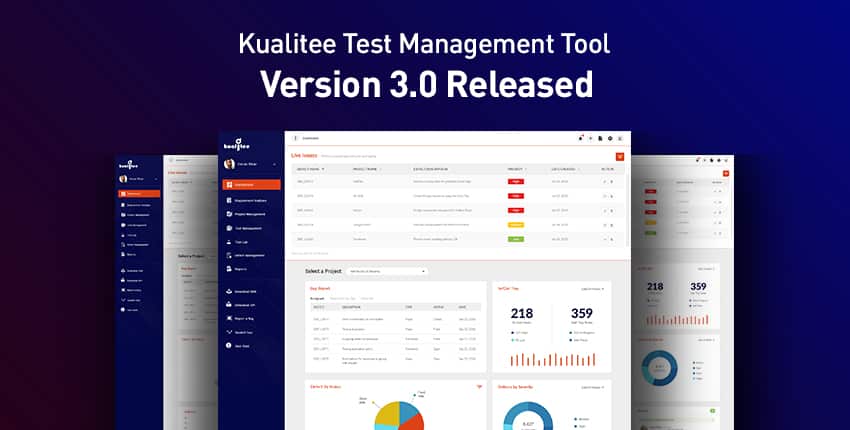 July 16, 2020
Noor Murtaza
Kualitee 3.0, the latest version of the test management tool, was launched on April 6, 2020, by Kualitatem, a Software Testing and Information Security Company, based in New York, USA. Kualitee is trusted by Fortune 500 companies as well as single tester organizations across the globe in multiple industries. The latest 3.0 version has revamped the whole look and feels towards an intuitive and user-friendly interface and improved workflows.
Kualitee enables teams to collaborate effortlessly in their test management activities through its features such as test case management and execution, defect management, and requirement planning. Users can manage both manual and automated test cycles in parallel with ease because of an intelligent workflow.
Users are now more in control of team progress through new customizable dashboards with categorization for team members and team leads. Mobile App has been incorporated with new style and elements that help you keep track of testing cycles and various metrics in real-time.
Kualitee lets teams set up and go on day one using powerful integrations with their favorite tools including Jira, Selenium. A comprehensive set of API allows integration with almost any other application.
The test management tool offers remote connectivity and access for co-located and distributed teams. Being a 360-degree solution to software testing, Kualitee 3.0 allows teams to collaboratively engage in the testing process with the ease of scalability and tracking. This not only helps the tester but also the team leads or managers to keep track of real-time progress.
Upon the launch, Jamil Goheer, CEO Kualitatem professed his enthusiasm for providing more value to the customers with the new version. He added, "We have been in constant pursuit of excellence in the field of Quality Assurance and Information Security since our inception more than a decade ago. Our clients and customers provide us with the valuable feedback that we have employed to improve the latest version of Kualitee and we thank them for it."
Furthermore, Kualitee is considered an all-in-one test management tool with ALM which is a big advantage for any company looking to boost its testing productivity. With it being a complete ALM solution, one can rely on it for easy and accessible testing processes that help team members and managers both. Kualitee is available for a free trial that requires no credit card for registration. As a tool that promises so much, it is a wonderful feat and definitely a must-try.
Contact: 
Umair Altaf, Product Marketing Manager
Email: team@kualitee.com
Website: www.kualitee.com