Kualitatem Inc. Assists Ejada Systems Company Limited To Become ISO 27001 Certified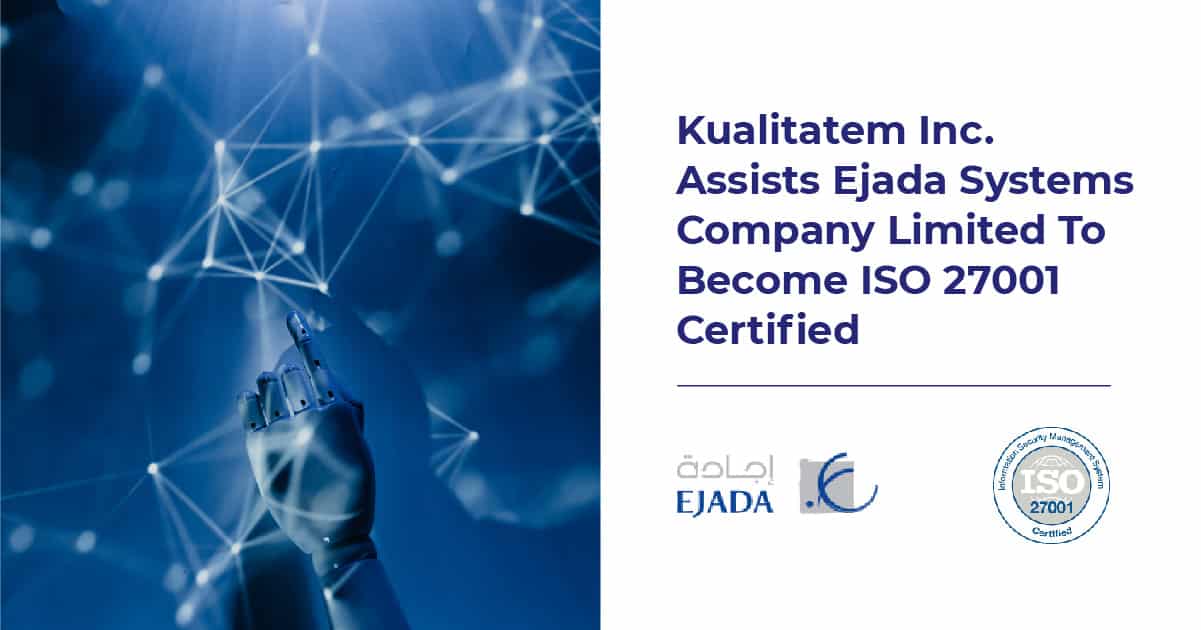 August 5, 2021
Maira Asaad
Ejada Systems Company Limited has been certified with the prestigious ISO/IEC 27001:2013 standard, the highest Information Security Management System (ISMS) certification in the world. ISO 27001:2013 is an international standard designed and formulated to help create a robust ISMS that takes a systematic approach to ensuring the confidentiality, integrity, and availability of sensitive company and customer information. 
The certification was validated following an assessment done by Moody Inspection & Assurance Ltd., an independent certification body. The certification has been issued for the development environment of Ejada software, hosted at Riyadh Data Center, and is inclusive of Ejada software development functions, in-house or outsourced. The scope also covers Data Center infrastructure and all support departments involved in service enablement and delivery.  
Kualitatem Inc. assisted Ejada in achieving the certificate in all the implementation phases of ISMS. Kualitatem Inc. worked closely with the Ejada teams and identified the gaps and challenges during implementation. The process involved identification of areas under the scope, performed gap analysis, and developed and updated Information Security policies and procedures. Other areas included identifying information assets and associated risks, and implementing third-party controls. A rigorous information security awareness and training exercise was undertaken to understand and comply with the ISO/IEC 27001:2013 standard. Later, an internal audit exercise was performed by Kualitatem Inc. to review the implementation and compliance, as well as to support the company during the external audit. 
This accreditation is a giant stride for Ejada towards achieving excellence in operations and increasing customer trust and confidence in Ejada's infrastructure and security capabilities.  
Benefits of achieving ISO/IEC 27001:2013 certificate
An internationally recognized framework that can improve an organization's information security environment.

 

A defined approach to evaluate, implement, maintain, and manage the overall information security of an organization. 

 

A method to compliment the organization's overall risk management strategy. 

 

A framework which addresses and satisfies the criteria for data protection regulations. 

 
About Ejada Systems Company Limited
Ejada is a leading IT services and solutions provider in the Middle East and North Africa, enabling enterprises and public-sector organizations to maintain their competitive edge in today's dynamic market. Ejada offers a unique value proposition, combining the competitive advantage of a locally based and culturally aware workforce of over 700 professionals, with strong strategic alliances and partnerships with leading global technology providers. Ejada has successfully delivered complex and large-scale IT projects with the highest standard of implementation, integration, consultation, and support services to over 150 enterprises in the Middle East and North Africa through a network of seven offices and various channels. 
About Kualitatem Inc.
Kualitatem Inc. is a global consulting, audit, and assurance company specializing in Information Security and Software Quality Assurance services and solutions. With offices in the USA, UAE, KSA, and Pakistan, we have worked with global enterprises, governments, and financial institutions to enhance their security and quality of IT infrastructure and software applications. Some of our prominent clients include Emirates, Emaar, Abu Dhabi Investment Authority, Abu Dhabi National Oil Company, Ministry of Health KSA, Arab National Bank, Qatar National Bank, Banque Saudi Fransi, FedEx, TedX, GE HealthCare, RGA, Magnum, Euro Sports, etc. Kualitatem is an ISO 9001:2015 and ISO 27001:2013 certified company. 
About Moody Inspection & Assurance Ltd.
Moody Inspection and Assurance Ltd is a leading provider of assessment, inspection, certification and training. MOODY is accredited by multiple international accreditation bodies around the world and is managed by highly dedicated and experienced professionals delivering high quality services to help clients meet the growing challenges of quality, safety, environmental protection, and social responsibility. Their core values are integrity and ethics, impartiality and validation, customer focus and safety at work.