Kualitatem: Finalist in N. American Software Testing Awards 2022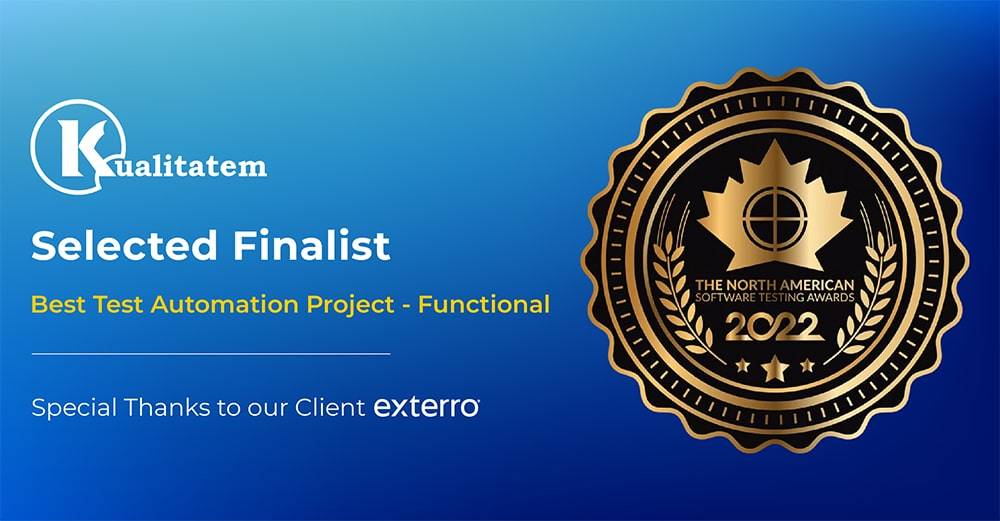 November 1, 2022
Kualitatem
Kualitatem, in partnership with Exterro, has been shortlisted as a finalist in the 'Best Test Automation Project – Functional' category, by the North American Software Testing Awards 2022.
We are honoured to have made it to the final round, after competing against established tech companies in the industry.
Our nomination is based on the following criteria:
Discussion on Project goals, importance, achievements, resources and successful results
Evidence and evaluation of overcoming project challenges/obstacles
Verification of functional requirements has been met or exceeded
Utilisation of a well-developed test suite of testing scripts
Impact of functional testing on confidence of the project and the deployment into production.
Stakeholder Involvement and KPIs
We are very glad to be recognized for our efforts in software testing!
About the North American Software Testing Awards:
The North American Software Testing Awards celebrates companies and individuals who have accomplished significant achievements when incorporating and adopting testing practices globally. This programme prides itself in being fiercely independent and rewards outstanding projects and people.
About Kualitatem:
Kualitatem Inc. is a global Consulting, Audit, and Assurance Company specializing in Information Security and Software Quality Assurance services and solutions. It is TMMi Level 4 certified in Software Testing. With offices in the USA, UAE, KSA, and Pakistan, it has worked with Global enterprises, Governments, and Financial Institutions to enhance their security and quality of IT infrastructure and software applications.
About Exterro:
Exterro is a leading provider of e-discovery and information governance software specifically designed for in-house legal, privacy and IT teams at Global 2000 and Am Law 200 organizations. Built on a simple concept of process optimization, Exterro helps organizations address their regulatory, compliance, and litigation risks more effectively and at lower costs.