Go-To Guide to Make A Balanced Mobile App Testing Strategy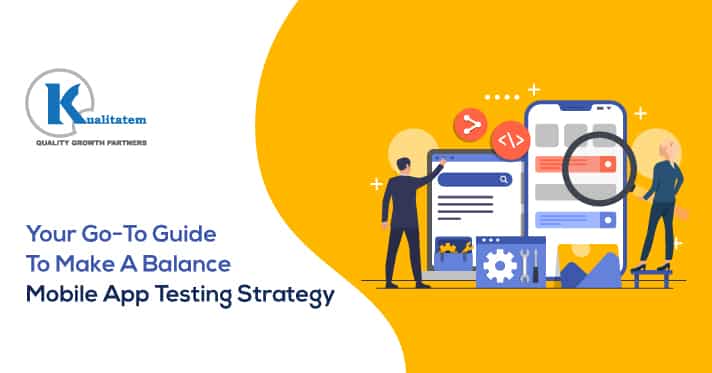 May 17, 2019
Hiba Sulaiman
Mobile apps are necessary for almost every business and companies around the world are launching their business apps every day. The importance of mobile applications is evident from the fact that from the year 2016 to 2018, 6140 apps were launched every day at the google play store. This is a huge number of making mobile apps is a whole new industry in itself. However, just like software apps, mobile apps also require excessive testing to produce expected results. Since testing is important, there are many mobile app testing companies that are offering effective testing services for mobile apps.
This blog is your ultimate guide to make a balanced mobile app testing strategy. A balanced strategy ensures that the final product meets the expected goals. Follow these guidelines and you are all good to test mobile applications like a pro.
Make the Best Device Matrix
There is a great deal of diversity in mobile devices. From the operating system to screen resolution, every mobile is different from the another. Therefore, it becomes very difficult to make an app that is compatible with all the devices. However, if we think a little smartly, this problem can be solved easily.
If we put a little effort in data analysis, we can overcome this problem easily. For example, if there are 3 major mobile companies which are producing more than 80% of the mobile devices such as Samsung, Apple, and LG; if you perform compatibility testing against mobiles of these companies then most of your job is done. For the rest of the mobile devices, you can perform smoke tests. It will give you an idea about the compatibility issues which the developers can solve later on.
Conduct Smart Test Executions
It is not practical to perform testing on all the devices. It can take a toll on your overall budget of the project. Above all, it can cost you a lot of your valuable time. Therefore, make test cases and run them on one or two primary devices and then rum smoke tests on the rest of the devices. This will highlight the obvious issues in the app which it might cause with specific devices.
Choose Between Automated and Manual Wisely
Manual testing is an appropriate choice for basic testing. However, if you have an application which requires testing against a large number of devices, then automation testing is your best shot. It is very time-consuming to perform retesting with manual testing. Therefore, it is very important that you know the nature of your project and chooses wisely.
Device Management Is Important
Device management is a bit of a challenge in mobile app testing. There are countless devices and above all, companies keep upgrading their devices every now and then. This makes it difficult for a mobile app testing company to manage the inventory of mobile devices. A reasonable approach to cater to this problem is outsourcing. You can outsource the devices to a trusted company. It will save your company a lot of resources and time.
Conclusion
Mobile applications are important and there is an increase in their demand with every passing day. The only thing which makes these devices so important is their proper functionality. In order to make sure that they function according to the expectations, mobile app testing is done. It is a critical and important step in mobile application development. Apply these strategies in your upcoming projects and see the differences for yourself.