Partners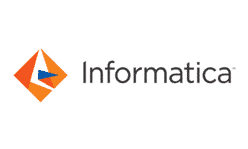 Informatica
Kualitatem has partnered with Informatica, a software development company headquartered in California, USA. Informatica pioneers in Enterprise Cloud Data Management and Data Integration. The partnership will allow Kualitatem to provide specialized Data Quality services.
---
Digital transformation changes expectations: better service, faster delivery, with less cost. Businesses must transform to stay relevant and data holds the answers.
Informatica, as the world's leader in Enterprise Cloud Data Management, we're prepared to help you intelligently lead—in any sector, category or niche. Informatica provides you with the foresight to become more agile, realize new growth opportunities or create new inventions. With 100% focus on everything data, we offer the versatility needed to succeed.
We invite you to explore all that Informatica has to offer—and unleash the power of data to drive your next intelligent disruption.
Kualitatem has partnered with Informatica in the domain of Data Quality. Data Quality refers to the overall utility of a dataset as a function of its ability to be easily processed and analysed for other uses, usually by a database, data warehouse, or data analytics system.
In every industry today, businesses that thrive on data strategy as their core methodology are leading the business scenarios. This has naturally made data quality a business-critical issue. Elaborately, if your data is going to guide your business decisions, you need to be able to trust it. This is something somewhat neglected by many business executives. The most effective business leaders today recognize the role of high-quality, trusted data in their digital transformation efforts, including critical initiatives such as:
Accelerating customer-centricity to increase customer loyalty and revenue.
Driving new productivity savings from legacy processes and systems.
Generating market-shaping insights from big data and analytics.
Improving the efficacy and reliability of AI and machine learning.
Moving workloads to the cloud to reduce TCO and improve security.
Defending the business with an intelligent security infrastructure.
These and so many more initiatives like these are dependent on the data and are thus directly related to and affected by the quality of that data.
Data Quality Dividends
Data quality pays dividends in hundreds or even thousands of ways in every large enterprise. But it can be useful to group these dividends into three big buckets.
Data quality is more than just cutting costs. It goes beyond to catapult entire business transformations including better customer experience, improved services and products, increased sales, better cross-sell and upsell, creative innovations, newer avenues, and decisive insightful information that are put to action faster and better.
Compliance Data quality also improves the way you handle regulatory compliance, whether it's about customer data regulations, healthcare recordkeeping, or anti-money laundering reporting.
Cost savings Data quality drives increased productivity, measurable time savings, and streamlined and accelerated processes that drive down costs.
Cloud Migrations and Data
Cloud migration deals with, works on, and relies on data all along. No concept of successful cloud migration can exist if the data migration is not effective and thorough, and the data quality flawed. What's more, no cloud migration can succeed if you can't access, trust, secure, and govern the data that will flow through the cloud or hybrid environment.
Kualitatem, making use of the intellectual and technological resources of Informatica, provides Data Quality solutions in divergent industries around the globe.
Informatica is the only proven Enterprise Cloud Data Management leader that accelerates data-driven digital transformation. Informatica enables companies to fuel innovation, become more agile, and realize new growth opportunities, resulting in intelligent market disruptions. Over the last 25 years, Informatica has helped more than 9,000 customers unleash the power of data. For more information visit www.informatica.com. Connect with Informatica on LinkedIn, Twitter, and Facebook.
Through this partnership, businesses, and software teams can benefit from the two industry leaders in the mobile testing space. This collaboration will help the clients to:
Test their applications on real devices.
Enable remote device access for globally distributed testing teams.
Start automated testing by executing automated scripts across without the need for code.
Do continuous testing on mobile as part of their DevOps pipeline.
Deliver a consistent user experience to all our users in their mobile first pursuit.
Accelerate their app release timelines without sacrificing quality.

Visual Testing

Scriptless Mobile Test Automation

UX/Design Testing

Performance Testing

Functional Testing

Manual and Automated Testing

Real Devices and Device Management