Top Reasons Why Healthcare Sector Needs QA Services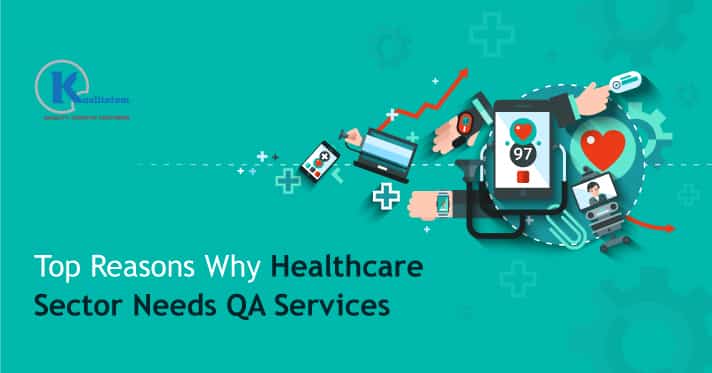 August 20, 2018
Kualitatem
Digital transformation is transforming technologies in ways we never saw before. It is transforming industries, frameworks, infrastructures, representative models, and above all, security channels. A recent report by MarketsandMarkets suggests, "The healthcare IT market is projected to reach USD 280.25 Billion by 2021."
For the healthcare sector, digital transformation can be the major turning point – the current situation is indicative of multiple questions regarding digitalization of the healthcare sector. Software Quality Assurance Testing experts are assisting businesses to clear their confusions and design robust digital assurance strategies to secure the healthcare sector. The healthcare products require maximum accuracy level to deliver precise healthcare services to the patients. It can be made possible with vigorous software testing and QA services.
Following are the reasons that enforce the importance of QA services in the highly-critical health sector:
1. Device Interoperability/Responsiveness
Modern Healthcare services include various devices and systems that require interoperability in order to deliver a smooth user experience. Interoperability and responsiveness are priority demands in the healthcare industry to assure compliance supervisory, program security, and data protection.
In this context, QA and testing are needed to determine business continuity in terms of costs and managing compliance concerns. To maintain interoperability on a higher level, the businesses should focus on creating a thought-out software testing plan that solely focuses on auditing the compliance and data privacy issues.
Automation testing plays a key role in setting a robust test environment to ensure interoperability in every aspect of the application.
2. Software Functionality
It is highly recommended to keep every IoT device being used in the healthcare department to function flawlessly in a secure way. For example, consider a clinical app that supports its patients to review their reports via a secure login. The aim behind that app is very sensitive and thus it must run smoothly and deliver the demanded service in-time.
Software testing and QA are a great help to supervise business frameworks and set performance metrics to ensure the desired results. In short, QA can help ensure the highest quality standards within shorter test running cycles. Additionally, software testing also ensures maximum test coverage all across the software development lifecycle.
3. Application Security
Confidentiality and data protection are the greatest measures to gauge an app's security associated with mankind assistance – since the Healthcare applications contain sensitive information about patients. If hacked, these applications can cause irreversible loss to the company's reputation and the patient's data.
For this, Penetration Testing can help in sustaining the app's stability in order to block any approaching menace – which is even more challenging in the digital setup.
Furthermore, validating secure user log-ins, testing against system firewalls, and encrypting user information are some of the central features you get, thanks to software testing.
An effective security testing strategy and meticulous QA can safely transfer every peck of user data through all the channels residing inside the healthcare sector.
4. Big Data Testing
Healthcare is vastly a data-centric sector with files of patient information and health reports being made every minute. All this information is highly crucial to keep a track of all healthcare programs and associated institutions to develop a right plan and products for their patients accordingly.
To organize the large amounts of data, Big Data solutions are applied to generate the right implications and data outages. The right planning helps in making mindful decisions concerning drug development, disease cure, and treatment, R&D etc.
The flawless and informed Big Data implication can only be gained with the help of software Quality Assurance testing services.
5. Usability Testing
Usability and healthcare services are closely related. Without timely and functional services, no patient can get the right treatment at the very right time. Therefore, it is vital to penetrate automation in the healthcare processes and products to nullify the tediousness and clumsiness of the app performance. The much enhanced UI/UX can be attained by the intelligent implementation of Usability Testing methods.
There's no reason to make excuses and ignore the importance of Software Quality Assurance Testing services. It's about time that the healthcare sector adopts robust automation testing services to avoid any future incidents like the NHS attack. Kualitatem's QA services in the healthcare sector can help you achieve the level of precision you seek for in your healthcare products and services.