The Future of Software Testing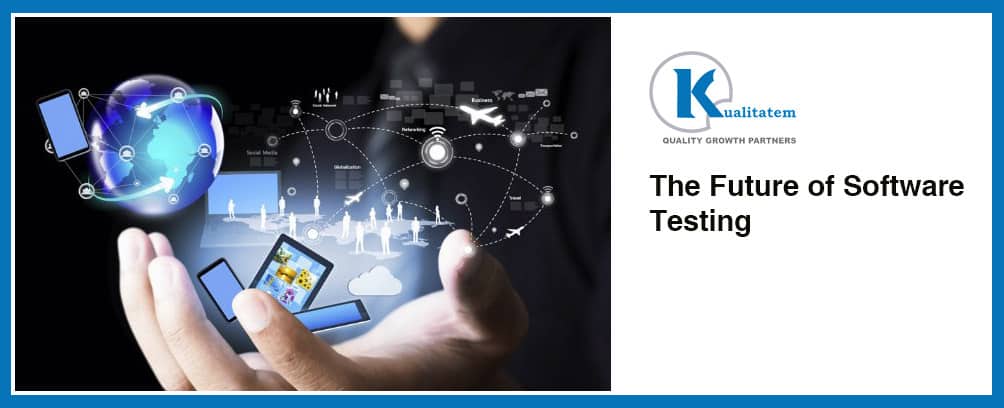 November 23, 2015
Kualitatem
Software testing is the process of examining software with the intention of finding bugs and errors in it. Testing is an extremely important phase in the software development process. It undertakes the purpose to enhance the quality and reliability of a program, thus making the role of the tester extremely crucial.
What does the future hold?
With rapid advancement in technology, the evolution of software testing is becoming all the more necessary. Software has been incorporated into our lives with almost everything we use; be it mobile phones, household appliances or vehicles. With each new system or feature, there comes a whole new array of problems that require going through the process of testing. Along with security and performance of the software product, the company's main focus remains the usability of customer experience.
Role of a Tester
With change comes a new set of opportunities which, in turn, bring many challenges. The role of the testers has become very significant in this era of constant change and they must stand up to it. With new advancements in technology, everyone is responsible for quality. Therefore, testers should be able to embrace new approaches and learn new skill sets. They must keep traditional and non-traditional ways of testing hand in hand. They should also start thinking out of the box!
Emerging Trends
There are several trends that will impact the future of software testing such as:
Along with performance testing, security is also becoming a major concern for almost all sorts of organizations. The significance of thoroughly testing a software needs to be highlighted, ranging from functional to security testing, comprehensively, is the call of the day!
Mobiles have put technology in the palm of our hands and they have become very important devices in our daily lives and businesses. They have given us access to everything whether related to business, phone calls, restaurant orders for meals, directions while driving, etc. therefore, testing all mobile applications will have a greater impact on the software industry. This is proven by the fact that the percentage in the use of mobile application testing has risen up from 31% in the year 2012 to an expected 95% by the end of 2015.
Cost optimization remains the top priority of all businesses. With the introduction of IoT in our lives the users have become impatient as they want access to internet on the go and want to get things done in seconds. This lays a huge responsibility on the shoulders of the tester who has to give due importance to quality and that too within a given budget and time frame.
IT organizations are also realizing the importance of Automation testing when it comes to providing cost effective solutions to their clients. Frequent repetition of the same or similar test cases is laborious and time consuming to perform manually whereas automated tests allows performing different types of testing efficiently and effectively. In closing, test automation is a powerful test enabler when used appropriately. Therefore, organizations are investing in it wisely to ensure that the test automation program is successful.
Cloud testing gives us an option to store data in a shared remote location for accessing it over the Internet, thus benefiting many organizations by building and maintaining cloud environments. Cloud migration too seems to hold a bright future for the testing industry.
Considering the above mentioned trends, we can easily conclude that a bright future lies ahead in the field of software testing. It is no doubt an exciting time for the testers as the world of software testing opens new doors and challenges.