IoT's Value for Customers in Retail Industry?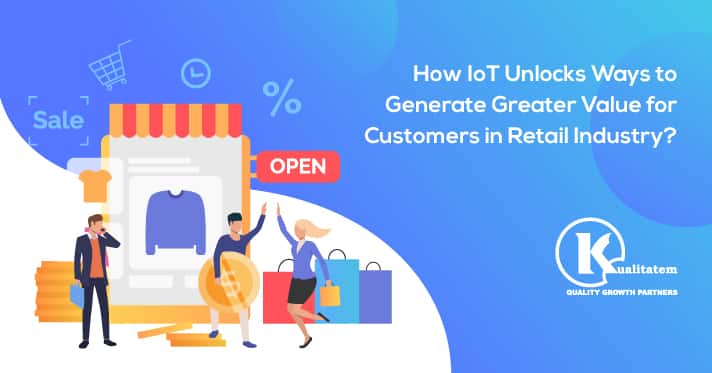 August 23, 2019
Hiba Sulaiman
Currently, the total number of IoT devices is 26.66 billion. It also expected that nearly 75 billion devices will be on IoT by 2025. Customers need software that they can trust and rely on. The retail industry has faced disruption due to technological advancements over the passage of time. Since with increasing use of IoT devices, consumers now use smartphones, apps, GPS and other devices to buy products, retailers are concerned about improving their supply chain and logistics to meet the consumer requirements.
Adapting to new retail technology can be complex but firms should not miss opportunities. There are many retail firms leveraging digital transformation to generate greater value for their customers. IoT is capable of managing supply chains, warehouses to customer feedback. Smart devices improve retail services which were not possible in the past. Retailers are in need of an IoT software testing company that caters to their business needs and develops effective solutions.
Cultivating Cultural Change
IoT seems to work as an opportunity to create value for consumers and retailers. For instance, it makes easier to track a product in the supply chain and ensure it is properly stored. With the help of image recognition, retailers know when customers enter a store and serve them according to their demographics. They also guide them about updates promotions via smartphones. IoT comes up with various payment methods, allowing convenient solutions for consumers.
Replacing POS Terminals with IoT Devices for Convenient Payments
Retailers have replaced point-of-sale (POS) terminals with handheld devices to allow transactions anywhere in a store. With the help of these devices, retailers utilize their space for displaying their products differently. They can use more creative ideas and use the space in interesting ways.
Convenient Shopping by Connecting Warehouses and Stores
By using IoT technology, retailers can link their online and in-store operations. For instance, Ssense is a fashion retailer that displays more than 20,000 products on its website and shoppers can choose any items to try-on. These items are shipped from the warehouse to the store within an hour, allowing convenient shopping.
Smart Checkout System to Improve Customer Shopping Experience
On the other hand, Amazon Go offers an autonomous checkout facility. Their stores use sensors that allow shoppers to visit aisles, pick-up their items, place them in a bag and walk out. The connected system processes the payments automatically with its technologies. Customers no longer need to wait online for payments and checkouts. It also allows more time for the employees to help customers find products they are looking for.
IKEA Invests in An Application for Inventory
Another famous retailer IKEA uses IoT solutions to improve their online and in-store customer service. IKEA is coming up with an application that will let customers point their smart devices at furniture, and show items that may not be in stock. It will include complete inventory details of IKEA products. Let's see how it going to improve the customer experience.
IoT capabilities are not only limited to improving the shopping experience but also uses data to provide analytics. This helps in answering questions like
Who buys what and when?

What are the traffic patterns?

Is the weather affecting shopping? ,etc.
What's the Next Big Thing in IoT for Retail Sector?
Retailers develop new ways to generate greater value for customers. Digital technologies like augmented reality have taken the retail industry to a whole different level. Using AR apps, customers can see how they would look while wearing a retailer's clothes. Retailers are also exploring ways to let customers scan a product and view its specs via smartphones.
Retailers need to use IoT enabled connected devices to help them keep pace with the ever-changing and growing market. Similarly, they also need to invest in IoT software testing for their business to sustain. IoT has greatly affected the retail industry and calls for more upgraded technologies to maintain its market position. Retailers will need to invest more in IoT software testing to improve their software apps and improve customer experience in the future.
Kualitatem is an IoT software testing company that helps retailers in achieving positive results from their digital transformation efforts using IoT.