Technology is impacting the lives of virtually everyone on this planet. For effective digital transformation, companies are now aiming to seamlessly integrate gadgets and devices with the Internet of Things [IoT]. The blend of sensors & applications is revolutionizing cities, homes, and business services. Everything is smarter than it was ever before. IoT software testing enables companies to gain access to a lot of useful information. With this information companies enjoy many benefits by making informed decisions, harnessing the potential from time- related efficiencies, and facilitating eco-friendly lifestyles.
IoT applications are complex as they blend together software, hardware, sensors, and databases. As the IoT market grows across verticals such as health, retail, automobile and more, the IT industry also needs to re-visit products and services offered in the IoT spectrum for development and testing.
Kualitatem introduces an all-inclusive testing methodology for IoT testing services We test hardware and software along with massive amounts of real-time data interchanges across an IoT eco-system. We have a refined methodology that enjoys support from world-class test labs, certified testers, and solid test strategies which cover the depth and breadth of IoT applications.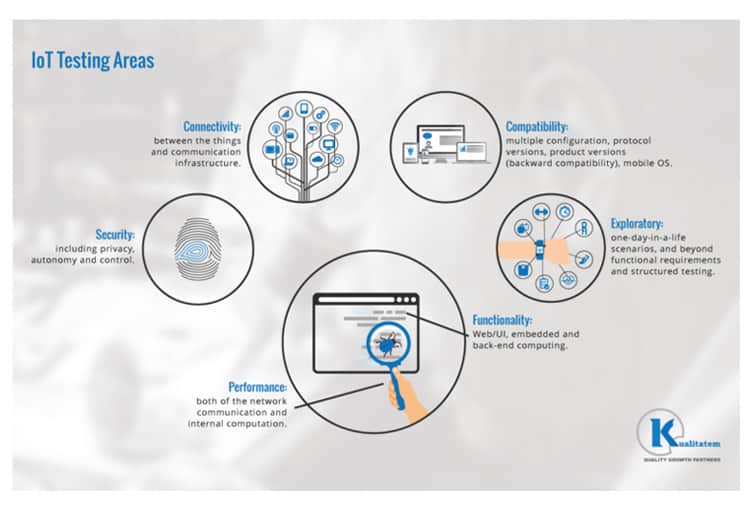 Functional Testing:
Functional testing encompasses end-to-end testing of the IoT ecosystem to ensure that the system produces desired outcomes and behaviors as per the business requirements.
Exploratory Testing:
In exploratory testing of IoT, testers interact with the app and its communication with the objects. This is done to retrieve the information from the application in response to an action. This is also done to act as an end user to get the outcome of the application and the device. During exploratory testing, we test the real-time involvement of humans and machines both.
Performance Testing:
We apply performance testing to inspect the behavior of the IoT devices over the network. Performance testing basically authenticates the promptness of the communication network model, as well as the internal computation proficiencies of the surrounded software classification of the IoT objects.
Security Testing:
Security testing is obligatory for innovative technologies to meet their full market value. We perform security this to look over the intact product network. This helps us balance the risk with privacy, autonomy, and vulnerabilities.
Compatibility Testing:
Compatibility testing is done to check the compatibility of IoT with its surrounding environment. This environment usually includes different devices, their versions, and respective operating systems.