Testing Services for Banking & Finance
Thriving market of financial products, banks, and financial institutions, need to ensure that their technology investment maximizes ROI. Financial software products continuously evolve due to enhancements, compliance requirements, technical, and configuration updates.
At Kualitatem, we offer end-to-end product customization & testing services. We provide banking software testing and finance software testing services to banking, financial, and insurance organizations (BFSI). Our expertise lies in building agile, reliable, and robust systems that adapt efficiently to market changes.
We have more than 10 years of experience handling technology-related and crucial challenges posed to the financial, banking, and insurance companies. Our financial product testing solutions cater to the distinctive requirements and situational parameters specific to BFSI sector.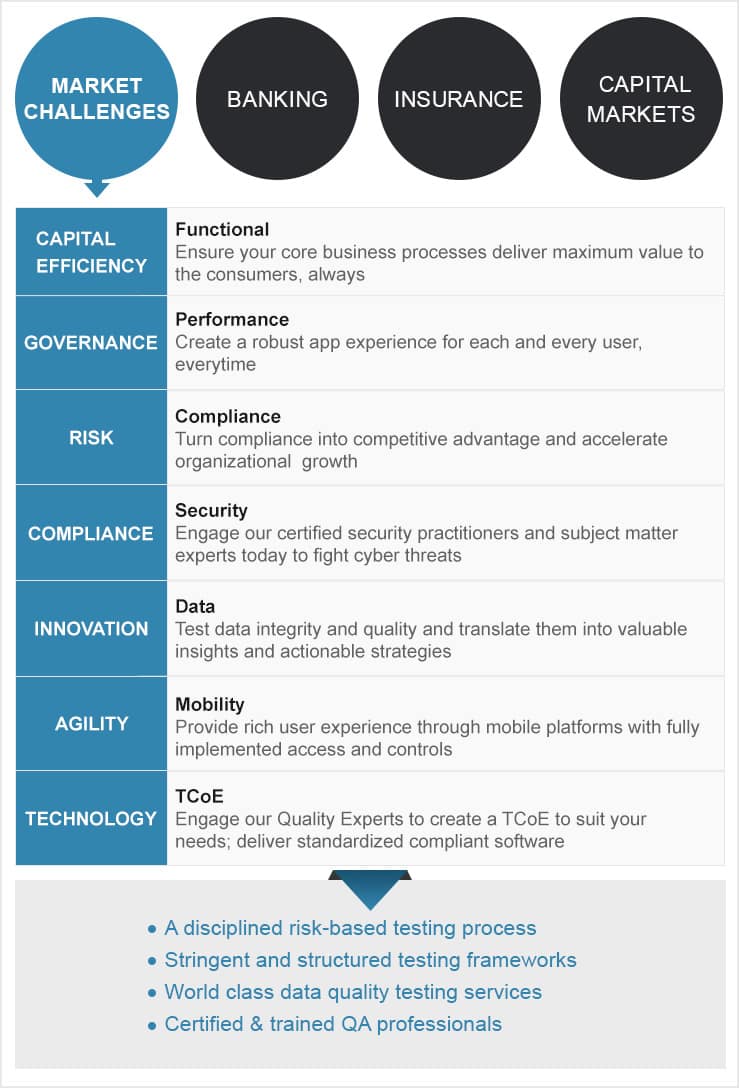 Kualitatem | What We Offer:
Banking, financial services, and insurance testing services at Kualitatem, cover all type of segments in the financial industry.
We make sure that users do not encounter any errors & omissions while using financial applications by creating test repositories & performing comprehensive testing. We offer testing solutions in the following financial industries:
Banking
Insurance
Capital Markets
Financial Markets
Banking Applications:
Banking applications are one of the most complex and large software systems in today's development and testing practice. Kualitatem brings banking domain knowledge, best practices & methodologies, and IT expertise to your organization's testing challenges. Banks must focus on their areas of specialization & determine their efforts on markets, products and distribution channels. We test to help them manage proficiently, employ the right technology, and deliver a viable business gain.
Banking application platform consists of multiple modules including Core Banking, Internet Banking, Financing, Case Management, Leasing, Compliance and Risk, Payment, Cash Management, Treasury, Business Intelligence System, Document Management and, last but not least, ATM and other channels. We guarantee that you gain maximum return on investment with the help of our testing and quality assurance services. With precisely designed testing processes we ensure high test coverage and effective defect removal.
Our banking application software testing offers services in all banking sectors including:
Front Office
Middle Office
Banking Back Office
Enterprise Gateway
Common Banking Services
Insurance:
Insurance is a big industry overlapping mortgages, health insurance, personal property, and automobiles etc. The insurance market is highly competitive, with customers keen to change providers very often. To stay ahead, insurers need to be very responsive and keep low costs, while meeting strict regulatory compliance. In order to meet high expectations, Kualitatem can help you make smart investments, focusing on your organization needs by offering state-of-the-art insurance application testing services. We cover the entire segments of the insurance industry including but not limited to:
Life Insurance
Health Insurance
Doctor's Medical Report
Car Policies
Accident Insurance
House/apartment Insurance
Dental Insurance Claims
Theft Insurance
Fire Insurance
General Disaster Insurance
Our testing approach accelerates and streamlines not only the latest Insurance applications but also the legacy systems. We make sure that insurance applications ensure regulatory compliance with complete traceability and no business-related risks.
Capital Markets:
Financial applications are complex software applications; hence our testing team performs a combination of manual and automation testing to make sure that we cover all the aspects of the application. An error in a financial application can cost millions of dollars in losses. Our testing team follows software testing and quality assurance guidelines strictly. Testing and quality assurance are central to the financial markets as participants strive to achieve the following through new technology initiatives in 2014 – 15.
Becoming better adapted to the regulatory climate
Strengthening risk management practices
Deploying capital more efficiently
Innovating across multiple dimensions
Enhancing customer experience in new ways
Kualitatem uniquely combines the capital market domain knowledge and state-of-the-art testing skills to help institutions adapt to changing regulatory and business requirements.