The Success of QA in Retail through Agile Testing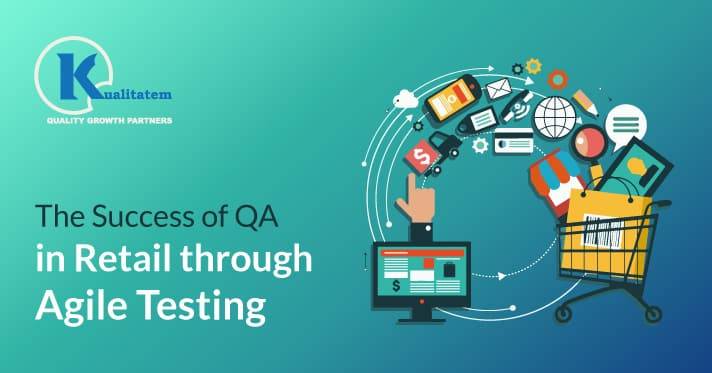 Let's suppose, you are a well-established retailer shop that runs on an application or an e-commerce website. Your reputation, your market image, and position totally depends on that application, so it must be based on a resilient framework. You can think of numerous "what ifs" when it comes to your reputation, such as what if your app gets a rush of customer requests but crashes when you open it. It's a short horror story that can disrupt your business in the blink of an eye.
Against all odds, retail shops are adopting the incredible innovations to entertain their customers' requests in a timely manner.
How do you feel about robots delivering online orders at your very doorstep, we know it sounds great because any customer would admire such convenience in shopping? Your customer's convenience is ultimately a source to augment your sales and values.
The retail market has a variety of selling strategies to boost their sales. Drop-down stores, magic mirrors, customer engaging booths, or digit price tags to name a few. Digitalization has become the next stepping stone towards a more advanced retail industry.
Agile Testing and Retail
With the time passing and competition increasing, opportunities are also growing. But with these opportunities come challenges like security, analytics, logistics, and administrative that can potentially freeze an industry's development.
To cater to the changing climate of the retail sector, retailers are making their way towards Digital Transformation that demands Agility at every stage. So, adapting and adopting Agile testing is the only option for the retail industry both on the big and small scale.
The usual practice in software testing involves fixing the performance problems after the application is launched in the form of new patches and updated versions.
But, the Agile development model follows a continuous process that never stops the team members from rectifying glitches and delivering a customer-ready product in real-time. In short, it prevents the retailers from unpleasant downtime and delays.
This way, Agile can change the entire dynamics of the retail industry where an error discovered doesn't scare the retailers.
Understanding the need of the day, IT enterprises are actively shifting towards Agile practices to reach the competitive market standards. Agile in testing enables the businesses to create an immense impact with their fiber-optic speed in their feature updates and delivery.
Enterprises going through business transformation will manage to reach higher levels of scalability, stability, availability, and responsiveness through Agile testing in many possible ways.
How can Retail Industry benefit from Agile Testing?
Going further into QA and Agile testing, you will understand how you can transform your retail strategy and grow it in terms of performance and functionality. Agile testing company can take care of many problems retailers face such as:
Managing piles of data at the right time and in the right proportions.
Understanding new technologies
Changing retail models
Ensuring the data shared across different channels are protected and cannot be tampered
And Digital Transformation and human efforts.
These challenges may seem tough but are not intangible. Consequently, the retail sector must adopt Agile Technology to generate better opportunities like Omni-channel process (by Amazon), broadening market fragmentation, refining offline/online selling and delivering process, and proper data management.
Agile testing is the future of every sector!