9 Ways To Mitigate The Risk On Medical Devices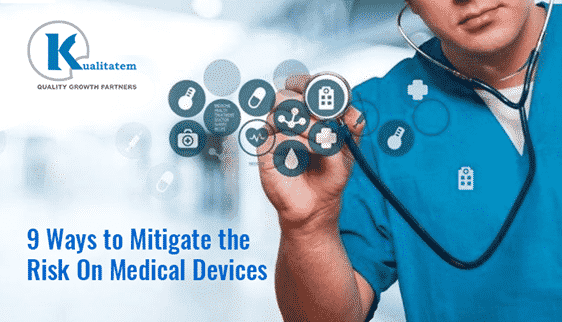 October 23, 2017
Kualitatem
When it comes to securing medical devices in our hospitals, 90% of healthcare executives are partially aware of the problem, but only a few actually have an effective solution that caters to this ever-growing menace.
Cyber-attack is a fast growing and massively spreading threat on medical equipment's and overall hospital networks. Using malicious software or code, the attackers hack the medical devices, break down the whole network infrastructure, and steal confidential hospital records.
Hackers target medical equipment's using different techniques, such as malware, to stealthily introduce a malicious code by exploiting vulnerabilities in the security functions of the system. Consequently, this malicious attack disrupts the functionality of a medical equipment that can badly effect a patient's health.
One might wonder how it is possible when all necessary security adjustments have been put in place. This is possible only if there are security flaws and loopholes present within the system. This, in turn, can lead to sabotaging the hospital network and enabling them to easily steal the entire medical data.
Despite the fact that the IT department of your healthcare service will be responsibly taking care of security on their end, you still have to struggle with potential security issues and make sure that your staff is aware of what to do to ensure protection against such malevolent attacks.
Password Management
Previously, manufacturers merely trusted on simple password authentication and security protocols. However, it's no longer secure, according to the needs of the time. We require more robust and unbreachable form of security measures seeing the rising number of cyber-attacks, leaks, and data breaches being reported in today's times.
Change the default password from device before using it. The default password is susceptible to attack from hackers trying to gain control of the device. Also, make sure that you don't use the same password against all platforms since it significantly increases vulnerabilities.
Protect Wi-Fi Networks
Secure the Wi-Fi network devices from cyber-attacks that can be launched from the internal the corporate network or the Internet. You also need to ensure protecting network devices against DoS attack and packet floods.
WPA and WPA2 are two security protocols developed for Wi-Fi devices that secure wireless computer networks. Do not use WEP protocol in response to serious weaknesses.
Moreover, manage filtering policies, controls, and other security parameters along with, monitoring and reporting traffic abnormalities or attacks.
Encrypt The Data
By securing the data via encryption and storing in a secure communication between the devices, you can deter data leakage and potential cyber-attacks. It is highly recommended to implement security features for data encryption right from the beginning. You have to encrypt a file, folder, data or an entire volume on the system by using a file encryption software like Stuffit Deluxe and 7-Zip.
Patch Management
To protect against malware attacks as well as other vulnerabilities, you must implement patch management for all devices through a defined process. Using a good patch management solution, it becomes easier to keep your systems, your records, and your licensing up to date.
Implementing RBAC (Role Based Access Control)
Assign roles and implement policies for users to allow them to access the system with required privileges. Make a single database of users who are accessing the network in directory services. For wireless, we should provide wireless security to authenticate each user who is connected to the network. For wired, we can use VLANs as a technique to segment network traffic.
Ensure Redundancy
Using high availability approach, you can minimize the system's downtime. A higher availability system can provide continued service in a downtime for other systems as well.
Re-verification Of System
Verify that all the medical devices are functioning correctly. Similarly, validate that the device coverage area, data rate support, and redundant systems all function as expected.
Perform Security Test Results before Purchasing Devices
Before introducing a new device into the hospital network, verify and carefully check that it meets all the necessary security requirements needed against performing security tests. For that, look into its encryption, patches to the OS, authentication and version of virus protection.
Perform Regular Audits
After regular time intervals, check the performance of the devices to ensure that all systems are working and configured securely. Check all the configuration and changes recorded. Additionally, verify the version of system and software to justify the functionality requisites. Analyze the peak loads, number of user on APs and bandwidth monitoring.
Also, regular trainings to your staff on information security will help in creating an awareness among them.