Top 5 Software Failures of 2015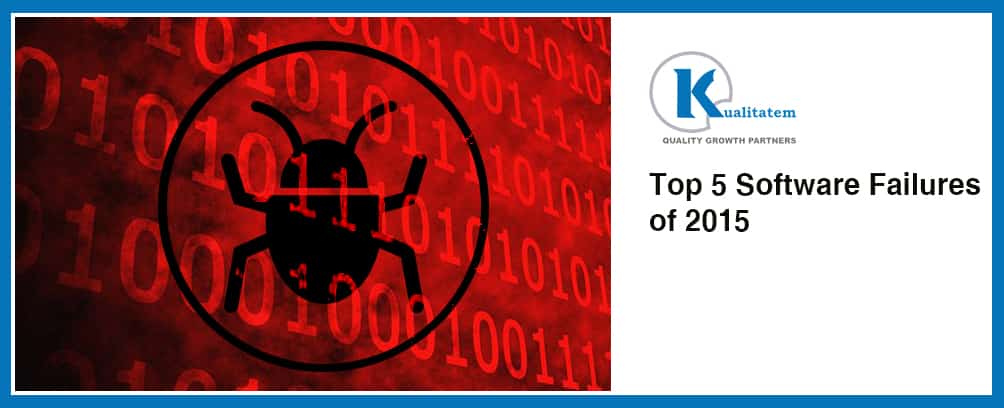 December 11, 2015
Kualitatem
Have you ever heard of software testing? Well if you haven't now is the time to. Despite seeing many technological advancements in 2015, this year saw many software failures as well. Here is a list of the top five software failures of 2015. The list is in no particular order.
Software Glitch Causes F-35 to Detect Targets Incorrectly
A serious software glitch in the F-35 Joint Strike Fighter air crafts gathered wide public attention in the month of March this year. The planes when flying in formation were unable to detect potential targets from different angles. In fact the engineers identified that the software bug caused the aircraft to detect targets incorrectly. The sensors on the plane were unable to distinguish between isolated and multiple threats. As reported by Fox News, Air Force Lt. Gen. Christopher Bogdan, Program Executive Officer, F-35 said: "We want to fix this so it is inherent in the airplane. We have always said that fusion was going to be tough. We are going to work through this." (Source: Fox News)
Nissan's Airbag Software Malfunction
Nissan Motors has been under investigation by US safety regulators for recalling over one million vehicles in the past two years. The vehicles were recalled due to a software failure in the airbag sensory system. The automakers have reasoned that a software glitch in the system rendered it incapable of detecting an adult sitting in the passenger seat. The issue surfaced when two accidents took place and the airbags did not inflate. Several complaints were registered even after the issue was supposedly resolved. Gorge Zack in his article in bidnessetc.com even mentioned that 104,871 vehicles had been recalled by Honda Motors as well due to faulty airbag systems made by Takata. (Source: BIDNESSETC)
Tennessee County Court Kills Software System Update worth $1Million
After two years of labor and investment of $1 Million, Rutherford County of Tennessee, United States, had to kill a court software system update. The reason being that software glitches were discovered right when the deal took place as problems regarding the issuance of checks, errors on circuit court dockets and the creation of "phantom charges" arose in the weeks after the program went live. It was reported that even months after training, backlogs were reported in the system. It has compelled the county in killing the system as it fails to deliver. The reporters of The Daily News Journal reported that "After months of work and hundreds of thousands of county dollars spent, the Rutherford County Circuit Court clerk was back to the dot-matrix printers and paper filings they first used 25 years ago." (Source: Daily News Journal)
Software Security Flaws Revealed in OLA's Mobile App
Ola, India's largest taxi aggregator based in Bengaluru had serious security flaws in their system. The bugs that were identified made basic programmers to enjoy unlimited free rides- one at the expense of Ola and another at the expense of genuine users as reported by Varun Aggarwal & Malavika Murali in the March issue of The Economic Times. The issue was made public after their customers pointed out the weaknesses in their system. Ola is trying to fix bugs for quite some time now as complaints in their operating system have sky rocketed.
Starbucks Breakdown caused by Software Bug
Starbucks was forced to close roughly 60% of their stores located worldwide in the month of April this year. The register malfunction occurred because of an "internal failure during a daily system refresh" according to Starbucks. The software failure left thousands of stores across North America unable to proceed with their business as the cash registers were unable to process orders and take payment. Starbucks refused to give any details. Candice Choi, AP Food Industry Writer wrote about the Starbucks breakdown to remind restaurants about how "registers that once merely rang up tabs and stored cash have evolved into hubs that can collect enormous volumes of data and carry out many tasks." (Source: Yahoo News)
Summing up
2015 will go by in just a few days from now but some organizations are still dealing with the aftermath of the software bugs that surfaced this year. No matter how much advancement is made in the IT industry you must not overlook the testing process. Before rolling out your product in the market you must ensure that your software, systems and applications have withstand the testing procedures so that you do not end up on a list like this!
These were our picks for the top five computer software failures. Which ones did we leave off the list? Share your thoughts in the comments section. 🙂