Things We Learned While Doing Usability Testing in 2018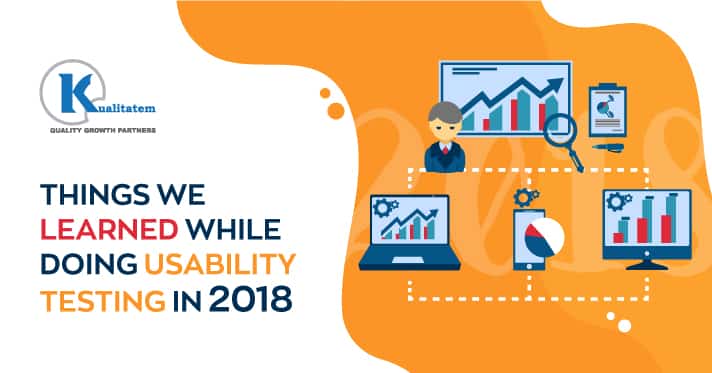 January 23, 2019
Hiba Sulaiman
Usability studies have become paramount in attaining a different perspective into the most common problems encountered by the users. These outcomes can then be used to take remedial actions so that user retention can be made possible for a longer period of time.
Search over the internet and you will find a plethora of articles regarding the lessons learned from usability testing for mobile and web and apps. This is because it is a method implemented to observe how simple to use software is by testing it with actual users.
Keeping this scenario under consideration, we are presenting you some lessons we learned from usability testing solutions for mobile and web apps.
1. Always Keep Customers in Mind
You must do everything keeping your customers in mind. This will enable you to look at the difficulties that they encounter and come up with a solution to make their lives easy. This will guarantee faster Return on Investments (ROI).
2. Create a Standard Testing Environment
In order to make mobile testing more conducive, you must have a place for performing particular performance and usability tests. Testing the flawless app functionality across various devices using different operating systems is a big headache. This can be handled by skilled and experienced professionals. You must an uninterrupted Wi-Fi so that testers are able to concentrate more on the normal interface issues.
3. Create User-Friendly Designs
There are some sites where you miss important information that is right in front of you. The reason why you would not notice is that the format and the text color look exactly similar to the rest of the page. Therefore, you are requested to keep the links underlined and text highlighted preferably in a different color.
4. Create A Lively and Intuitive App or Site
In order to retain a customer for the longest time period, you are suggested to keep to the nicely designed site, intuitive and clear. This will enable first-time users to use it without seeking help from anyone.
5. Have Proper Categorization and Easy Menu Names
You will continue to lose your potential buyer unless there is an appropriate categorization of things under most relevant groups. This will enable the user to find things in just a few seconds or minutes. There are different ways of categorizing things. Testers are required to make sure that there is a proper categorization of things and easy menu names so that users can sort out things as quickly as possible.
6. Offer an Outstanding Search Support
If your product is very complicated, having a strong search option is an important tool to have in your kit. Nevertheless, the majority of the search options offered suffer from some disadvantages like un-prioritized search results, result in out-of-the-blue, zero support for hyphens or special characters, restricted word limit. In order to make it more approachable, run a few random checks yourself of the top products of your website or look if there is a little relevance. If not, you should try to customize these searches and make it more intelligent.
7. Keep the Navigations Very Simple
When you have a multi-level navigation panel, it confusing and frustrating to look for the needed option in a complexed maze of options and then in just a few seconds, the navigation disappears. Don't make it difficult for your users to utilize the product. You can make it easy for them by displaying all options at once.