The Major Threat to Endpoint Security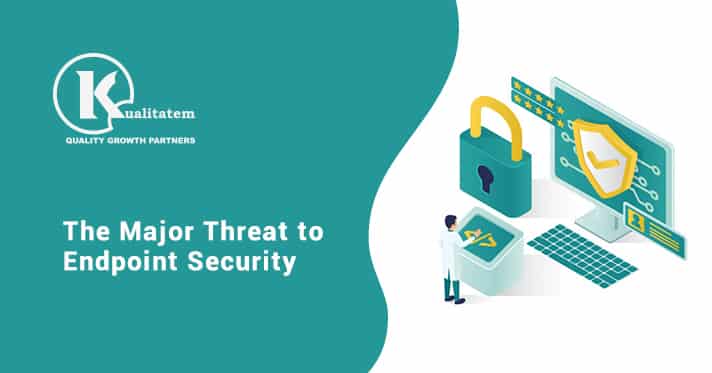 April 16, 2020
Hiba Sulaiman
Significance of the Matter
The significance of achieving responsible enterprise security has increased manifolds in the enterprise IT management recently in the wake of cyber breaches that have been damaging company reputations. However, many organizations fail to realize the sensitivity of the situation and rely solely on traditional virus scanning tools to enable endpoint security rather than taking significant security measures or hiring a penetration testing company to do so.
A common misconception to which many businesses seem to cling is that the implementation of a malware protection tool accounts for all potential security risks. People who aren't particularly risk-conscious are wrongly self-assured of security due to the broad availability of Windows native Defender software and free scanning tools.
To be clear, it is certainly not false that remediation and scanning tools for malware – including adware, ransomware, viruses, and trojans – continue to be critical components of any security arsenal. Enterprise Management Associates (EMA) research states that 73% of surveyed organizations indicated that they have been affected by a malware attack, and only 58% reported a high level of confidence that they can detect a malware incident before it causes a business-critical event.
These challenges are accelerating, all thanks to the new generation of advanced malware attacks that are designed to specifically target conditions or environments and are more resistant to cleanup or removal. However, it is crucial to recognize that these threats are just the tip of the iceberg and countless other risks are posed by the use of endpoint devices in modern business environments.
What's the Threat?
According to EMA, the most frequent consequence of a break is not a malware injection, but compromised business data. In this day and age, information is a commodity that can be bought and sold, both in legal and illegal markets. The concern is, obviously, the latter when it comes to critical data such as bank account information, social security numbers, user access credentials, and other sensitive information. Such data is auctioned on the dark web as a routine. Cyber isn't designed to be just a nuisance anymore; they are the cornerstone of a high-revenue generating industry.
Following are the three principal methods through which data is compromised on an endpoint:
Using invasive software, such as a hidden code in websites and applications that collect and distribute data to remote systems without the users knowing.

Manipulating users into unwittingly granting nefarious actors' access to IT resources and devices. This is accomplished most frequently using phishing schemes that employ psychological inventiveness rather than technological proficiency.

Users distribute the data themselves carelessly and in an unsecure manner.
A Responsible Approach to Endpoint Security
Malware protection solutions like antivirus can undoubtedly protect endpoint devices from related attacks, but when it comes to preventing data loss from other attack vectors, there isn't much they have to offer. Organizations must adopt a multifaceted approach to security that effectively controls access to enterprise resources and data and continuously monitors for inappropriate device activities. Acquiring services from a good penetration testing company can also prove to be a smart move when combating such risks.
To enable holistic visibility, contextual information, status, and configuration should be collected on network activities, processes, and devices. Intelligence technologies such as machine learning, language processing, and analytics, should be applied to collect details to rapidly identify any potential security risks and to immediately implement policy-based automated responses.
Of course, enterprise data is not at all at risk if it is never removed from secured locations in the first place. This can be accomplished with the help of resource isolation technologies, such as browser isolation solutions, virtualizations, app wrapping, and containerization. Distribution controls and data access are also enhanced with the introduction of a strong identity and access management (IAM) capabilities. Risk-based IAM platforms that are governed by policy controls provide a strong line of defense in any security implementation, especially if they holistically leverage device information collected by security and endpoint management tools, as well as common intelligence technologies to precisely determine the risk level associated with allowing access events to occur.
To support all endpoints across an entire IT ecosystem, unified endpoint management (UEM) solutions offer the optimal platform which can be leveraged to manage a diverse range of security processes. Comprehensive UEM solutions centrally support capabilities for an automated response, data analysis, reporting and alarming, and data collection that are the hallmark of a responsible endpoint security approach. Solutions in this field are greatly advantaged if they can extend their security management capabilities by enabling integrations with the use of API or through direct integrations with related platforms.
Final Thoughts
Effective endpoint security management requires a broad spectrum of key functionality that goes far beyond just malware detection, but by leveraging the right resources, organizations can ensure utilization of enterprise IT services securely without unnecessarily limiting workforce productivity.