The Future of Automation Testing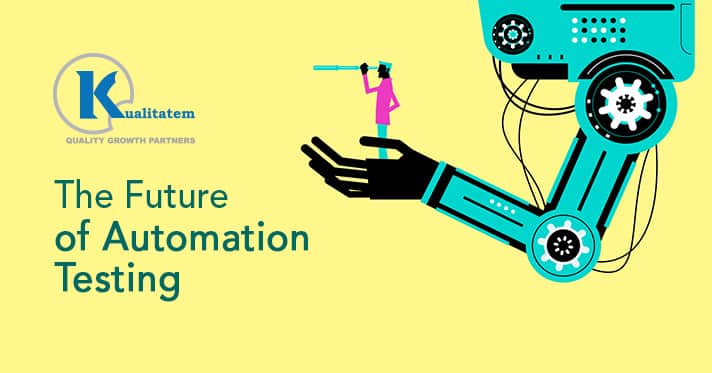 November 15, 2019
Hiba Sulaiman
We are in a state of flux right now. Innovative technologies have made major contributions to software testing. Firms are upgrading their technology-driven tools to meet the ever-growing need for speedy delivery and software quality assurance. This holds true in the case of software automation testing The very first generation of automation testing was introduced followed by second-generation tools like Selenium. Currently, firms follow a scriptless software test automation approach that allows testers to develop complex test cases and test-scripts without much programming or coding tools. Organizations shift to Agile and DevOps for software development, where automation plays an important role. Businesses hire automation testing services to automate large volumes of workload and reduce the time to market.
These are just a few advantages of test automation tools, there is a lot more that automation has contributed to software testing. It is not obvious what the future holds for software test automation, but we can anticipate the possibilities with automation. We have prepared a list of insights of all possible innovations that could take automation testing to a different level. Let's have a look at how automation would look like in the near future:
Apple's Siri, Google's Assitant, and Amazon's Alexa are a few low-level artificial intelligence-based breakthroughs in technology. These AIs focus on low-level tasks. They are used in home automation or smartphones to perform certain actions. But now companies are trying to build AI that can mimic real human actions. Testing companies have already started working on AI combined with NLP based test automation solutions. Early birds like Testsigma have leveraged AI-driven test automation that helps testers to create reliable tests faster than ever. It speeds up the process of automated tests.
Key players in the software testing industry are working to utilize capabilities of AI and this continuous effort may lead to a bright future and make automation testing services worth the try. AI will not replace manual testers but they will contribute to enhancing software quality.
Companies are working on blockchain for a while now but the success rate is quite low. QA teams step up their game by utilizing blockchain-driven technology including additional workload, KPIs and metrics. Testers can derive these metrics from testing the chain size of the blockchain. So, the longer the chain, the more data blockchain has. Blockchain can be a major breakthrough for testing companies as there are no data size limitations. And testers can always create new blockchains constantly.
QA teams simply need to take into account the data integrity. When testers work on blockchain, their saved data should be the same on all other nodes connected in a chain. By seamless data integration, the distribution of data is forwarded to all nodes within the blockchain. Blockchain technology can pave the way for improved software testing of blockchain-driven apps.
There is an exponential growth in the number of mobile users and it is expected to keep growing in the coming years
By 2020, the number of mobile users worldwide is expected to grow to 7.26 billion. Digital transformation has done wonders for various businesses. People depend on their smartphones for all their day-to-day activities that have caused a major disruption in the software industry. Thus, software testers need to ensure their web-applications, websites and mobile native apps are mobile responsive.
In Application Programming Interface (APIs) integration, testing teams ensure that the application is working as per requirements. They thoroughly check the application issues and defects that cause interruption between the APIs and mobile platforms. Software testing companies focus on improving their APIs by developing a testing automation software to address these interruptions. These efforts to improve mobile testing solutions with automation can be a major step towards enhancing software quality.
Conclusion
Firms redefine their automation testing services with the help of blockchain technology, AI reduced lifecycles and mobile technology that have made major contributions to the digital world. These trends have a proven track record and open doors for advancements in software test automation. Who knows for future holds for software testing. What huge enterprises can do for now is to explore opportunities to excel in these technologies and make a difference to shape the future of automation.