Taking Your Mobile App Testing to the Next Level – Kualitatem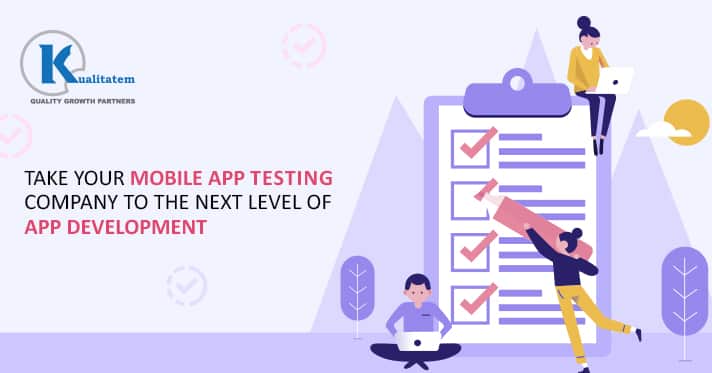 May 30, 2019
Hiba Sulaiman
Mobile apps are taking over the world at a very fast rate. Mobile users spend 89% of their mobile usage time inside mobile applications. This shows how important these apps are and how important it is for an app to work properly. Therefore, both the app developers and testers make sure that mobile apps don't lack in any area. Rigorous testing is performed to make the app fully functional and to meet the expected results of an app.
In order to meet the requirements of the users and clients, a mobile application testing company can make structural changes in their workflow. In this blog, we'll talk about these changes and how these companies can take their work to the next level.
What Gartner Says
According to Gartner, there are three main reasons which show why it is important for testing companies to make changes when it comes to mobile app testing. These three reasons are mentioned below:
Traditional testing practices for web application don't give expected results when they are applied for testing of mobile applications
Mobile apps need constant updates for proper functioning
Rapid changes occur in a mobile application. Therefore, they require rapid development and deployment cycle, then web applications in order to overcome the aforementioned challenges.
We have 5 suggestions for your testing company. Give them a read and incorporate them in your mobile app testing workflow and you'll be surprised by the results. Here you go:
Adopt Interrupt Conditions
Performance of a mobile application is affected due to certain interruptions. During testing, it is important to test the application against the possible interruptions. Interruptions could be anything. For example, incoming/outgoing call, pop up notifications from other apps, etc. Moreover, the power cycle of the device can also affect and interrupt the performance of the mobile application. These interruptions usually don't affect a web application. Therefore, when it comes to mobile applications, it is extremely important to incorporate interrupt conditions during testing.
Installation Conditions are Important too
Installation and uninstallation of the app from a mobile device can affect the user experience. It is because mobile apps are constantly updated. Therefore, it is important for the testing team to test the app against installation conditions. It makes sure that apps work efficiently after update and uninstallation and reinstallation.
Don't forget Network Conditions
Network conditions vary from device to device and user to user for both mobile and web apps. However, since mobile devices are more diverse than web devices, therefore, the variation in network conditions can affect the functionality of the app to a great deal. Hence, the testing team should analyze the following network conditions during the testing of mobile apps.
Network type
Network quality
Network loss
Network transition
Performance Conditions Can Do Wonder
Speediness and responsiveness of the app decide for the overall performance of the mobile app. Performance testing of mobile applications tests the following:
Memory usage of the device
Battery drainage by the usage of the app
Variation of performance of the app on storage devices. For example, a memory card
Testers should apply performance conditions during testing. It helps to make sure that the mobile application will perform with consistency even under the aforementioned conditions.
Magic of Device Integration Conditions
Integration of mobile apps in different devices can produce different results. Different mobile devices have different cameras, GPS systems, etc. Therefore, the testing team should check how the device will integrate with the following in different devices and either the content display remains the same or it changes with the device to device.
Ability to utilize the device's GPS and location
Video and camera
Device display
Conclusion
There is tough competition out there in the market. In such a competitive industry, your company can't afford to provide poor testing service for mobile applications. It will affect your company's repute and business. Therefore, make these suggested changes in your mobile app testing workflow and deliver satisfactory and quality results to your clients every time.