Reasons Why You Need Testing Center of Excellence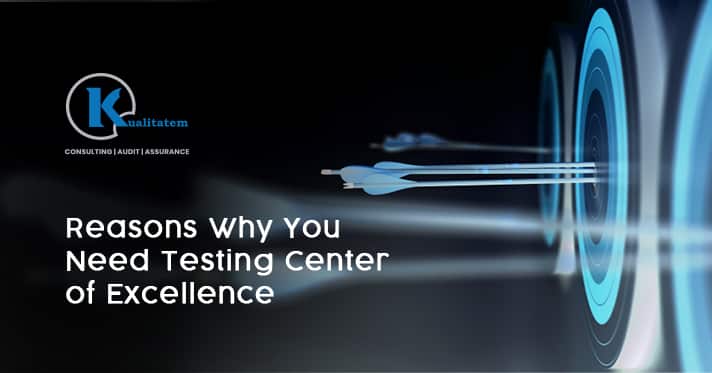 March 16, 2020
Hiba Sulaiman
Teams face a tremendous amount of pressure to reduce the time of development without compromising on quality. Traditional methods prove to be ineffective when it comes to keeping up with the challenges of delivering software that is efficient, robust and time-bound. This has encouraged more and more companies to adopt the idea of establishing a centralized testing service.
Testing Center of Excellence (TCoE) is essentially a framework where testing is maintained as a centralized service and shared across the organization. Let's have a look at some of the reasons why you should focus on establishing a TCoE for your organization or adopting one of a software testing company.
TCoE consolidates all testing functions under a single umbrella so that they operate towards a common goal which is, in turn, aligned towards the goals, mission, and vision of the organization. This adds more visibility and clarity to QA in view of the top management.

Testing resources, under TCoE, are organized on the lines of LOB and technology according to their core skills which aid in proper deployment of the resources across projects by a software testing company.

In the absence of TCoE, the organization remains unclear about its investments and returns due to a lack of efficient tracking. TCoE introduces metric-based tracking which measures the success of the QA with respect to test effectiveness, defect slippage, test effort, test coverage, etc. and the ROI on testing.

With TCoE, a mature QA can be achieved with frameworks and standard tools that result in a more efficient test cycle. With TCoE in place, organizations show an average reduction in the testing cycle of up to 30% which reduces the time-to-market considerably.

TCoE enables the standardization of testing processes throughout the organization and sets guidelines for test planning, test scripts, and test execution. It facilitates the sharing of automation opportunities, lessons learned, and best practices. This eliminates chaos arising from variation in testing across projects and ensures a reduced learning curve.

Projects often suffer from issues related to missed deliveries and defect leakage. TCoE helps organizations in achieving the automation level of up to 50-70% in testing with a 30% average reduction in test cycles and defect leakage limited to under 2%.

Being unaware of the new trends can hold you back in many ways. A TCoE structure of any software testing company enables QA to be more business-oriented as it is in sync with new trends and technologies which empowers an organization to respond quickly to new business opportunities and gives it a competitive edge.
Conclusion
Those organizations which have adopted TCoE have reported an average cost reduction over a 3-year period of 35%. Other benefits include increased agility to QA and the establishment of continuous improvement processes driven by metrics. To set up a TCoE, companies are required to make a certain amount of changes along with the commitment and support from the top management. But there's always an option to partner with a software testing company that already has TCoE capability.