Medical App Testing With HIPAA Certified Testers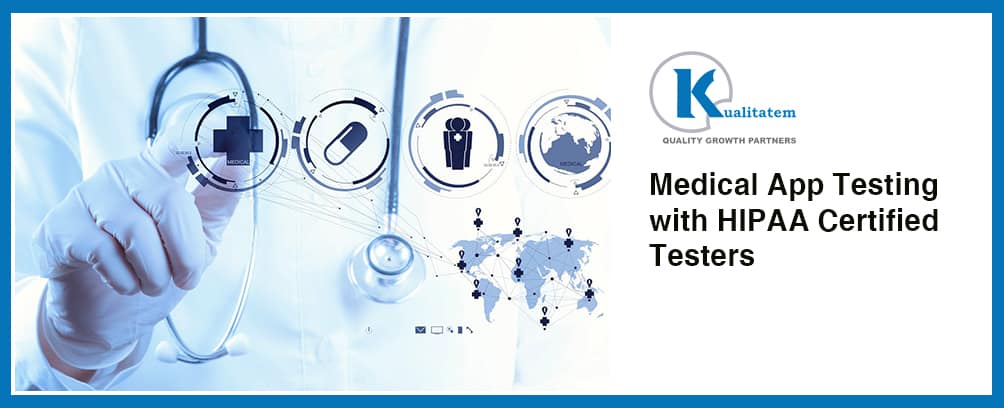 January 1, 2016
Kualitatem
HIPAA, the Health Insurance Portability and Accountability Act, sets the standard for protecting sensitive patient data across the US. It helps protect patient information and reduces healthcare fraud and abuse.
The HIPAA rules apply to two groups: Covered Entities (CE), anyone who provides treatment, payment and operations in healthcare, and Business Associates (BA), anyone with access to patient information and provides support in treatment, payment or operations. Subcontractors, or business associates of business associates, must also be in compliance.
Examples of covered entities are: Doctors, Dentists, Pharmacies, Health Insurance companies and Company health plans.
Examples of business associates (whose services involve access to PHI) are: CPA, Attorney, IT providers, Billing and coding services and Laboratories.
Kualitatem now has a team of 5 HIPAA Certified Testers!
Kualitatem is bent upon improving its company standards and in doing so it made five testers undergo HIPAA training and compliance. The comprehensive training course is divided into two sections. One focuses on Awareness training which undertakes to safeguard and protect health information whereas the other, HIPAA security training course secures information in electronic form (computer data, electronic transmissions, etc). Each tester has undergone training and certification to ensure adherence to HIPAA rules and regulations. After completion of the training, each tester received a nationally recognized certificate that is valid for 2 years.
Kualitatem Inc. aspires to continually expand the knowledge of its software testers and improve company standards, which is why testers are continually trained on various standards and are in fact certified in a range of top-class software testing tools.
Kualitatem's testers are held to high standards, which is why they are pushed to complete some of the more prominent certifications in the software testing industry. Having these HIPAA certified testers gives our company an edge over many others as we believe in providing only quality products to our clients. In doing so we also make sure that all policies and procedures are in place to comply with the HIPAA Privacy Rule and the HIPAA Security Rule.
Contact us for Healthcare Application Testing at: info@kualitatem.com