Checkm8: Jailbreak Tool Unleashes Permanent Exploit for iOS Devices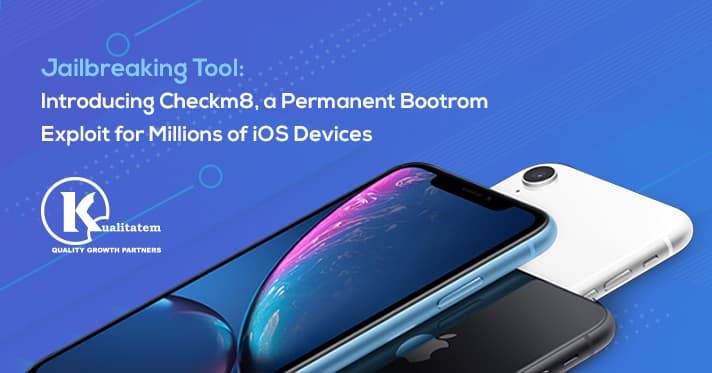 October 2, 2019
Hiba Sulaiman
All iOS devices from the iPhone 4S to the iPhone X are impacted by this exploit!
"Checkm8" – An Exploit Bootrom Vulnerability for iPhones and iPads
According to the researcher, axi0mX iPhone has introduced a new exploit, that could lead to a permanent and unblockable jailbreak on millions of iPhones. "Checkm8", the exploit is a bootrom vulnerability that could allow hackers deep access to iOS devices so much that Apple would be unable to block without a software update. It is speculated to be one of the biggest developments in the iPhone hacking arena in years. Looks like Apple needs to invest in penetration testing services a great deal.
Researchers Continue Looking for Unethical Hacks via Jailbreak
Whether jailbreak still works much for iPhones and iPads or not, researchers keep looking for vulnerabilities in hardware or software that could be used to develop jailbreaking tools. Since there are many firms interested in hacking the iPhone, to either install software that is unavailable at the App Store or for fraudulent activities, like gaining access to someone's device.
Apple has been Fighting Jailbreak for Years – Yet Researchers Discover New Tools
It isn't for the first time that jailbreaks for Apple have been launched. Apple – is a giant in the tech world, has fought to jailbreak for years, which has helped it stay on top of most of these vulnerabilities. However, researchers go out of their way to discover new jailbreaking tools.
Why axi0mX has Shared his Research?
According to axi0mX, millions of iOS devices may be affected and Apple won't be able to patch this exploit which is described as a permanent bootrom exploits for iOS ranging from iPhone 4S (A5 chip) to iPhone X (A11 chip). He explains white hat hackers and other researchers that 'checkm8' is just an exploit and not a complete jailbreak. It took him a few seconds to actually jailbreak an iPhone X and have it boot with verbose messages. The hacker has also explained that he is not interested in releasing this jailbreak for immediate use, but he has shared his research intended for the creation of a jailbreak app that could work on all of the iOS devices mentioned above.
Does checkm8 put all Users at Risk?
The vulnerability cannot be targeted without getting physical access to the device, and you need to trigger it via USB. This means most of the iOS devices, including iPhones and iPads released only two years ago, are safe from the risk of being hacked remotely. In order to use the exploit, the device has to be physically connected via USB, removing the possibility of a remote hack. It reduces the risks of iPhone users' getting compromised unless they lose their devices. However, it raises questions for users who might lose their iPhones or iPads – as it could put their data at a huge risk!