How You Can Improve Continuous Delivery with AI-Driven Test Automation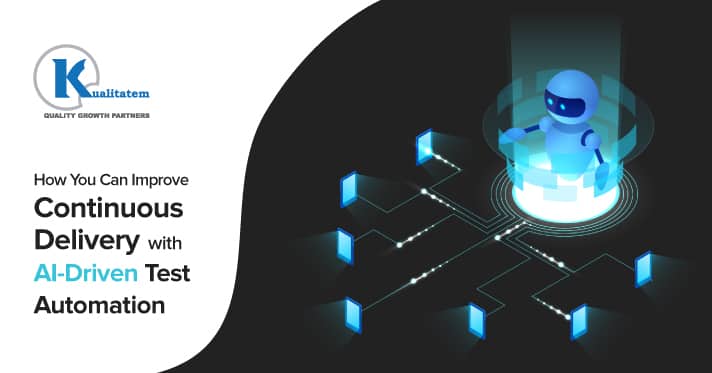 October 22, 2018
Kualitatem
Continuous delivery cannot just be considered as an integral part of value enhancement process. In fact, it is a necessary approach for software development and delivery cycle. This has considerably transformed the techniques in which companies test and introduce their apps in a constantly evolving consumer ecosystem.
In near future almost every app delivered will have embedded AI features. As a consequence, these apps will have the power to examine the real-time and historical data to provide a customized experience. Therefore, testing these apps will definitely require a Test Automation and a Continuous Delivery strategy.
In the present digital ecosystem, consumers are surrounded by virtual assistant and chatbots via different apps and websites they use. These play a vital role in automating activities, leading to an enhanced tailored experience for every consumer.
Sundar Pichai, Chief Executive at Google, claimed at an event that they are transforming from mobile-first to an AI-first world. Hence, because of the evolving customer preferences, the requirement to create such robust apps is also growing.
AI Integrated Test Automation
AI has proliferated across different sectors and adds considerable value to all the processes. According to the article "Top 10 Technology Trends for 2020", almost every app is expected to integrate AI to augment the customer experience.
The significance of the maintenance, development, and delivery of these apps cannot be overlooked in a world where demand is constantly evolving along with enduring cybersecurity threats. Therefore, the traditional apps present in an organizational structure are required to keep up with the speed of the latest app structures also. As a result, it is important for us to create robust apps that can tackle increasing digital challenges and expectations. Here comes the role of AI platform in supporting you for the smooth app delivery.
When AI is integrated into test automation, here are a few things that it performs:
Allow development teams to administer testing for Intelligent Apps
Give scalable enterprise-level AI-infrastructure
Upgraded AI tools for efficient app development
The role of AI automation tools in continuous delivery is similar to agile testing that occurs in fragments and gives results in shorter time and frequent manner. These tools allow testers to skip the difficult testing sections and concentrate more on other high-level scenarios. This leads to a transformation from task-oriented to issue-oriented things. In case of continuous delivery, automation is unavoidable. This particularly happens when AI is being applied everywhere to skip time-consuming tasks during the development process.
For this to happen, collaboration among teams becomes extremely important, where programmers of test automation work with system architects, traditional testers, developers and people from the tech team. The unified outlook and reliable planning will lead enterprises to efficiently influence the power of artificial intelligence-based automation platforms for the sake of continuous delivery.
Also Read: 6 Stages of AI-Based Testing You MUST know!
To what degree can AI testing get beneficial for continuous delivery?
Observing Software Testing in any manner is understandable when we see its advantages and real-world implications. Testing eventually allows developers to point out if their apps actually perform in the real world, according to the expectations. Eventually, it assists developers to successfully detect problems and solve them in their busy schedules. Continuous delivery is also important, as this allows companies to deal with their own apps' glitches, correct them, and deliver the application without any interruption.
AI-driven test automation tools help to classify gaps in the apps. In DevOps-driven development process it is important to recognize problems and solve them quickly. With the help of the AI platform, testers can concentrate on more important issues instead of handling repetitive and small problems.
AI automation platforms also provide the comfort to testers to customize tests with organized info. These testing solutions provide metrics that can elaborate implementation processes, active runs, and keep a check on success rates. Furthermore, the analytics gathered can be utilized to comprehend the glitches in detail and keep a regular check on them via the software development cycle.
Every industry (entertainment, finance, and health) is utilizing AI-enabled apps for automating business-critical activity. Nevertheless, there are numerous testing related difficulties that organizations encounter while leveraging Machine Learning and Artificial Intelligence to run the quality test for apps.