How is Modern Pen-Testing Different from Traditional Pen-Testing?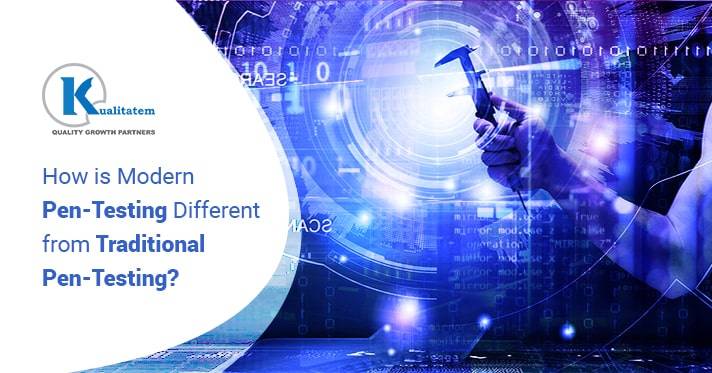 August 28, 2020
Hiba Sulaiman
Cybercriminal activities are one of the most alarming threats and they pose great challenges in the next two decades. According to research by Cybersecurity Ventures, the annual cost of cybercrime will exceed from $3 trillion (in 2015) to $6 trillion in 2021. Cyberattacks are the fastest growing crimes in the U.S. and cybercriminals are finding sophisticated ways to breach security. Organizations are devising strategies in accordance with these cyberattacks to prevent and mitigate them. It is observed that while organizations are constantly struggling to improve their cybersecurity, people are falling for phishing attacks and other security breaches due to their negligence to practice security measures. As attackers explore more sophisticated ways to attack businesses, organizations can no longer stick to responding to these attacks. Thus, organizations are looking for a penetration testing company that formulates solutions to identify vulnerabilities and help in mitigating potential risks.
Why is Penetration Testing so Important?
Pen-testing is one of the proactive approaches QA teams take while testing web applications. It is a form of ethical hacking that replicates a real attack that could occur at any time. These attacks are executed in a controlled manner aiming to identify security issues and to provide feedback on ways to mitigate risks posed by these issues. Organizations are implementing integrated pen-testing, source code reviews, and vulnerability assessments in their software development process. New software applications are being tested and remediated for any flaws, before their release. Pen-testing has become mandatory for every organization's cybersecurity strategy. Cyber attackers are trying to attack modern organizations by intruding into their networks, gaining access to their systems/applications, etc. These attacks are not only limited to the corporate sector but government agencies and across various industry verticals.
The main aim of penetration testing is to prevent attackers from gaining access to an organization's systems and breach their security. Hacking is an important part of the penetration testing process and ethical hackers provide periodic reports of how a certain activity affects the server or website, which is then shared with the organization to undergo proper remediation process. Following are a few reasons why penetration testing should be performed:
Identify new bugs in recently update application

Determine weak areas in the hardware, software and allowing better user controls

Ensure if current controls are effective and efficient

Check if security controls are implemented properly

Test if an application is vulnerable to cyber attacks

Develop a strong defense against any potential attacks
Security threats are common and evolving at a faster pace. Security breaches occur due to inaccurate configurations, disabling automatic updates, and a network security hole in the system/application. A breach is only possible when proper security measures are not taken.
Modern Penetration Testing VS Traditional Pen-Testing
Typically, penetration testing was considered a bizarre activity. In traditional pen-testing, individual testers would mimic a real-attack on the organization's system to track down all flaws. Pen testing was performed annually and was considered as an ideal approach to combat cyber attacks. However, with the passage of time, security experts learned that there is much more they need to do in order to achieve higher security levels.
Security professionals discover modern penetration testing that revolves around unleashing all critical vulnerabilities and security issues and describe how cybercriminals can exploit them. It also includes the remediation process in the form of a detailed report. Thus, modern pen-testing should have dynamic skills and knowledge about the latest penetration testing techniques.
Skills of a Pen-Tester
Following are a few skills that modern penetration testers should possess:
Social Engineering Pen-Testing
Since more than 60% of cyberattacks are performed with the help of phishing and social engineering attacks, it is crucial that pen-testers should be aware of these attacks. They should simulate attacks using social engineering methods to stay a step ahead of malicious attackers.
Manual and Automated Pen-Tests
A modern pen-tester should be able to efficiently perform penetration testing by using manual and automated penetration testing techniques. There are different penetration testing tools that can be used for manual and automated pen-testing. However, pen-testers require expert skills to exploit sophisticated manual pen-testing techniques.
Ability to Work on Various Platforms
cyber-attacks are no longer limited to webpages or networks. They tend to attack other platforms like mobile devices, IoT devices, cloud, databases, etc.
Reporting Skills
In order to achieve the true potential of pen-testing, it is important to ensure that it is documented carefully. A modern pen tester has strong writing skills to draft quality reports. These reports and their findings justify the effectiveness of pen-testing.
Structured Process
The scope of penetration testing should be defined in order to achieve the desired results. Testers should also structure the work process accordingly to make the most of their pen-testing efforts.
How to Win at Pen-Testing in the Modern Era?
Without any doubt, as cyberattacks grow more complex, pen-testers need to amp up their skills too. To ensure that a comprehensive penetration testing program is implemented, it is important that the testers are capable of using the latest tools and techniques. Pen-testers can achieve this goal by getting their certification with a security council to upgrade their skills that match the industry-recognized pen-testing methods. A penetration testing company deploys modern pen-testers that possess all the above-mentioned skills and expertise to ensure organizations remain safe from cyberattacks. In many cases, it is impossible to avoid a cyber attack, as they appear from nowhere, yet firms can combat them with the help of a modern pen-test. Pen testing prepares an organization for more sophisticated attacks, with remediation processes at hand to secure their networks.