Drive Towards Optimal CX with Quality Engineering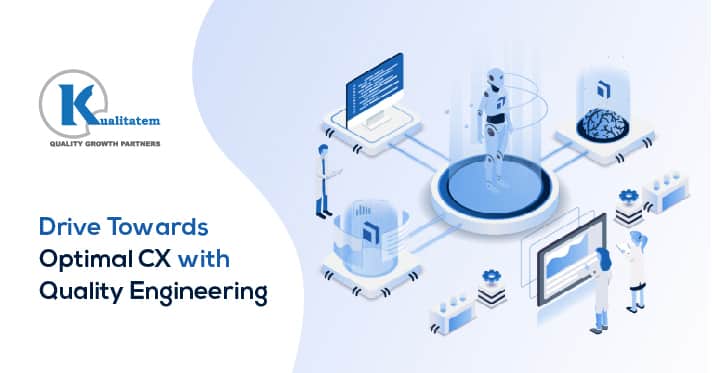 July 2, 2019
Hiba Sulaiman
Are you ready to address the mind-boggling needs of your customers that continue to evolve each day in and each day out? Is your company equipped with what is necessary to face the needs of your customers? Are you fearing the dawn of 2020 or prepared for it? This is the year of customer experience and this is where your advantage lies. However, this could prove to be your very disadvantage as well. Are you ready to take customer experience head-on or shy away?
Business Transformations to Meet Customers' Demands
Customers do not know what goes on in the back of your app development. No, they don't know that. Neither do they know of the time your team members spend in developing a certain application or the time it takes to remove all the bugs. They are also unaware of all the challenges you face when you outsource to a software testing company and liaison with them over the internet. What do they know? They know if an app delivers good customer experience or not. Yes, they will view your application with a magnifying glass and even if there's one bad feature, your application is destined for doom. And, thus, your business. Today, in this dense business environment companies need to undergo rapid business transformations. To facilitate these transformations companies rapidly need to adapt to Agile and DevOps firstly and foremost. They need to rethink and reinvent their business processes and deliver products and services that exceed customer expectations. This transformation of your business must go beyond your digital transformation and operational change. This is because this is not just about getting better at what you do. It is about revolutionizing your business model giving way to innovations and improvisations to gain customers that remain loyal to you for a lifetime!
To increase your speed to market, you will require the following approaches to take your business transformation to the next level:
DevOps transformations
Continuous integration
Continuous delivery
Shifting Towards Quality Engineering
There is no doubt that traditional QA and testing services will help you in your business transformation. But know that you will need to integrate all of your processes on a single platform. Quality engineering will help you do this. You will be able to incorporate quality management practices, enterprise architecture, product management, IT operations management, and software engineering to create a single platform. This single platform will serve as a guide for you to meet the expectations of your customers.
Quality engineering will enable you to deliver customer-centric solutions.
8 Steps in Quality Engineering:
Quality engineering will help you to manage, develop, operate and maintain your IT systems and architectures at par with international standards. As you do this effectively, you will be able to deliver quality solutions. Quality engineering will become an integral part of your deliveries. Take care of the following steps to incorporate quality engineering throughout your software development lifecycle.:
Ensure quality throughout the project. Focus on optimizing the customer experience.
Include functional, non-functional, security, accessibility testing and find out how their results affect the customer experience.
Determine application performance metrics that are of the highest significance to the customer experience.
Ask yourself if the product features are of any importance to the customer.
Craft solutions for risk mitigation as well as cost reduction.
Deliver business value based on KPIs that align with your organization's goals.
Ensure Agile and DevOps transformation by shifting left
Implement continuous testing to maintain quality.
These points are crucial for the CIO of any software testing company. They are also important for any CIO seeking software testing services for their company. It is important that companies realize their power in delivering unforgettable customer experiences for higher ROI, customer retention and more. A proactive approach today will lead to a greater tomorrow in terms of business prospects.