Setup a Testing Centre of Excellence for Your Testing Department – Kualitatem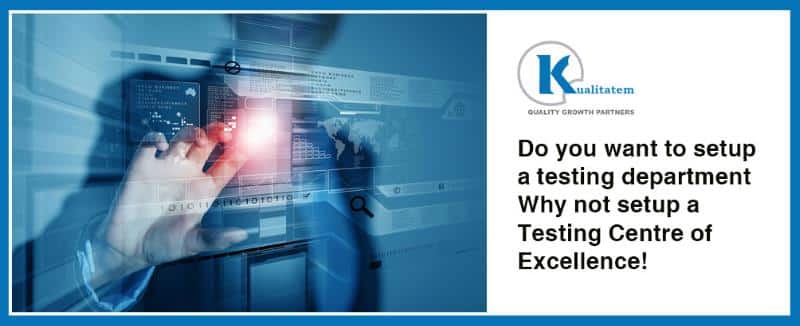 December 19, 2014
Kualitatem
While the IT landscapes are undergoing tremendous changes global businesses are striving to stay successful and competitive. They need software systems that are efficient, reliable and capable of supporting complex composite business processes. All service and product oriented organizations aspire to customer centric and be able to deliver software and products to users which are innovative and rate high on the usability index. To fulfill this mission the organization requires speed and agility in both development and testing domains. Traditional project-level Quality
Assurance practices can no longer provide the momentum and efficiency required to keep pace with these changes. Nor do they allow an IT organization to achieve full control of application quality, gain visibility into the state of quality across projects, or find ways to reduce operating costs and shorten time-to-market for the most mission-critical systems. The factors highlighted in figure 1.0 have majorly led organizations to search for Total Quality Management and Testing Centers of Excellence [TCoE] based solutions:
Benefits of a TCoE:
REDUCED COST: TCoEs help reduce costs by consolidating software licenses, testing, and training—lowering the risk of production downtime and achieving the same or greater levels of testing and service development with fewer resources. Some of our TCoE initiatives in the GCC region have produced up to 35% resource cost reduction over a 3-year time frame
FASTER TIME-TO-MARKET: Projects that used to be delayed due to lack of available resources and the right skill set are now released on time, helping companies stay competitive and respond better to new business opportunities. On average, we have achieved reduced test times of 30% or more, as well as test automation levels of 50-70%
INCREASED EFFICIENCY: Centralizing technology and expertise allows an organization to optimize staff and operational efficiency across projects by implementing consistent, repeatable processes and enabling the sharing of products, staff, resources, and best practices across geographically distributed teams.
REDUCED RISK: TCoE models help reduce risk by providing cross-project visibility to quality metrics and services re-use, by continuously monitoring the status of testing and service development, and by verifying that release decisions are based on quantifiable business risk. Due to implementation of best practices a defect leakage of high severity defects can be brought down to as little as 0.5%.
IMPROVEMENTS: Best practices in testing processes, SOA architecture and governance policies, organizational structure, and artifacts can be collected from across the organization. These practices can then be standardized, improved, and re-distributed to the entire organization—shortening the learning curve for new testing and SOA projects. It also reduces production risk by improving the consistency, quality, and reliability of all applications and services.
ALIGNMENT: The TCoE model can help organizations synchronize business goals with IT priorities, resulting in better end-user services. Standardized processes improve communication and productivity. The CoE model helps organizations adopt a risk-based approach to managing the application and service lifecycles, and connecting quality and SOA with strategic and operational processes and systems.
PRACTICALITY: Building a TCoE is an achievable goal. You can start on a small scale by leveraging existing resources and expanding its capabilities as the value is proven. Companies frequently find the TCoE model to be self-funding.
CAREER ADVANCEMENT: The TCoE model creates a compelling new career opportunity for IT professionals. This enables the most skilled resources to be directed to areas where they provide the greatest value, which in turn helps the organization recruit and retain top talent.
OUTSOURCING/OFFSHORING: A TCoE can help verify that application quality, performance, security, and SOA teams meet the same development standards—for both in-house and outsourced applications.
Kualitatem's TCoE Model
Kualitatem has devised a phased approach for the establishment of a TCoE which helps it to evolve from a small test team into a full-fledged quality services center for organization wide testing needs. Our TCoE implementation model is derived from our extensive experience of implementing test process in various organizations as well as best practices derived from standards like Testing Maturity Model (TMMi) and HP Maturity Model. This integrated approach is customized to be made fully compliant to individual client requirements as well as keeping it scalable enough to be made compliant against the standards for certifications in future if desired. The diagram below presents an overview of our TCoE Model and a description of key steps that are implemented within each phase.
Like all new endeavors, the establishment of a TCOE will begin with the assessment of current QA processes, development practices and overall organizational culture dynamics and maturity levels. As organizations vary across the way they develop and test software hence each assessment phase must be tailored to the needs of the specific organization.
The mobilization phase will help the consultant team to establish a connection with the key stakeholders of the TCoE Initiative across the organization. It is important to note that the TCoE is not limited to the IT department. Expertise, tools and best practices which are relevant to application quality, performance and conformity would be spread throughout the organization.
The adaptation phase is the one which will take up 50 – 60 % time within the implementation lifecycle of the TCoE. This is due to the nature of the activities involved within this phase which will require intensive team training and in some cases bringing on new people in the team.
During the adaptation phase an implementation plan will be developed to establish an organization wide framework for testing and quality assurance. This will involve training of team, creation of templates and selection of the right tools for supporting the TCoE objectives. A TCoE transformation roadmap includes the following key elements. These elements are customized based on the maturity and readiness of each organization.
SCOPE AND TIMELINE: Define the major activities, milestones and timelines for each of the implementation stages
GOALS: Establish goals for each stage in the key areas including test automation, test processes, test environment and governance
INTEGRATION: Determine how the TCoE interfaces with projects, management, service providers and other existing quality initiatives
STAFF AND TRAINING: Assess skill availability and determine the need for resource reassignment, training, additional hiring and augmentation
CORE TEAMS: Establish core teams of SMEs around the areas of automation, governance, asset management and other essential parts of the testing process
INFRASTRUCTURE AND TOOLS: Estimate the cost and resource requirement for buying and maintaining the new testing infrastructure and test management and automation platform
COMMUNICATION: Promote the TCoE through internal communications and discussions to ensure that the entire organization is on-board with the TCoE concept; this will be the next stage of the already achieved stakeholder commitment during the Mobilization phase
GOVERNANCE: Define strategic KPIs and integrate the TCoE into the overall IT governance structure. The TCoE KPIs should be aligned with the key CIO objectives – such as cost efficiency, software quality level, time-to-market, flexibility and agility. The governance process also helps ensure continuous evaluation and improvement for test processes, tools and standards.
The improvement phase requires metrics to be generated and establishment of regular checkpoints to evaluate process maturity. During this phase a knowledge management system will also be established to ensure that the TCOE is well received across the organization. Improvement phase will also cover regular resource training sessions. Other activities during this phase will include the following:
Measure improvement and establish benchmarks for each successive improvement phase
Educate people
Evolve a customized testing framework based on best practices such as ITIL© or TMMI©
Establish knowledge management system
Keep consistency in logistics automation and resource usage
For a customized TCoE Implementation Project contact us : info@kualitatem.com