Better the Findability, Better the UX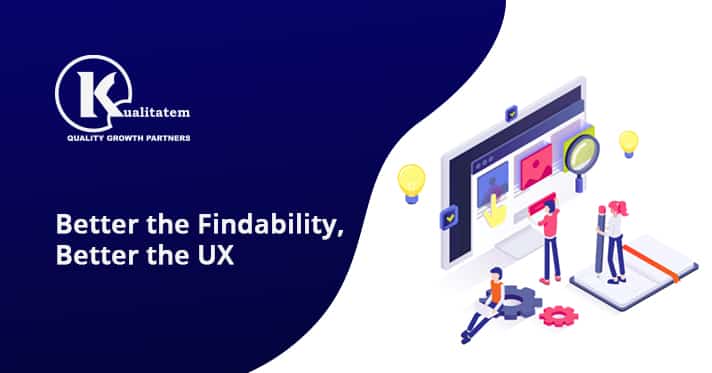 April 9, 2020
Hiba Sulaiman
Designers often make the mistake of fitting everything into the tiny, limited usable space they are provided. The biggest challenge every designer faces today is finding a way to fit all the necessary features while maintaining the highest level of user experience and usability of the product.
This is where findability comes in. It is, basically a term used to gauge how easily the users find what they're looking for when they are using the product. Using a cluttered interface can be hard as users will have to spend more time and search harder for the item they're looking for. As the Hick-Hyman Law states, the higher the number of options presented in front of a user, the slower is the speed of detection.
Low findability can have a devastating impact on your business, especially if your business operations are heavily reliant on websites and applications. For example, if users of an e-commerce website are not able to easily find the products they want, the business loses revenue. An increasing number of potential clients will abandon the website with low findability.
If your app is complex and busy, that doesn't necessarily mean that it has low findability. Findability can be significantly increased by improving user experience. For example, allowing users to save items for later, using cookies for faster load times, or even a well-organized and neat menu can immensely boost your findability.
Four main factors contribute to low or high findability in applications and websites:
Site search
User's level of interaction with the site can be improved by allowing them to search the site's database. One search often leads to another, meaning that users are likely to stay on your platform for longer periods. According to studies, 50% of the online shoppers go straight to the search as the site opens, and 35% will leave the site if they don't find what they were looking for in search.
Related products and links
A list of related products and links to them on your site for the convenience of your users lends a huge boost to findability and user experience.
How much does your app or site match your user's needs?
Your users have specific needs and your job is to add value to your users through your platform. This is why feedback is so important.
Cross-device experience
You need to ask yourself, "What experience am I giving to my users when they view my website through a tablet, desktop, or a mobile?". A good-looking site can fall apart on mobile and this is a huge turn-off for most people.
Therefore, findability is a concern beyond simply being seen on the front page. Designers need to be smart to prioritize the features that go on the front page and with sufficient user research, they must ensure that they get lots of insight into what their audience expects from them. This knowledge should then be leveraged to create products that are in sync with their audience's characteristics. Every user is different and designers need to consider this fact.
Findability issues can be solved by acquiring services of a usability testing company that understands the fundamental need for findability. By employing a few effective strategies, they can improve both findability and user experience. Following are some of the methods that can be very useful:
Use familiar UI patterns
Familiarity provides comfort. With a familiar format and layout, your users will feel relaxed and eased. Some familiar interface patterns include top-level navigation and drop-down menus.
Be consistent in your organization
Your application and website should be consistent, be it the color scheme or how you organize your menu, your user experience can be improved with a consistent organization pattern.
Allow your users to filter results
This will help them find exactly what they are looking for even faster.
Present all elements appropriately
Everything should be labeled. No one wants a video auto-played in the background when they tapped on what they thought was a photo.
Have a strong information scent
Lead your user around your app or site with a powerful scent. Make them anticipate and expect every information you give them.
Conclusion
You need a higher level of findability to ensure great user experience. It's a make or break point which can be dealt with by hiring a usability testing company that can leverage a few strategies to significantly boost your user experience and increase the findability of your product in the process. A usability testing company that understands the importance of findability is the best match for your business.