Automation Testing: Enhancing Customer Experience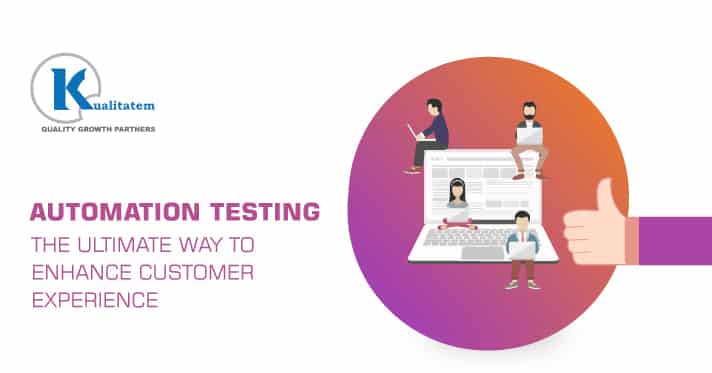 May 3, 2019
Hiba Sulaiman
In today's digital age, automation has made our lives easier than ever. Every other day we achieve new breakthroughs in different fields of life and all the credit goes to automation. When it comes to the Information Technology (IT) industry, automation has worked wonders. Specifically, it has made the testing process simple, easy, and more effective. Investors have realized the importance of automation and they are largely investing in the automation industry. The main reason for the success of companies providing automation testing services is that they offer solutions to produce high-end quality products. This ultimately leads your business towards success.
Here are some of the ways through which automated testing ensures remarkable customer experience:
Know What Your Client Wants
Knowing your clients' requirements is the first step to produce a product which guarantees your customer's satisfaction. Another important thing to take into account is the ease of the user. Automation testing has the potential to create test cases according to the requirements of the clients and the end users who are going to use that product. Companies can easily run automated tests that will ultimately result in a high-end product after detecting all the issues in the software and apps.
Select Test Cases Accordingly
One may think that in automated testing you don't get to make test cases according to your requirements but that's not true. You can actually design your automated testing strategy as you wish and then let automation testing to take care of the rest. The benefit of this feature is that the nature of your product doesn't matter and you don't have to hire a specialist in the domain of your product like you do in manual testing.
Do What Is Necessary
It is a well-established fact that different kinds of software and apps require a different kind of testing. Therefore, always select testing tools which suit the domain of your product best. If the nature of your product demands in-depth usability testing then don't compromise at all. Because, in the end, everything you are doing through automated testing is going to add to the quality of your product. Kualitatem is an example of such an automation testing company which offer all kinds of automation testing services under one roof.
Moreover, here are some of the reasons that will contribute towards the success of your product in the longer run:
Ensure Maintenance
Automation testing offers high-quality maintenance of your product. As you add new features in your product you can test them automatically. You just have to provide new test scripts for the newly introduced features and then let automation testing tools do their job. As a result, the maintenance of your software or app will be a big deal at all. Hence, you will be able to save a lot of time and money.
Reap the Benefits from Information Security
Your clients and users definitely want to have ultimate security of the information and automation testing can help you make sure of that. Since the whole testing process is automated, chances of any error are reduced to a great extent. Therefore, without any doubt, automation testing is your safest option.
Builds Customers' Trust
When the user knows that their information is in secure hands, they will trust you and boost your market reputation. Therefore, if you are launching an app or software, make sure to hire a company that offers automation testing services.
To Wrap It All Up:
In conclusion, automated testing offers everything you need to make a product fully functional and useful. All you have to do is to keep the clients and user requirements in mind while making a testing strategy. With ease, deliver a remarkable customer experience with automation testing.