9 Reasons You Should Run Load and Performance Testing In Cloud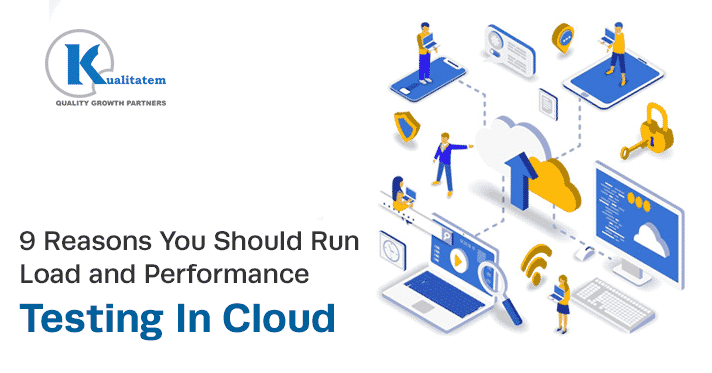 July 19, 2019
Hiba Sulaiman
Companies usually conduct many tests on an application. After functional testing comes the time for performance testing. Here, companies usually are faced with a major question.
What to opt for: One's own testing lab or cloud-based services?
1. Real Testing
Imagine that you want to test a car. Obviously, you will check everything. From brakes to accelerators, and doors to windows. You do this while it is still in the garage. You can do all of this with ease until it is with you. Performance testing is similar. During performance testing, you have no third-side traffic, no disconnection, no DNS errors, etc. Before you're live, you have this ideal situation, and you test rigorously.
But you can't trust these results because this is not a live production server. Cloud-testing services allow you to test your apps in real conditions. Make use of these resources to test against real users and have the best performance testing services.
In the long run, many factors will affect your web-application performance in the case of a load scenario. These are not a part of the corporate LAN. What you won't get are reflections of the system under load in real-life situations.
2. Benefits in the form of Money and Hardware
With cloud services, you can save plenty of money and time.
You won't need to:
Buy hardware for testing lab
Hire support engineers
Buy supportive software
Require more office space
Incur extra costs
3. No Updates
Often, to test, you need to put in a lot of time to update the software. However, this is not the case with cloud testing. In cloud testing, the service provider is responsible for the updates, not you!
4. Switching Between Vendors
If you use SaaS for load testing, you can easily switch between vendors since you would not be tied to certain software. Neither would you have to pay any cancellation fees. Services providers, therefore, put extra efforts to make their clients happy.
You can also cancel your services with your vendor at any time. You don't have to go through long cancellation processes with SaaS.
Using the cloud for testing will give you the liberty to test remotely. You will enjoy the comfort of having flexible routines and less work stress. Moreover, you will be able to keep an eye on your test schedules at all times.
Most importantly, you will be able to deliver products to your clients on time.
5. Better Services
SaaS vendors offer a better services level than internal IT departments. They also help sophistically provide recommendations for improvements. This is especially true when SaaS vendors use SLA contracts.
6. Customer Support
SaaS is economically feasible and scalable. The vendors support common software for different users. In the classic model, many resources are depleted but such is not the case with SaaS. In the classic model, customers use the separate distribution of software. As a result, the testing costs are reduced with SaaS.
7. Performance Testing Services
Performance analysts have lavish salaries and also put in a lot of effort in the form of many hours to conduct testing. They must be facilitated properly. Moreover, they must be masters of at least 2 programming languages and relevant technologies. It is, therefore, quite expensive to dedicate resources instead of using the potential of cloud testing.
8. Power Outages and Failure – No More
Move your testing environment to a cloud service. This will reduce your concern of power outages, hardware failures and other facility disasters that may take place at your office.
9. Stable Internet is All That is Required
One of the best things about performance specialists is that you can hire them from any country. You can easily get access to economical services and share the testing environment as well. Stable internet is all that is required.
Have another reason to conduct these tests in the cloud. Share your views in the comments below!