5 Steps to Building a Highly Productive Test Automation Team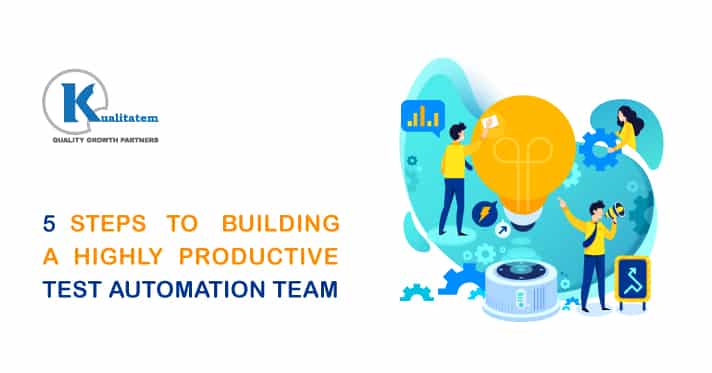 December 10, 2018
Hiba Sulaiman
For those who think effective test automation depends on simply writing codes, they might want to reconsider. Ask any best automation testing company in the industry and they'll tell you that the success of test automation demands to build a team that is not only innovative, reliable, and disciplined, but is proficient in creating and sustaining long-term automation process.
Get acquainted with these 5 steps to building a highly productive test automation team:
1. Get your reality check done!
Quite frequently, test automation is misinterpreted as a silver bullet that is replacing human work by getting everything done automatically at a lighting fast speed. Probably, this misconception comes from never-ending sales pitches on the ease of creating, uploading, and re-using automated test cases whenever needed.
Well, you need a reality check! A sustainable test automation process is in fact built, following the same disciplines as building software to be able to serve a team successfully. You need the first build a dependable team that understands the complexities and obstacles involved in designing and sustaining an effective automation framework with automated test scripts.
There are several organizations that partner with the best automation testing companies to build their automation framework. However, make sure that the one you hire potentially creates a test automation strategy that is sustainable.
2. Hire a Leader
Even if you have a team of expert QA engineers, you still need a leader who can set the tone right. The person you hire as your QA Team Lead has an excellent track record of creating and executing test automation that has been in use efficiently multiple years.
You need to be sure to ask your ideal candidate on how they create their test automation framework that is easy to maintain for use over time. Also, you need to assess your potential candidate on their training methodologies to help his/her team members in developing and maintaining test cases.
Only a true leader has the ability to train others and help them grow for theirs as well as the company's success.
3. Add members to the flock
For building a team you need to see if your prospective candidates have a verse to learn and grow. Your potential team member should have some good years of experience in their portfolio. Ask them what role they played for adding value to the company or team they served in.
While asking them about their capabilities, also ask them what practices they acquired from their previous leaders and teammates that they personally adopted. Stay away from people who do more self-talking and self-praising and also those who say they knew better than their previous team leads.
4. Bring specialists on board
Normally the best automation testing company in the industry will not just rely on hiring people for creating automated tests only. Rather, they would look for specialists that can build on their QA testing processes overall.
For example, a developer that has sound knowledge and experience of software development would bring diversity to the team. Similarly, hiring a junior test engineer would make a worthy candidate who can be trained to become a principal QA engineer.
You need to focus on hiring specialists in reporting, analysis, project management as well as administrative processes. As your team grows, these areas will become even more significant to your team's success and well-being.
5. Right-size your team
Only you can assess that. Yes, the size of your team is an area of concern because you should always have a replacement on standby in case a team member falls sick or goes away on a vacay.
Your test automation team can even comprise of only two people. You can start test automation with one engineer, but soon as your team becomes dependent on it, you need to have a second test automation QA engineer ready to keep your efforts going.
Remember that your manual testing team will always be bigger in size compared to a test automation team, after all, your test automation team serves as an equipper of tools for the manual QA testing team.
However, make sure that your test automation team is capable of handling ongoing maintenance that's essential to keep your test automation running flawlessly. You should plan your maintenance tasks or processes right from the beginning to avoid any kind of pitfalls.
Why wait? Start building!
Put it this way, an estimable test automation team works like a tiny company within a company that builds testing products to ensure quality check.
These 5 steps principles will help you in building an effective test automation team.