5 Key Trends to Watch Out for Test Automation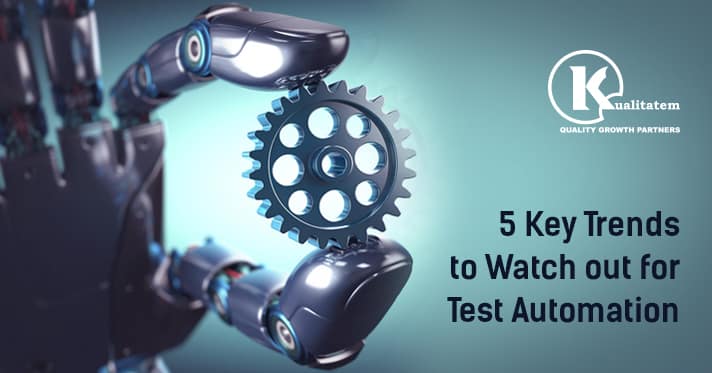 November 6, 2019
Hiba Sulaiman
Manual testing is the essence of ensuring software quality. Yet it gets tedious and repetitive. Since software testing has evolved, automation overcomes the pitfalls in manual testing processes. However, test engineers face a lot of problems, but the good news is that most of these issues have been addressed. An automation testing company in place helps businesses to make the most of their automation efforts.
What Challenges does an Automation Testing Company face?
While automated testing covers most of the manual testing drawbacks, it comes with its own shortcomings, which include:
To run automated tests properly, testers need to keep adjusting test codes that keep expanding to meet market demands. It is a time-consuming process causing a delay in a software release. There is still room to improve automation to make these tests less complicated.
Adding New Functionality may Increase Bugs:
When new features added to an application, automated tests may fail to detect code errors and bugs. This is where human intervention is required, leaving automated testing dependent on manual testers.
The right blend of software knowledge and skills are required to create automated test scripts. Hiring the right talent for automated tests can be a daunting process.
Besides these pitfalls in automated testing, it remains hard to automated user interface (UI) tests. This is why the need for manual testers prevails – while manual and automated testing go hand in hand. With the help of automation testing services, enterprises leverage their AI capabilities to remove limitations to automation.
Let's have a look at the 5 key trends to watch out for test automation:
1. Easy Test Script Maintenance:
How many times have you experienced failed test scripts due to a change in the application under tests but didn't update the automated test scripts? Well, experts are using artificial intelligence (AI) to address the issues testers have with the maintenance of test scripts.
An automation testing company deploys Ai-based tools designed to resolve this issue. For instance, instead of manually updating an automated test after every new interface change, these tools are capable of self-correcting the test scripts.
2. AI Contributes to Report Automated Test Runs:
The amount of time required to automate tests can be daunting and time-consuming. Thus, making it a challenge to innovate, as time is wasted while scrolling through log files to find whether failures are due to code issues or real defects. AI is the perfect solution for such problems. AI-enabled tools can find things at scale for large enterprises, and resolve the issues in no time.
3. 'Self-Healing' in Automation Tools:
For every test run, automated tools collect tons of data – which aid self-healing. All data collected is feeding into AI-enabled tool's algorithms. Every time tester runs tests, the tool trains the algorithm and then uses what it learned from the data. This helps in identifying the behavior of the application. These tools can identify how data can be interpreted to predict an app's behavior or performance based on the tools' capabilities.
4. Continuous Testing:
There is a lot of buzz about continuous testing in 2019. Continuous testing is an approach to testing that allows instant assessment of risks of a new release before it affects customers. Testers are always looking forward to identifying unexpected behaviors at the early stages to prevent or fix them.
Testers ensure the execution of automated tests to augment the quality of software during each stage of the software development lifecycle. Continuous testing focuses on 'test early and tests often in an automation environment'.
5. More End-to-End Solutions:
To make the most of AI capabilities vendors are moving towards creating end-to-end testing solutions for their clients. But to achieve that vendors need to acquire tools that work best in all testing processes. It will result in more mergers and acquisitions by next year.
Conclusion
Since firms are trying to make the most of their automation testing efforts, they need to take the initial risks. Businesses invest in automation testing services for enhancing their testing skills in order to do things more efficiently. Testers have found solutions to pitfalls in manual testing with automation and are similarly working on automation by adopting AI and machine learning (ML) methodologies.