Healthcare Software Testing
Healthcare reforms and administrative mandates have driven a gigantic change in the business and IT industry. Healthcare applications require extensive and prolonged testing endeavors to prove their adequacy, quality, and security before they can be securely conveyed to clients.
Kualitatem has a rich spectrum of healthcare software testing services that have been carefully designed to meet the challenges of increasing customer expectations, emerging business models, compliance requirements, and evolving technological landscape.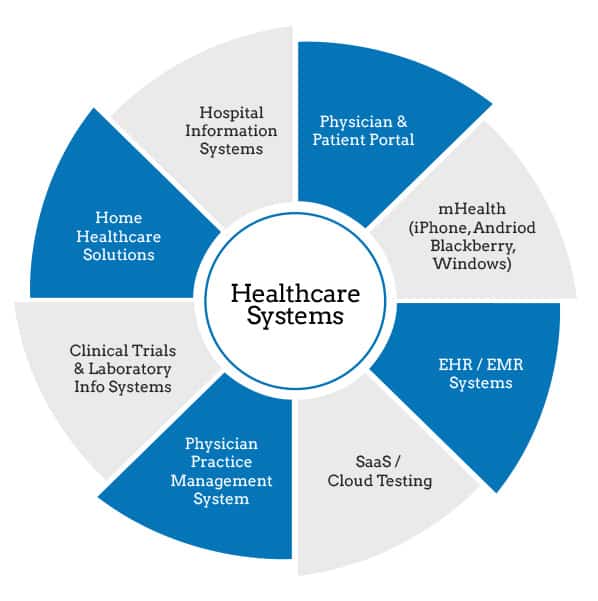 TEST CHALLENGES:
Conformance to a rapidly changing regulatory environment (e.g. Meaningful Use, HIE, ACO, and P4P requirements)
Adherence to existing and emerging healthcare standards (e.g. HL7, ICD-10, XDS / XDSi)
Adoption of emerging technologies (e.g. HTML5, cloud computing, mobile platforms, big data, etc.)
Deeper and wider interoperability to support new standards and emerging market needs (e.g. HIEs and NHINs)
Browser / platform / device independent application development
Compatibility Testing:
Kualitatem has experienced testers who are HIPAA and ICD- 10 certified and well versed with medical policies, procedures and documentation systems. We have a rich pool of test cases which helps us cut down time-to-market for healthcare apps and ensure quality and compliance as per critical standards.
MOBILE TESTING:
By 2018, industry specialists expect 1.7 billion versatile consumers to utilize health care applications through mobile internet. These consumers generally include nurses, doctors, patients, pharmacists, and health care professional. With a world-class test lab in place, Kualitatem ensures that every healthcare app is optimized for key mobile devices across multiple operating platforms such as iOS, Android, and windows phone.
LOAD TESTING:
With exceedingly high remedial costs associated with performance centric issues, it has become critical ever to ensure that a system conforms well to performance & volume targets. Kualitatem has a holistic approach towards healthcare app testing to understand your performance needs and identify the performance deterrents you might be facing.
SECURITY:
With security breaches on the rise, application level testing takes on new importance. With a range of conformance standards, security becomes a key testing area for any healthcare app.
Kualitatem has the right set of skills and security testing tools to perform comprehensive penetration and security testing. Kualitatem can contribute to security assessments in various phases such as compliance and implementations.
AUTOMATION:
Healthcare apps are massive in terms of testing scope & maintenance. The best way to handle that is automation testing. Kualitatem specializes in providing the right mix of licensed & open source tools to help achieve a balance of time and money. We have a wide skill set across creating and maintaining solutions for functional and performance automation. In simple terms, we are a one-stop shop for all test automation needs.
Testing Center of Excellence:
As other industries embrace the Testing Center of Excellence (TCoE) model, health care also needs to make that switch. Introduction of standards, testing processes, test tools, and methods will facilitate all major kinds of testing types and hence ensure scalable and robust applications. An all-inclusive TcoE package for healthcare can help achieve a comprehensive and scalable testing framework for evolving healthcare organizations.
Ready to put your software through its paces?
Our team of experts is ready to get started. Just tell us a bit about your business goals and we'll be in touch ASAP to let you know exactly how we can help.