Shehroze Kashif is the youngest mountaineer in the world to successfully conquer 10 peaks of over 8000 metres. He is now on a quest to become the youngest mountaineer in the world to climb all 14x8000m peaks.
Kualitatem proudly supports Shehroze's mission, and is honoured to be a part of this incredible journey.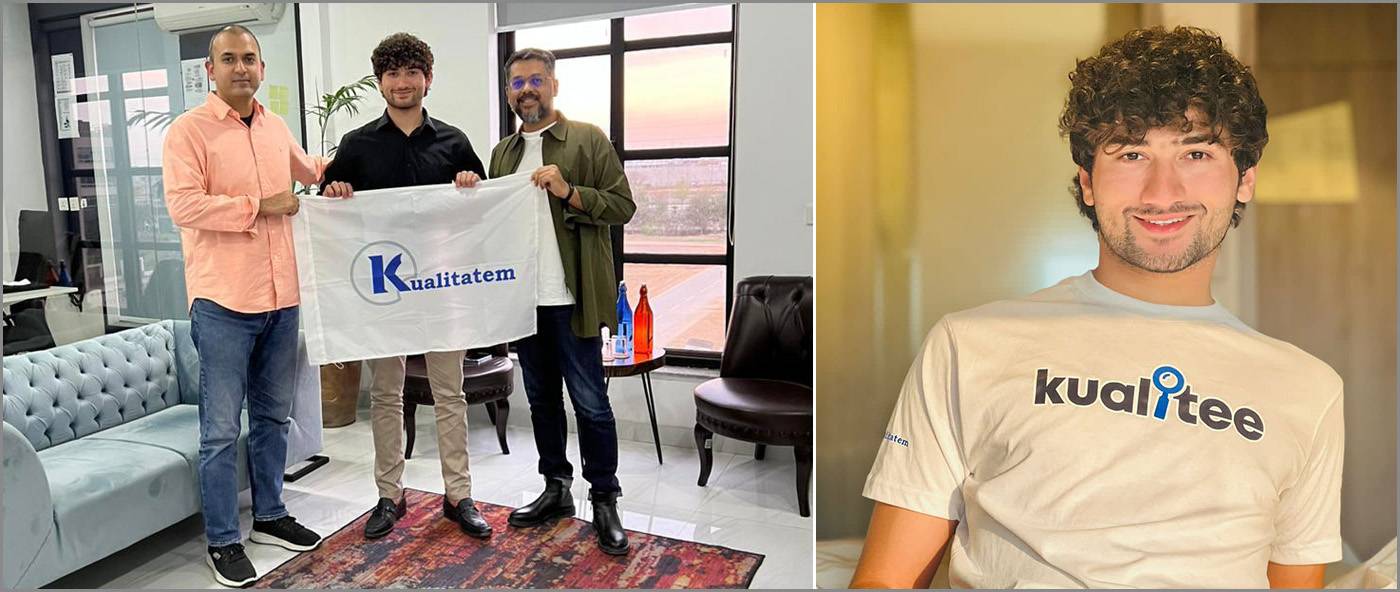 As an organization, our goal is not just to deliver business but also to support talent that may not be related to what we do but which has an alignment with our ethos. Thus, we strongly believe in #EnablingExcellence by empowering individuals who are striving for excellence in their endeavours.
We hope that you also enjoy being a part of this journey.
March 17, 2023: Hitting New Records!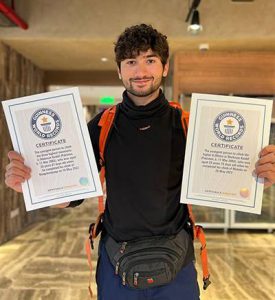 As Shehroze heads into the final phase of his Project 8000, he receives two more Guinness World Records' certificates for his commendable achievements; the youngest person to climb 3 highest peaks in the world and the youngest to climb 5 highest mountains of the world.
This massive accomplishment is a huge moment of pride not just for Shehroze, but also for us, for all the aspiring mountaineers out there, as well as for all ambitious people who are striving hard to achieve their goals everyday. Shehroze's latest achievement is yet another reminder of how hard work and determination leads to conquering great heights, and also reiterates our mission of #EnablingExcellence.
March 18, 2023: Reached Dana, Nepal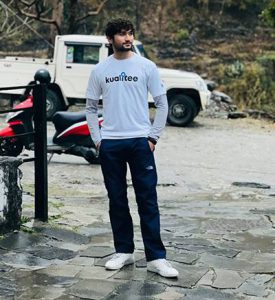 Shehroze reaches Dana, Nepal, on March 18 2023. His next stop is Annapurna Basecamp – one step closer to his expedition.
A quick recap: Shehroze is aiming to be the youngest mountaineer to summit all 14 of the 8000 metre peaks. As he moves forward, we continue to support him every step of the way and are excited to see him traverse towards his challenging goal.
Every new step further counts – so stay tuned for regular updates!
March 23, 2023: Annapurna Update
Shehroze reaches Annapurna 8091m Basecamp.
Despite heavy snowfall and having to break trail in 2-3 ft. of fresh snow, Shehroze made an extraordinary effort to trail break for several hours and reached Camp 1. He will stay at Camp 1 for the night, and plans to reach Camp 2 tomorrow before coming back to Basecamp.
This is the 4th time that Shehroze has been appointed as Expedition leader, and he is leading the team with admirable determination during this extraordinary adventure.
We hope Shehroze reaches Camp 2 safely, and are eager to see what comes next.
March 26, 2023: First Rotation Complete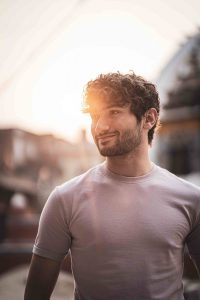 Shehroze has opened route as Expedition Leader till Camp 1, and spent two nights there. However, the weather conditions were harsh and not favorable for the team to proceed to Camp 2. Despite the setback, Shehroze and his team displayed exemplary mountaineering skills and decided to descend back to Annapurna 8091m basecamp.
Currently, the team is waiting patiently at the basecamp, keeping a close eye on the weather forecast and eagerly anticipating the opportunity to resume their expedition. Shehroze remains motivated and focused on the task at hand, even in the face of challenging weather conditions.
March 28, 2023: Basecamp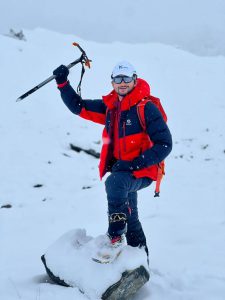 Shehroze, along with his team, is currently stationed at Basecamp as the weather at Camp 1 has been harsh and unpredictable. Despite the challenges that included an avalanche, they remain determined to continue their ascent. They now taking a brief pause to regain their energy before continuing their climb.
As any mountaineer knows, climbing is physically and mentally demanding, especially in harsh weather conditions. Therefore, taking a break to replenish one's energy and strength is essential.
The harsh weather conditions can be daunting, but it is not uncommon for mountaineers to face such challenges. With proper training, planning, and perseverance, climbers like Shehroze and his team can easily overcome obstacles. We wish them the best of luck on their journey to the summit!
April 1, 2023: Waiting at Basecamp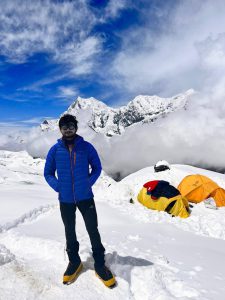 Shehroze has set his sights on conquering a challenging summit. However, the weather has been unpredictable, and he has been forced to pause his ascent until conditions become favorable. Despite his eagerness to reach the top, Shehroze understands the importance of waiting for a good weather window. He knows that pushing forward in harsh weather conditions could be dangerous. Thus, he has decided to wait until the weather improves.
APRIL 4, 2023: PATIENCE IS KEY!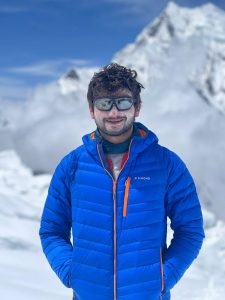 Shehroze is still waiting for the weather to improve so he has not proceeded with his expedition any further.
He is aware that the weather can be fickle and unpredictable in the mountains, and that his success depends on making the right decisions at the right time. Shehroze's determination, coupled with his ability to exercise patience, will surely help him achieve his goal!
April 12, 2023: Weather Change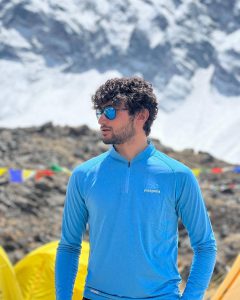 After a few days of inclement weather, there is finally some sunshine at Annapurna basecamp. This means climbing activities are resuming! Shehroze and his team are all set to tackle Annapurna 8091m, and thus step closer to reaching their end goal.
April 16, 2023: Reached Camp 4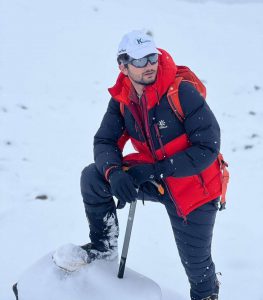 Shehroze has reached Camp 4 on Annapurna 8091m, following his successful arrival at Camp 3 yesterday.
Tonight, the team will make their final push towards the summit, with their sights set on achieving a monumental accomplishment. As they navigate the treacherous mountain terrain, we wish them the best of luck.
April 17, 2023: Successfully Summits the 10th highest peak in the world; Annapurna!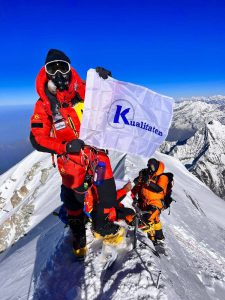 With Kualitatem backing him up, Shehroze has now become the youngest person in the world to summit 11 peaks above 8,000 meters!
Shehroze has successfully summited the 10th highest peak in the world; Annapurna.
This treacherous mountain peak in Nepal stands tall at 8,091 meters, and is known for its perilous climb. We are extremely proud of Shehroze for accomplishing this truly remarkable feat, and reaching impressive new heights.
April 18, 2023: Shehroze Rescued During Descent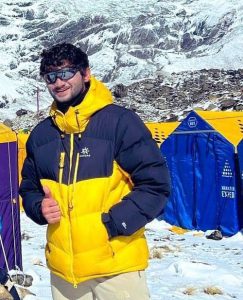 Shehroze Kashif was rescued from Mount Annapurna today due to grave difficulty during his descent, as a result of bad weather. A helicopter was dispatched from Kathmandu to the higher camps of Annapurna & the mountaineers have been retrieved and taken to Annapurna Basecamp.
May 6, 2023: Shehroze Sets off to Conquer Dhaulagiri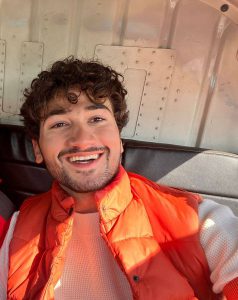 Shehroze is now out to conquer Dhaulagiri, the 7th highest mountain in the world!
He has arrived at Dhaulagiri 8167m Basecamp. This will be Shehroze's 12th 8000er. Due to the harsh weather conditions, he would have to wait before proceeding further with his expedition.
May 15, 2023: Shehroze reaches Dhaulagiri Camp 2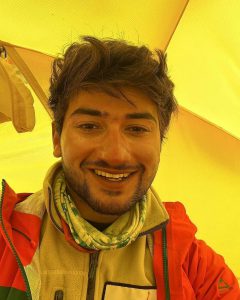 Shehroze Kashif has successfully reached Camp 2 of Dhaulagiri 8167m. Despite the challenges of high altitude and extreme weather, he remains well. Shehroze plans to proceed to Camp 3 tomorrow, continuing his challenging ascent towards the mountain's summit!
Stay tuned for further updates.
May 16, 2023: Shehroze reaches Dhaulagiri Camp 3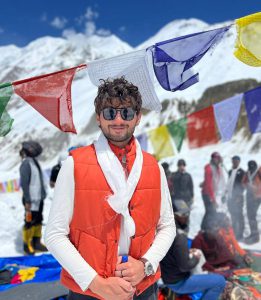 Shehroze has reached Camp 3 of Dhaulagiri 8167m! The weather conditions are favourable. Shehroze will make a decision tonight about when to proceed with the final ascent to the summit.
Shehroze has started summit push on Dhaulagiri 8167m. This will be his 12th 8000er. We wish him the best of luck!
May 17, 2023: Dhaulagiri 8167m Summit – Shehroze Breaks Another Record!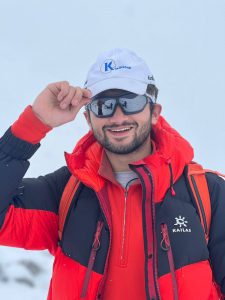 Shehroze summited the 7th highest mountain in the world, Dhaulagiri 8167m, on May 17, 2023. 
Shehroze is on a quest to summit all 14x8000m peaks. This was the 12th peak in his mission, making him the youngest climber in the world to summit 12x8000m peaks!
Kualitatem is honoured to have supported Shehroze in his recent milestones and to have backed him up through his ambitious journey.