Will Blockchain & AI Restructure Digital Business in 2018?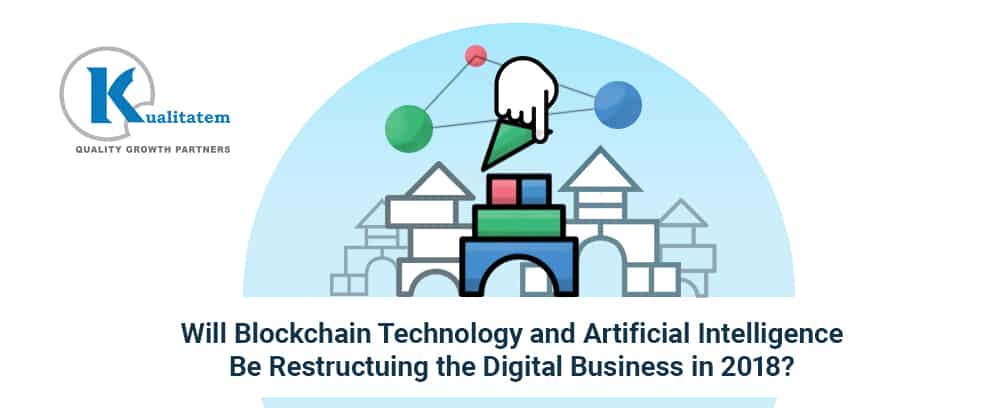 December 8, 2017
Kualitatem
2017 has introduced plenty of new technologies and business strategies, while many are being predicted to rule the upcoming alpha future. Among them, , Blockchain Technology and Artificial Intelligence top of the list of emerging technologies.
As per Dimension Data, Blockchain and Artificial Intelligence, Robotics, Augmented Reality (AR), and Virtual Reality (VR) are largely going to shape the digital businesses in 2018. It has also been warned that businesses that will not review their investment cycle are at a higher risk of getting collapsed.
According to Gartner and Dimension Data, Blockchain will transform the upcoming digital world and IT to the new levels. Though it has already become popular as a technology behind Bitcoin, now it is growing massively to potentially benefit the development and security of people globally.
Ettienne Reinecke, Dimension Data's Group Chief Technology Officer talks about Blockchain:
"In the financial services sector, we've seen the US and European capital markets moving onto blockchain platforms and similar activity in markets such as Japan. Considering how conservative and compliance-focused this sector is, that's quite remarkable."
He further added, "it's ironic that the cybercriminals who perpetrated the recent WannaCry ransomware attack could hold a federal government to ransom and demand to be paid in Bitcoin. Bitcoin might be a crypto-currency, but it's based on the blockchain, and if cybercriminals are confident that Bitcoin provides a safe mechanism for the payment of ransoms, it indicates just how secure the distributed ledger approach is.
Reinecke believes that blockchain has the potential to re-engineer cybersecurity completely, but the industry has yet to come to terms with it."
What's the background of Blockchain Technology?
The Blockchain technology is in its early stages though mega enterprises like Microsoft, Maersk, Visa, IBM, Walmart, Foxconn, Nasdaq, and JPMorgan Chase has already implemented it to improve their payment and development systems.
As per CB insights, many startups have invested $1.1 Billion in the cryptographically secured ledger in the two last years. In the coming future, the implementation of Blockchain will pose many challenges on amateur businesses if they don't buckle up NOW!
Blockchain is trusted to visibly benefit the digital business by promoting the decentralization of data to various credible networks. In short, it will become a digital yet virtually intelligent way to add value in health care, business, education, government, finance, and banking sectors. While AI will be a priority support of Blockchain testing throughout.
Cryptocurrency is the future and Blockchain is all set to secure it from further cyber breaches!
Let's talk about Artificial Intelligence!
Artificial Intelligence is another topmost technology predicted by Gartner for the coming year. It is greatly expected that autonomous systems will evolve and business will adopt AI patterns for better decision-making, re-establish business models, and improved customer experience and user satisfaction.
Digital business will require reserving large investment banks for data preparation, algorithm, and training solutions. Surprisingly, AI would be seen everywhere from customer support to robotics and market to analytics. Integration of AI will grow vigorously for faster and cheaper content delivery. We can see major software companies like IBM Watson, SAP Leonardo, Salesforce Einstein already launching embedded AI right into their interfaces.
Moreover, China will entirely become an AI alien nation by 2020. What more do you seek to believe in the power of artificial intelligence?
Why are BlockChain Testing and AI going to get a boost in 2018?
It is not hard to believe why both these spectrums are going to restructure the upcoming digital businesses. If we look around, we will see most of us getting help from Siri, or customer service chatbots. The ubiquitous usage of these virtual assistants is a sign that the game has just begun.
In 2018, financial industries will be the first adopters of Blockchain technology. Ceaselessly, it will further lead to sector like healthcare maintenance, govt., manufacturing, media distribution, identity verification, title registry, and supply chains.
Gartner cited that Blockchain was the most searched term on Gartner.com in February 2017 that has increased by 400% now. However, due to many challenges in the way, only 20% of financial organizations will adopt Blockchain by 2020.
While according to a recent survey by Gartner, 59% organizations are finding solutions to build AI strategies and many are planning to embed the intelligent technology.
It is going to get very competitive in the few coming days and its time every QA team and tester must prepare to learn new Blockchain testing strategies to cope with the booming AI and Blockchain challenges.
Because the oncoming digital revolution will spare no one!