What's in Store for Software Testing in 2021?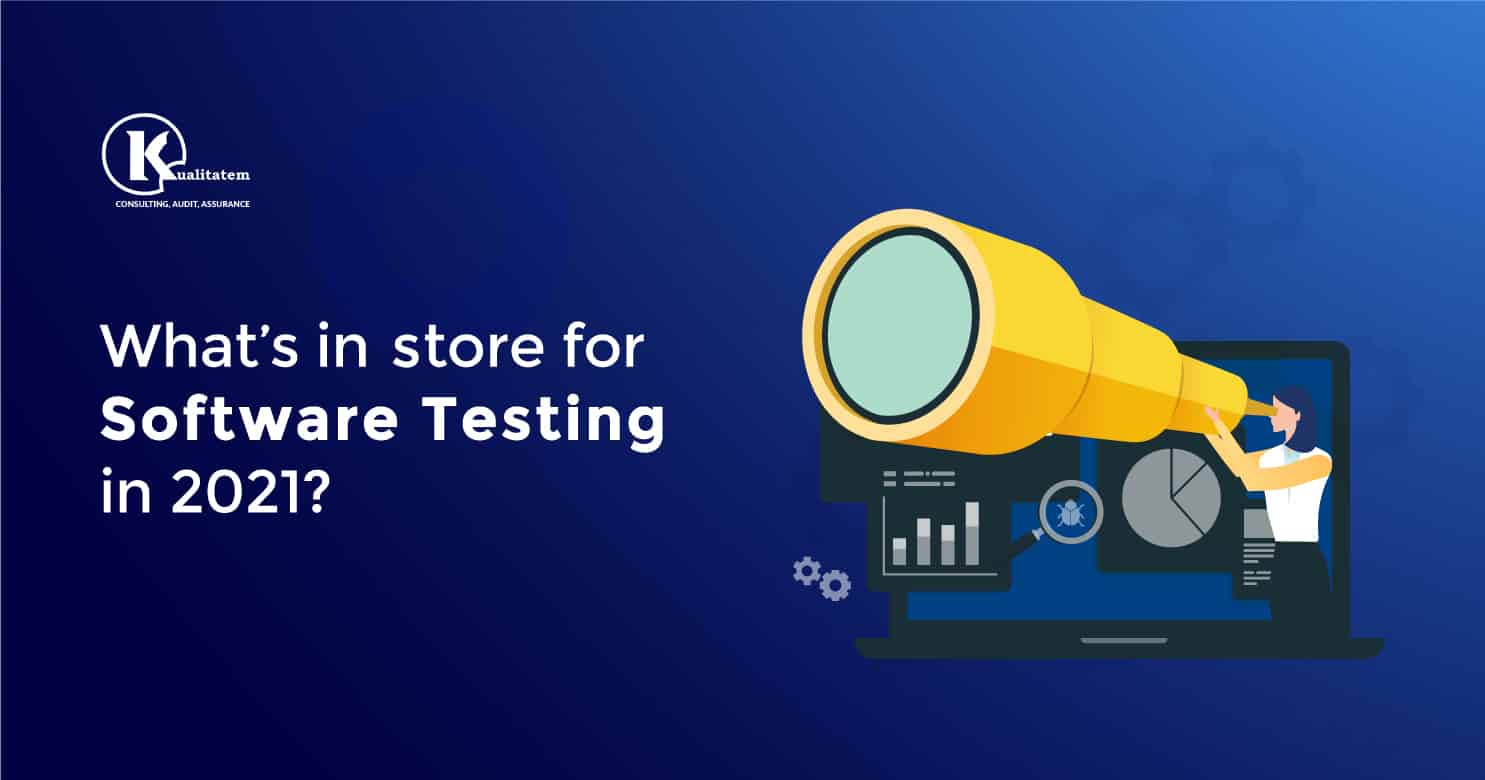 January 1, 2021
Hiba Sulaiman
The world of online businesses grows and gives birth to new challenges for the software industry every day. The continuous pressure to deliver products to market and scale their production weighs heavily on development and QA teams. Today, businesses realize the importance of quality control and look forward to making the most value out of their software development should keep up-to-speed on current software testing trends, that include industry best practices. In addition to keeping pace with how industries and technologies are evolving, QA analysts face an increasing number of issues every now and then. For product owners looking to reduce their time to market while keeping QA at the top, we have listed down the latest trends in QA that can help accelerate release cycles while maintaining the highest level of software quality.
Latest Technologies in QA Process
The QA and software testing landscape is changing at a very fast pace. The emerging trends are more relevant than ever for companies and testing professionals, as modern customers live in a rush mode and require everything at their fingertip. As the number of apps organizations use increases, and security-related costs increase, software testing receives more attention than ever before. As per the World Quality Report, 6% of organizations consider cost as the greatest challenge for software testing. Testing budgets increase at an alarming rate, and they are inseparable from the software engineering budgets, as QA is more embedded into the development cycles. As a result, more businesses are considering the value of quality assurance by looking for offshore software testing companies to assist with their specialized services.
For instance, the growth in the mobile market has increased the use of mobile applications. Mobile QA and testing is also an essential component of many businesses' development strategies. When it comes to testing technologies, there is no perfect solution that guarantees the desired results. However, companies looking for on-premises and cloud device vendors to reduce their in-house infrastructure required for testing applications.
Although AI is a tool that makes automated testing tools and QA princesses more efficient, it does not negate the need for skilled professionals who can develop cost-effective testing solutions. In addition, user testing with real human beings is an essential component to ensure that the product is working, user-friendly, and valuable for the customers.
If you are looking to re-strategize software development projects, here are a few software testing trends to keep in mind for 2021:
AI in Automation
Experts predict that the use of artificial intelligence (AI) will continue to grow in innovative technologies, due to the growing number of apps that are being used in a connected world. The investment in AI is expected to reach $6-7 billion in North America. Whereas the global investment in AI is expected to reach $200 billion. This is due to the constantly evolving amounts of data utilized in software applications.
Software testing teams can leverage AI and machine learning (ML) to improve their automation strategies and keep pace with frequent releases. For instance, QA engineers can utilize AI algorithms to identify the scope of test automation. In addition, AI-powered testing apps can optimize test suites by detecting redundant test cases and ensuring maximum test coverage.
QA Automation is Important
Test automation continues to gain momentum. The process of continuous delivery would not be possible without automated testing. In an agile environment, defects and bugs are detected faster, so test automation makes the QA process more efficient. Besides the lack of automated tools for developers, automation has become an important part of the software testing life cycle. In addition, outsourcing to offshore software testing firms is also a way to avoid irrelevant testing practices and allocate resources to complex test scenarios to improve product value.
According to the continuous delivery approach, continuous testing implies that QA can access, evaluate, and change the risks associated with new releases before they affect the end-users. QA automation empowers QA to achieve the desired test results enabling quality checks at each stage of the software development life cycle.
Security is the Top-Most Priority
With the technology industry growing at an exponential speed, the amount of information keeps on growing, making security testing a top priority for companies that are conscious of data flow, and exclude any leaks, code errors, etc. In short, introducing security testing at early stages proves to be cost-effective in almost all cases.
Adopting Agile and DevOps
As organizations move towards digital transformation, digital testing becomes more and more popular in recent times, and it is expected to continue in 2021. The key driver is the ever-changing business models and the adoption of QA automation tools. To stay ahead of competitors, the organization try new approaches and implement the latest methodologies that shorten delivery timelines. So digital transformation with a focus on customer experience-driven QA golds its place in expected software testing trends in the coming years.
DevOps eliminates the boundaries between testing, development, and operations to increase deployment speed, reduce time to market, and promote higher ROI. Similarly, QAOps practices also strengthen the communications between development and QA teams in a CI/CD pipeline. The quality of tests should increase the demands, changes in projects, and releases. This results in the growing popularity of software testing automation and QA outsourcing to offshore software testing firms.
Moving Forward
In order to achieve a product-market fit, any organizations focus on quality and rely on professionals working with offshore software testing firms. These services help you find skillful QA engineers and resources that are mature in terms of apple technologies. It is expected that there will be an exponential increase in independent testing in the years to come. With the expense of a huge impact on businesses in 2021, it could be best if you focus on customer experience and build it on the agile and DevOps best practices.