Top Software Testing Companies to Work with in 2020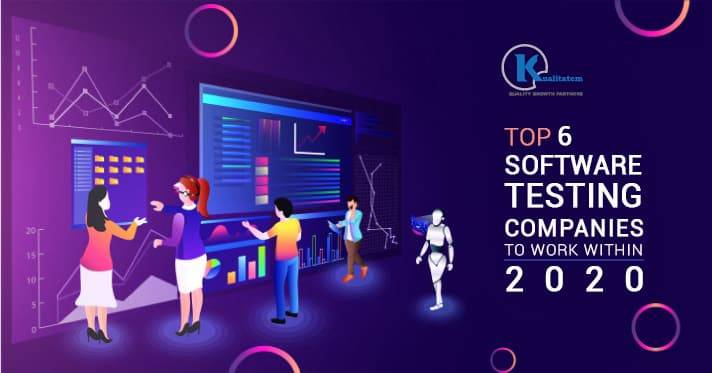 December 4, 2019
Hiba Sulaiman
Seeing the ever-evolving business requirements and technology boom, companies need to choose sophisticated software solutions that are not just powerful, but attractive from end-users' perspective.
In addition, to keep up with tech trends, organizations also need to look out of their up-and-running systems and to ensure the cohesion and integrity of the IT environment.
With solutions and IT ecosystems becoming more complex, the risk of problems and shortcomings within a software lifecycle increases considerably. Consequently, companies continuously suffer from a range of software-related issues fluctuating from small bugs to complicated code issues that may harm the entire business.
That's why it is high time that organizations focus more on their software development process and also prioritize software quality assurance and testing activities to guarantee successful product delivery.
In case you're searching for an optimum technology partner, or a software testing company, you need to look into their expertise. For your convenience, we have listed down top software testing companies based on their strengths, years of expertise and areas of specializations. Have a read!
Kualitatem was established in 2010 in the US. It is an award-winning software testing and quality assurance company. With a growing global clientele across 25 different industry verticals, Kualitatem specializes in Performance, Functional, Usability, Security, Cross-Platform Compatibility, and Automation Testing. Apart from testing, Kualitatem offers Information security consulting and advisory services and has carved a niche for themselves as a leader in the field. With over 100 experts and have completed nearly 2080 projects, Kualitatem functions globally in the US, Middle East, and Pakistan.
Moreover, it also offers one of the test management tool in the market by the name of Kualitee.
ScienceSoft is a Texas-based software testing and QA services vendor with 30 years of experience in the domain. The company has a total of 550+ professionals and an in-house testing center of excellence, which includes ISTQB-certified test engineers. ScienceSoft's core services comprise managed testing, test automation, QA consulting and quality assessment. The company has completed 450+ software testing projects in more than 10 industries, including retail, healthcare, manufacturing, professional services, banking, and telecoms.
3. Cigniti
Cigniti is a Software Testing Company that specializes in providing high-quality services to their enterprises. The company was established in 1998 in the US and currently has 1,000 employees, rendering services to clients all around the world. The company specializes in providing Quality and Digital Assurance and Advisory services to customers all around the globe.
4. QualiTest
Founded in 1997, QualiTest is a US-based Software Testing Company that excels at providing quality assurance and software testing services. With nearly 1000 employees, the company has a large crew working on advancing their testing methodologies and activities. QualiTest endeavors to provide superior QA solutions and enhance their customer's software quality.
Qualitest's focused services are Mobile Testing Services, Website Testing, and Cyber Security Testing.
5. A1QA
A1QA has been around since 2003 in the US, perhaps one of the oldest software testing companies in the industry. It has the experience of delivering 1500 successful projects to its worldwide customers. They offer software and QA testing services for different industries. It has a total of 250 employees working under its umbrella.
Their core services include application testing and cybersecurity.
6. QATestLab
Ukraine based QATestLab was founded in 2005. Only functioning with 50 employees, and has been delivering high-quality service for more than 10 years. Although Manual and Automation Testing are their core service areas, the organization focuses on meeting client needs in the best possible way against a variety of industries including e-commerce, healthcare, education, mobile, media, and entertainment, training and education.
7. Abstracta
Abstracta has been around for 10 years and providing outstanding services to improve its customers' processes through software quality engineering and testing. The company's core services or feature is its agile partnership model with Test Automation, Mobile Testing, and Performance Testing services under its wings.
8. Testlio
Testlio was founded in 2013 in California, USA. Since then, it is determined to help ensure exceptional customer experiences. With a professional testing team at its disposal, Testlio provides flexible, scalable, and on-demand QA solutions. This has helped them to work with well-reputed organizations such as Fox, Verizon, Yahoo!, Sega, pipedrive, etc.
9. Oxagile
With a 15-year experience of providing enterprise-grade software solutions, Oxagile has been successfully catering to the requirements of SMEs and global corporations. It provides QA services, business analysis, requirement management, project management, software designing and coding, and ongoing maintenance and support. Oxagile has 200+ clients all around the globe including Google, Vodafone, and Veon.
10. Thinksys
Thinksys's main selling point is the integration of artificial intelligence and big data analytics in their diverse set of services. Thinksys provides top-notch QA and software development services that have helped them expand their clientele rapidly over a very short period. Headquartered in the U.S., With a technical team of over 150 professionals, Thinksys caters to the requirements of businesses of all sizes and industries. It is still a relatively new organization with 5 years of experience in the industry.
11. Cybage
Headquartered in India, Cybage is an outsourced product company providing testing, consulting, and product engineering services. Services of Cybage spreads in all the domain like IT services, CRM, E-commerce, offshore, etc. Cybage has been helping its customers maximize ROI and reduce the time to market by using world-class tools, effective methodology, and proper environment. As of 2018, the company earned a total revenue of $4 million.
12. QA Source
QA Source is another well-reputed software testing company. Known for providing good quality services in affordable pricing, QA Source has attracted big clients such as Adobe, Oracle, and apple. Its core services include automation testing, manual testing, security testing, performance testing, API testing, and QA analysis
13. QA Mentor
QA Mentor is a multi-award-winning software testing company headquartered in New York. With over 250 certified QA professionals in 8 different countries, QA Mentor offers 30+ QA testing services. It stands as a market leader in software quality assurance and testing space, serving over 380 clients from Fortune 500 to startups in 28 countries.
14. DeviQA
DeviQA is a US-headquartered software testing company offering services such as automation testing, full-cycle testing, performance testing, API testing, QA consultancy, and audit, etc. With an experience of over a decade, DeviQA has a team of 100+ employees promising reliability, efficiency, and expertise as core principles of their QA services. It puts special emphasis on the privacy and security of customer data storage and all intellectual property.
15. TestMatick
Last on our list is TestMatrick which is another US-based testing company. With an estimated annual revenue of $1.5m (2018), TestMatrick serves prominent clients such as Globale, WebShadow, and PageSuite. Its core services include mobile testing, automated testing, load testing, QA recruitment services, security testing, and web application testing.