The Future Of Platformification in Banking Sector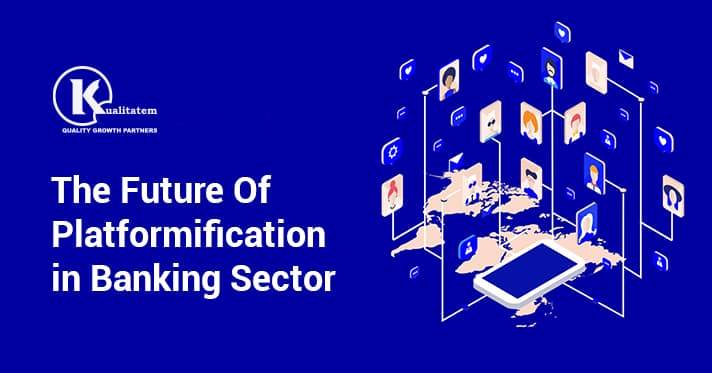 March 10, 2020
Hiba Sulaiman
Platformification is based on a business model where different enterprises come together to solve a business problem for a customer. These enterprises could be business partners, correspondents, banks, fintech companies, and competitor banks. It is more likely that businesses in this ecosystem change rapidly, with new players entering and others leaving the market. We can see examples in other industries like Apple and Amazon. Similarly, there are early birds in financial services that include neo banks and marketplace lenders. This opens new doors for a banking app testing company, where they can practice platformfiction.
Banks Need To Pace Up Their Speed Of Adoption
This business model is still evolving due to which banks need to pace up with the new technologies to tap new opportunities and face the challenges and threats too. The impact of platformification on banks can be defined in the following ways:
Seamless Integration – As there are rapid changes in the ecosystem, it becomes important for banks to be able to connect with new partners conveniently and securely
Development Capabilities – Fast-changing business requirements require exceptional development capabilities. The platform should support these changes and handle the complexities. For instance, banks should be able to roll out new capabilities such as pilot projects, etc.
Business Flow Management – Technology should support true business flows. It should control what data is used, and where it is used. Business flows should be aligned with the customer needs
Data Sharing And Protection – As ecosystems evolve digitally, more cyber security is required to secure personal information and data privacy checks should be placed
Augmented Automation – Automation is crucial for banks to streamline their daily operations, maximize efforts and minimize costs. However, they also need to add AI to their processes. They need a combination of both human intelligence and artificial intelligence.
In the current scenario, banks have to be more dependable and reliable. Since it is a place where customers place their money and trust, and they expect it to be secure. Banks have been early adopters of technology and in the case of a business model, they have found interesting solutions. One of the main challenges banks face today is that technology removes the main barriers to entry and this is raising questions about whether customers need banks. It is obvious that customers need banking but do they really need banks?
Yes, customers need banks, but only if banks continue delivering the right balance of convenient and secure services to their customers. With the help of platformification, banks can deliver exactly what they are expected to. Fintechs and banks have been offering innovative products and services to address modern consumer needs. Established banks have also invested heavily to keep pace with technological changes. However, platformification is gaining the spotlight. Thus, rather than using one bank or banking app for holiday money or loan, these services are available on multiple platforms, offering seamless and convenient services. An app testing company gets more opportunities to tap into the market with changing technologies.
Over the past few years, platformification is a trend prevailing in major industries, including the banking and financial services industry (BSFI). Large players acquire small fintech companies and incorporate their services into the bank's platform. This helps big banks in patching the legacy system issues while granting fintech a seat at the table in the industry to improve and enhance the consumer experience. This has also helped banks streamline their operations to focus on core financial transactions while offering innovative solutions along with traditional banking services.
Moving forward
Consolidation is a key player in the platformification process and has witnessed an increasing number of fintech companies acquired by big banks to offer the highest level of services. However, this technology is set to stretch beyond legacy banks taking over fintech firms and should also bring along big players in collaboration.
According to Gartner, 80% of traditional financial companies will either be out of business or become commoditized by 2030. Banks would be able to focus on competing in the areas that affect their bottom line instead of trying to outdo each other by adopting platformification. In the last decade, banks have been able to overcome only smaller challenges. They are not able to keep up with initiatives like Open Banking while shifting towards platformification.
What's Ahead?
While traditional banks are expected to remain at the core of the financial services industries, the way how consumers interact with banks is said to change in the coming years. Platformification will accelerate Open Banking, where small and medium-sized businesses will be able to centralize their finances and search for solutions that match their business requirements.
Traditional banks aim to create a smooth transition between various services, which are tailored to their consumer preferences. Services like FX, crypto, P2P payments and insurance are integrated with the traditional banking processes, but there is still room for improvement. Open Banking makes the process more accessible and addresses the need for innovative solutions. For instance, banks still haven't solved the issue of how to integrate different bank accounts cross-border. This is expected to be a major shift for the payments industry.
However, it depends on the willingness of traditional banks to collaborate and adopt this platform flexibly. Over the next decade, large financial institutions are expected to expose richer platform toolkits, as they have invested in the platformification. Banks and other financial institutions will remain the top players but there will be the emergence of new vendors who will focus on the interoperability of these services. It is an environment that provides innovative solutions to end-users for both consumers, and the marketplace. Similarly, a banking app testing company will also have to come up with innovative ideas for testing these systems and applications that support platformification.