Tester's Diary: Look for These Soft Skills in A QA Tester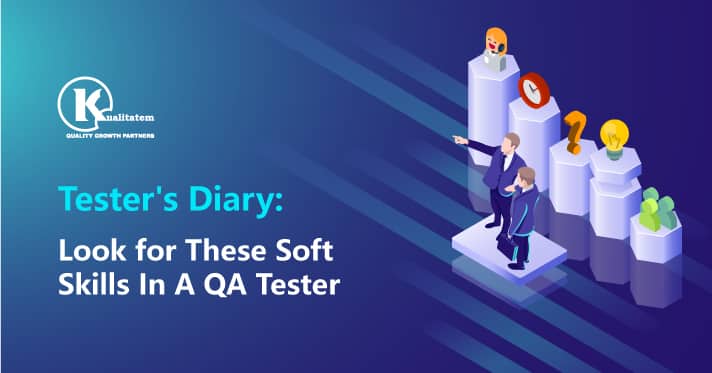 December 3, 2018
Kualitatem
When I applied for a QA job, I browsed through a couple of articles to figure out what are the usual questions asked by the interviewer. In doing so, all of the articles that I read included a few highlights of the skill set including technical skills, experience and a degree in the field as a plus.
When I walked in my interview, I knew that knowing the tools and knowledge related to my field was, of course, important, but it was expected that I'd be judged on the basis of my soft skills. "Communication Skills" is considered the star of the show in every field, even in QA.
Even if the other soft skills get overlooked at some places, communication remains vital. This isn't just to communicate with other colleagues, but it is much needed to converse with the clients at one point or other.
Undoubtedly, a QA tester's technical skills are significant and help develop a logical understanding of the project, apart from addressing the engineering and mechanics. Moreover, they need to be in sync with the latest trends in the market; but, today, let's focus on those much-needed soft skills that can help you grow if you are planning to stay in this industry in the long run.
1. Ask the Right Questions:
Whenever initiating a new project in this industry, it's always safe to not play a know-it-all as every project that you work on is not always the same. It's a good approach to gather as much information in the start so that productivity is not affected.
Always start with these basic and fundamental questions, so that the risk of failure can be reduced at the beginning of the process:
How is this application going to be used?
Who are the end customers?
What are the peak usage times?
What are the most common browser/hardware/OS configurations?
What is the scope of the project
Also, know which tests to perform on the application. For instance, if you are testing an e-Commerce website offering sales and deliveries it's better to perform stress, performance, and security testing to as it will be receiving a lot of traffic and online payments.2. Listen, Pay Attention, and Then Reflect!
It's good to share your opinion, but hasn't it sort of become a common practice for people to cut in when one's talking? Often times, you'd notice that people interfere in the conversation without even letting the other person finish first. Sometimes it goes in our favor, but in this field, it's best to always listen to the stakeholders' needs first and understand them accordingly before barging in and sharing your thoughts. The communication in our field should be open-ended. This helps in not only establishing a gateway with the client but also helps in enhancing the application's productivity.
3. Stakeholders and Business Focus
The main focus for the testers is to look at the application through the user's perspective. Although no one likes to attend meetings especially ones with the stakeholders involved where you need to update on team's effort and productivity. They aren't interested in knowing about the number of bugs reported. Hence, rather than wasting your time in this, make your speech more visible by showing the productivity in the form of reports that helps in identifying the risks that can be faced by the business.
Additionally, communicate to them what value you added to the project. Consequently, this will make them appreciate your team, productivity, and effort more.
4. Team Player
In the QA Testing industry, overcoming communication barriers is a skill that needs to be mastered, as we all have to communicate not with our peers but also with the clients. Therefore, conducting standups and holding quick feedback meetings with the PM or Test Manager is a good approach. A QA tester should be a team player. Not just in terms of work, in fact, s/he should be able to practice excellent interpersonal skills with others and have a friendly chat over coffee or lunch. This helps in discussing things in a lighter mood in a situation away from work.
Also, the channel should be open both ways to establish a relationship of trust and using it for providing quality work.
5. Dealing with Pressure
No doubt that there is a constant pressure on the stakeholders owing to intense deadlines, or when introducing new features and attending to customer requests. There are times that this pressure is diverted to QA teams and that's when the blame game starts. All this happens because QA is the last gate that needs to be passed before launching the final product. In a situation like this what I would suggest is to hold your ground and know how to negotiate rather than committing to unfeasible deadlines. Also, if your team is not satisfied with a few functionalities, the best practice is to review the scope, meet all the requirements accordingly, and then finally launch the application using feature set approach.
What we need to understand is that QA is an essential step that can in no way be ignored, skipped, or compromised in terms of quality due to deadlines. That is the worst mistake that you would do!
6. Managing the Time just right
Managing your time is obligatory. Know this that lacking time management skills affect the quality of work as well as performance. In my experience, it is always a good practice to know your timelines at the start and manage your workload accordingly, because it builds up the pressure.
Also, in projects with tight deadlines, you often miss a few basics like updating the documents, generating test scenarios, updating regression suites that result in poor results and ultimately, affect the quality of your work.
7. Trust That Intuition!
Companies prefer hiring a QA tester who knows how to deliver and trusts his intuition. The reason for this is that such a person is able to add more value to the company in the long run over a person who is able to perform well when 'pointed' in a direction.
To grow as a QA Tester and make a name for yourself in the market, enhancing and polishing your soft skills is an important step. Because this is the only way you can increase not just yours but the value to your company as well and helping them expand. Let me put it this way who would you want to hire, a person with high grades with no capability to grow or a person who can add value to your team and help the company grow in the long run.