Telecom Sector Needs a Revamp in QA Strategy More Than Ever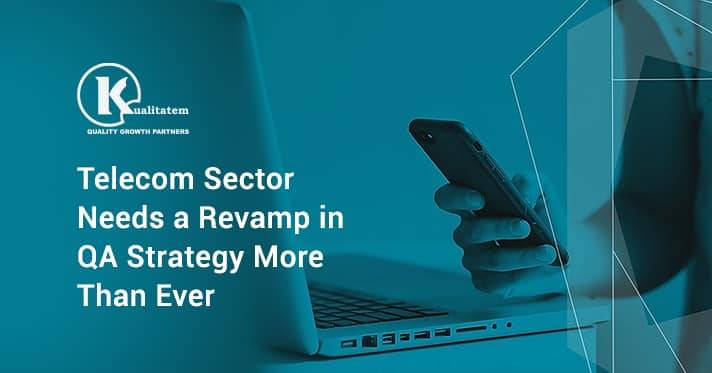 May 6, 2020
Hiba Sulaiman
In recent years, we've seen exponential growth and innovation in the telecom sector due to advancements in technology and changing consumer preferences. But these factors are also causing disruptions and posing unique challenges for telecom service providers. The advent of digital transformation and new technologies such as AR, IoT, and VR in this cloud era call for new strategies to ensure quality in the telecom sector as well as profitability.
Challenges Faced by The Sector
Speaking of profitability, the telecom sector has witnessed a gradual decline in profits in the past few years. This is mainly due to an increase in demand for innovation, quality, and more services. Telecom companies face the challenge of finding new and better revenue streams. From customers, they face the pressure of 24/7 availability of quality service, and on the other hand, they have to keep the investors happy by providing sufficient ROI. All of these challenges combined result in an increase in operating and infrastructure costs.
Speaking of infrastructure, telecom companies want a scalable, dynamic, and flexible infrastructure. It must be able to allow them to develop multiple services as per consumer demands. Along with consumer demands, competition is also a major driver that requires companies to shift from traditional voice and messaging services to new offerings. Companies have to keep innovating to survive in the competition and offer new services without any functional errors.
This brings us to the topic of new offerings.
Goal: Finding the preferences of the new generation.
Challenge (for example): Surviving in the age of WhatsApp, Skype, and other messengers.
Possible Solution: Re-route calls to messenger apps if the subscriber is out of the network coverage area, but is available in the WiFi area
These goals and challenges require telecom companies to build relationships with important players from other industries such as banking and finance, transport, logistics, online retailers, etc. Telecom companies also need to stay active and participate in IoT projects.
Why does Telecom Need QA?
The primary purpose of every non-profit organization is to maximize profits. If a company is unable to do so, some amendments need to be made. As discussed, the telecom sector is experiencing a decline in profits. And since customers want more services, quality, and innovations, companies have no choice but to give it to them and try to stay ahead of the competition. And this where QA has a significant role. A QA software testing company tests operations of the software and systems for delivering the right output to ensure that the demands of consumers are met.
As new products, subscribers and solutions continue to increase, operational services like service configuration, order fulfillment, customer care, and billing become more complicated. This increases the overall expenses. Therefore, to have a competitive advantage, QA and testing must be leveraged to ensure that new products are convenient, secure, and function properly.
Areas of the telecom sector such as service provisioning, fault management, network inventory, and network configuration are the most critical. Software testing companies can be of great help in setting up a QA process that manages all of these areas by addressing key issues.
Telecom companies need to restructure their infrastructure, IT connectivity, and focus on offering voice and data services that are both affordable and reliable. Network security must be given top priority due to increasing threats. To ensure that your security is up to the mark, it's crucial to conduct comprehensive security tests. Overall, a software testing company puts processes in place to ensure quality, security reliability and develops solutions that fit your business.
Satisfying customers and being able to retain them is also a big challenge. Telecom companies need to establish a robust back-end software and a customer-facing application that is user-friendly and highly responsive. In this scenario, hiring a software testing company won't only help deliver better quality, but will also optimize time-to-market and will significantly reduce customer complaints.
How do QA Providers help?
A software testing company can help telecom companies enhance the quality of key business products by ensuring that BSS/OSS solutions meet all business and customer requirements. QA providers help with modernization and software up-gradation by ensuring proper data migration from a legacy system to a target one.
Software testing companies optimize QA processes by examining existing QA processes and recommending a plan to improve. They develop the right test documentation and quality metrics to measure results. QA consulting team implements proposed solutions, supervises the entire process, and addresses key issues. As a result, the telecom company will get a well-set QA process that fits their type of business solutions.
Lastly, QA ensures positive user experience and customer retention. Old features must not be forgotten after the release of new ones. There are still many consumers who use voice call and instant messaging services. QA ensures high performance of backend infrastructure and speeds up communication with the operator.