Securing Digital Payments With The Help of Software Testing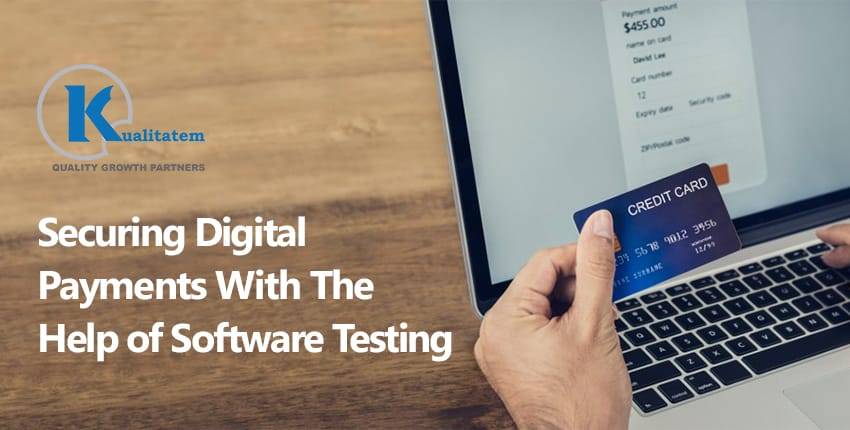 March 26, 2019
Hiba Sulaiman
Digital payments are at the forefront of technological advancement in different businesses. The security of digital payments remains a top priority for customers due to a variety of payment platforms that may or may not be reliable. Customers rely on payment service providers (PSPs) if their services are secure.
In 2014, there was a data leak incident at Home Depot due to a breach in their system. 40 million people lost their credit card data and Home Depot had to pay compensation to cover up the losses and invest in strengthening digital payment services. Data breaches occur daily and users are at risk of losing their personal information and money. As a result, digital payment providers risk losing their reputations as well. Security in digital payments is the talk of the town for stakeholders and important to protect all sort of confidential information from criminals.
As per a consumer protection survey carried out by the U.S. News & World Report 1500 credit card consumers shared their scam experiences over a period of three years. The participants also shared any preventative measures they took to secure online payments from fraud or theft.
23% of the respondents said that they experienced scam
39% said they did not take any measure such as checking their credit card statements to protect their personal data
66% of the respondents said that they rely on credit card companies (and their payment system) for protecting crucial information
Most of the digital buyers save their card payment details online for future purchases which is a threat to their personal data. Companies must use such solutions that aid in protecting customer data online. Many software and applications are susceptible to breaches and hacking. It is, therefore, essential that companies perform rigorous software testing to ensure that their software and applications are impenetrable, work efficiently, and allow safe digital transactions.
Quality Assurance –Pivotal for Robust Security in Digital Payments
However, research finds that online payment fraud losses are expected to increase between 2018 and 2023. Understandably, people are fearful of making transactions. Most are looking for secure payment options online. Quality assurance plays an important role in ensuring robust security in digital payments. Thus, there is an urgent need for online companies to utilize benefits that quality software testing provides and consequently retain their customers.
How Can Companies Ensure that Payment Platforms Safeguard Client Data and Win their Trust?
By using PCI/SSL Compliant – Online businesses should meet the PCI/SSL (Payment Card Industry/Secure Sockets Layer) standards to enable easy payments through credit cards
Transaction Data Encryption – Companies should provide secure online transactions by providing payment solutions that offer encrypted data
Software Testing – Software Payment platforms should be tested for any glitches and rectified for high performance and reliability. Software testing services are crucial to make digital payments secure, easy to use, and customer friendly
Using Strong Authentication – Using multiple authentication factors help in making customer data strong
Fraud Prevention Tools – Businesses should invest in anti-fraud tools that can detect hidden malware. Companies should integrate these tools with payment solutions that gather information about various transactions. Fraud can be detected at an early stage with the help of observing common indicators of fraud attacks. Real-time reports and utilization of prevention tools help in ensuring continuous improvements in the payment security best practices
Customers Look Forward to Secure and Trustworthy Payment Platforms
Since customers today are very cautious about using secure payment tools while shopping online, organizations need to make their applications safer. It is important to protect customer identity. Otherwise, the privacy of the customer's financial transactions may be compromised. Organizations need to invest in software testing services to provide secure digital payment platforms.
Solutions for Safe Digital Payments with Advanced Mechanisms
The industry needs to implement more advanced mechanisms in the near future to prevent identity thefts and loss of consumer information, etc. A similar strategy that organizations are using is by building their own payment modes. For instance, social networking sites are innovating payment integrations through built-in user interfaces. Google has launched its own 'Google Pay' and WhatsApp is planning to release a similar payment mechanism soon. It goes without saying that companies should use software testing in the best interest of making safe and secure digital payments.