5 Reasons That Reflect Why Independent Testing Works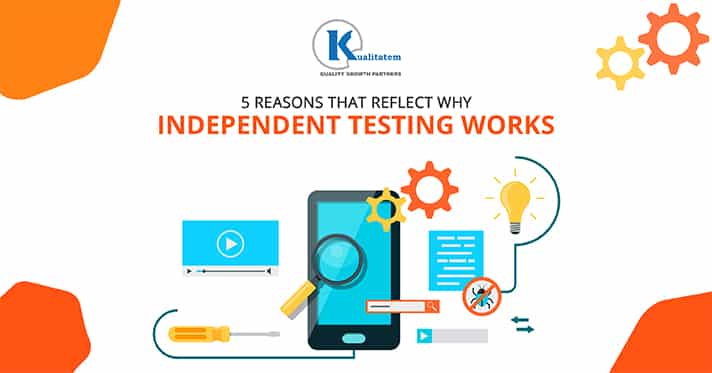 May 24, 2019
Hiba Sulaiman
Different businesses around the world are launching their apps and software every other day. Their ultimate goal is to make progress in their business. Therefore, they are ready to do whatever it takes to make sure that their software or mobile application works without any flaws. Because at the end of the day, the more their software or mobile application works efficiently, the more customers' trust they'll gain. There are quite a great number of independent software testing companies who are burning fuel at both ends to make sure that they deliver the ultimate customer experience. In this blog, you'll find out the reasons why independent testing works best when it comes to ultimate customer experience.
Here are 5 major reasons that show why independent testing works:
Improved Quality of The Product (Software)
An independent software testing team gives a non-biased, authentic and realistic review of the defects. It helps the developing team to fix them without making any further delays in the work. Hence, the quality of the software is increasing in all this process. Another benefit of independent testing is that the whole process from the development of the software to the product release is streamlined. This brings us to our next point which focuses on reduced management efforts.
Significantly Reduces Management Efforts
Since the whole process flows in a systematic pipeline, therefore, the management efforts to carry out the whole project are reduced significantly. Outsourcing testing will save managers the trouble of hiring and training the testing team. Independent software testing companies offer trained and experience testing staff. Therefore, you can make your product efficient and effective with minimum efforts and human resources.
The Expertise of The Domain Masters
Not all the apps and software are of the same niche and domain. Therefore, if you are a software house, it is impossible for you to hire different domain experts for every single project. However, independent testing companies offer domain experts. They have a testing team which is an expert in different domains. This will save your company a lot of effort and money at the same time. When you outsource testing, you don't need to worry about all the hassle of hiring the domain experts. This can cost you a lot. This brings us to our next point which talks about the cost-effectiveness of independent testing companies.
Cost-Effective Solution
Since you are getting the services of independent companies, you don't have to worry about the huge expenses which come with hiring domain experts. These companies take care of providing the domain experts which are suitable for your project. This makes the overall process of product development very cost-effective which means added profit for your business. When it comes to business, believe us when we say that every penny counts.
Timely Market Delivery
The most important benefit of independent testing is that it ensures the on-time market delivery of the product. The importance of a timely product launch is very crucial. The market out there is full of competitors and everybody is trying to win the race. The only way to compete in the market is to ensure on-time delivery of the quality product. Independent testing makes sure of both these things.
Conclusion
Independent testing has countless benefits to offer for your software. If you want your product to become a success, then you can't compromise on the quality of your product. Kualitatem is an independent software testing company which ensures all the above-mentioned benefits to their clients. Independent testing services from a quality partner can help you realize many benefits. Timely product releases are only one of them.