Proactive Approach to Optimize Mobile App Testing Services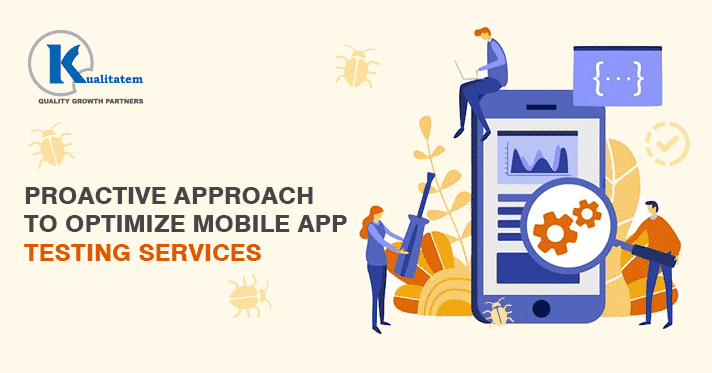 June 19, 2019
Hiba Sulaiman
One of the most important ingredients to successful mobile app development is the optimization of the end-to-end performance. Getting things done in the right manner at first attempt is not an easy task but organizations need to devise strategies to beat their competitors. Organizations have designed their web applications that are also compatible with mobile phones. If you are looking to attract visitors on your mobile app, then your business needs to cater to personalized user experience while users are using the application.
Here is a list of things that software testing companies can do to optimize mobile app testing services:
Analyzing User Experience
Quality Assurance (QA) testers observe how the users are using a product and expecting from it, so they can make the necessary adjustments during testing. Testers can predict how to improve user experience by getting feedback from actual users of the product. This usually defines how far the product would survive in the market. It does not matter what the QA teams have in their minds when designing and developing an app. Rather, it depends on the users to mentality to assess how well an app works for them.
Early Tests
The ultimate purpose of software testing is to safeguard users from irritation while using your mobile app. It is easier said than done. It is quite challenging to follow a proactive approach while designing and developing an app. QA managers fail to keep checks on their development teams and testing is not conducted at the early stages. However, if potential issues are detected at early stages of the software development lifecycle then QA has a lot of time to fix the issues. Developers also gain an advantage from this by improving the features of an app, making it more user-friendly. When testers implement test cases earlier than the codes have been written, the cost of fixing codes can be reduced.
Traditional Vs. Proactive Approach to QA Software Testing
There are two approaches to software testing, traditional and proactive test design. In traditional software testing, there are sets of tests that require testing according to priority. The issue with this approach is that QA comes in the latter stages of software development. The most critical test cases are tested to get results, which usually ignores some of the test case scenarios. On the contrary, the proactive approach to testing begins right with the first step of software development. Instead of writing test cases later, testing is based on risks and is analyzed before beginning the actual testing process. Thus, we can compare that traditional approach will only test the design, whereas proactive testing will allow assessing the risks and then design the test cases. Developers implement these tests earlier so that there are more chances to ensure quality product without wasting time and money.
Conclusion
Mobile app testing companies spend a fortune on ensuring their testing services stand out from their competitors. However, the above proactive approach to mobile app testing can make a whole difference to the testing process.