5 Best Practices In Software Testing To Follow In 2018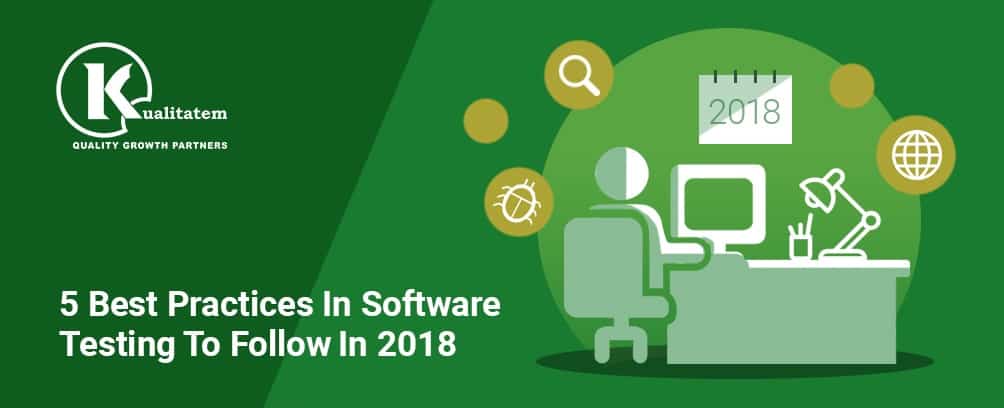 January 2, 2018
Kualitatem
2017 has been the terrific year for software testing. It has introduced a trail of creations for forever-thriving testers. Software development is all about inventing new products and services, it is actually a continuous process where testers experiment and learn by making mistakes.
Testing is the central focus of any software development cycle that emphasizes on increasing productivity, decision-making process, verification, and better deliverance of testing-smart devices. It is entirely aimed to achieve client and user satisfaction.
It can be foreseen that the always on the go IT field is set to surprise the QA testers with some quite dynamic testing trends for 2019. Because the testing cruise is in its full stride, so on the spur of the moment we have collected top 5 most robust practices in software testing to follow in 2018.
It's time that every QA tester must get ready to dive into the vigorous wave of best testing practices.
Curious much? Keep reading to learn more about it…
BlockChain Technology – For the Win!
The BlockChain is an unbelievable technology that is all about reducing human-error index. It was originally created to form a new backbone for secure information distribution and to boost the concept of digital currency, also known as Bitcoin (digital gold).
The nascent technology records every new transaction like a ledger and later validates it by comparing with already recorded transactions. These blocks or units of information are stored across networks on every node or system. It decentralizes information and spread all the way to the systems and this is why it is known as the distributed ledger.
Now, the techie-geeks are referring it as the most disruptive innovation on the internet in decades.
It is expected to reduce money consumption, pave new ways for IT and software testing, and most of all, its node system is going to give hackers a very tough time in the field.
It won't be in vain to say that we will become block chained aliens in the imminent cyber year!
AI Will Continue to Shake the Grounds
In the beginning, the AI was little known, however, as days passed, it could be seen everywhere in the form of contraptions, voice assistants (like Siri, Cortana, Alexa, and Bixby), etc. Eventually, it became necessary to meet the demands of Agile and DevOps as well.
Ironically, human involvement will become irrelevant and AI will be more prevalent. Does it hurt? Though, it is highly expected!
In2018, Artificial Intelligence is deliberately set to distinguish new ways for software testing and take over human involvement. With AI, QA testers would be able to check if the desired goals are met or not. In short, AI will reduce time and money usage for every tester. It can be foreseen that better machine learning will rise better software testing practices in the future.
AI will surely become every tester's BFF!
Stakeholders will largely invest in IoT
Internet of things or IoT will be in great demand due to the increased creation of products and services. It's all about those "things" that are connected to the internet, interesting, right?
The intense rise of handy devices is actually alarming testers that their job will get an even edgier in the coming days. This is because the diverse patterns of IoT will require robust testing qualities to assure if the product's services meet the users' demands or not.
Importantly, the IoT technology will help in accommodating their potential consumers' requirements. This is how the service level agreements will get more directed and focused. This indicates why it will be another central point for software testers in the next-gen cyberspace!
BigData – a substantial innovation
Here's an example for you, in the coming year, even your car's tire will become integrated with sensors that will wirelessly connect with the telemetry boxes and cloud serving as a big data resource for you.
Now you would have known that how BigData combined with IoT and AI going to turn the IT world totally wireless and connected.
Big Data is going to be tech-lit as it will see quite rigorous innovations and recreations such as perspective analysis, Dark Data, Machine Learning, and intensified cybersecurity tends.
It's not too late, so research it well and make some breakthroughs in the software testing field!
Let Robotics Do the Work!
Robotics have been practiced for a long time and it did not take much effort for mega services to recognize its value. In 2015, Uber began the trend by hitting its autonomous car on the roads of Pittsburgh. Now, its Tesla, BMW, and many major services that are all set to begin the robust journey of robotics. Not only on roads, but robotics will also dominate over the healthcare sectors in the form of wheelchairs, nurses, etc.
To keep the system running, software testing teams need to get strictly geared up because robotics is going to be a tough challenge in 2018. Take a glimpse into the future and you will see Robot-as-a-Service rising, more incentives for the experts, the Governments becoming an investor, and much more.
While software-based robots will be programmed by Cloud that would allow decentralization and control access to other linked robots as well. Hence, it is totally clear that 2018 is about all whopper IT things and software testers should know what should be their next new topic to learn.