Here's A List Of Our New Year Testing Resolutions!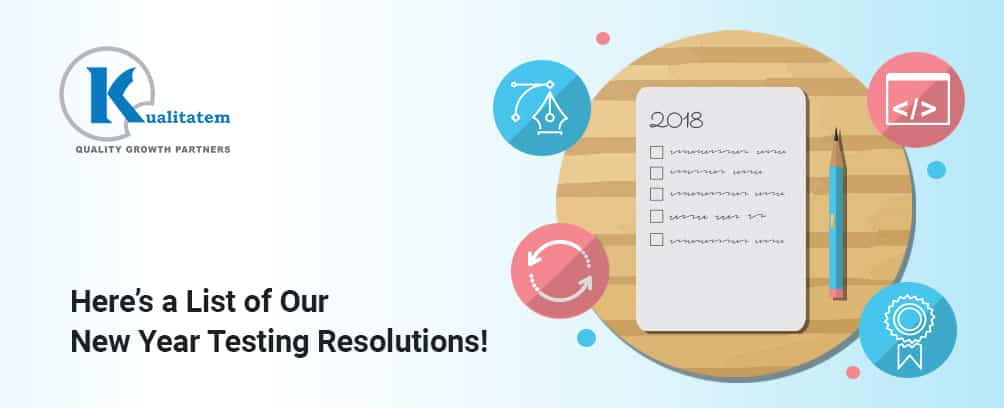 December 26, 2017
Kualitatem
2017 was indeed a monumental year for software testing with a trail of innovative concepts introduced. These technical amplifications called for the need to develop new algorithms and administrations, which was a ceaseless process for testers to explore and learn through trial and error.
Testing remained the focal concentration of any product development cycle, which accentuated more on expanding profitability metrics, modifying leadership skills, and delivering better CX approved devices — altogether intended to accomplish customer and client fulfillment.
However, as per Gartner and Dimension Data, 2018 will likely introduce a whole new chapter of software testing.
It's time that every QA tester begins to learn some of the best testing practices in 2018.
Pillar of Testing — AI
In 2018, Artificial Intelligence is all geared up to pave new traditions for software testing that will ironically take over human contribution. AI will enable QA testers to assure if the expected objectives are achieved or not while reducing the time and money usage is another goal.
To cut a long story short, AI Foundation will become an ultimate help towards the business portals in achieving best customer experience.
As per Gartner's recent survey, 59% organizations are already incorporating AI strategies in their development system while many are planning to design some AI crafts.
Intelligent Apps and Analytics
Alexa, Siri, Bixby, and that's it? No, there is more to come with AI Foundation. According to Gartner, in the coming five years, almost every app will have the AI base.
David W. Cearley, VC and Gartner Fellow in research says, "Challenge your packaged software and service providers to outline how they'll be using AI to add business value in new versions in the form of advanced analytics, intelligent processes, and advanced user experiences."
Robotics as Intelligent Things
In future, it is nearly impossible that every gadget will run without AI. People would get habitual about how they interact with their everyday intelligent household items. As time is passing and technology is revamping, we have an impression that the future will be more based on Augmented Reality and Virtual Reality patterns, maybe in the form of a self-controlling vacuum or a sensory car tire.
Robot-as-a-Service will rise, the wages will increase, Governments will become a prominent investor, and there's a lot more to expect from the future in this context.
Besides, robots will be programmed by Cloud servers for achieving decentralized information to get control access to other linked robots.
R-a-a-S testing will become another important area to conquer in order to win the battle of the fittest in the future!
Digital Twin
Digital Twin won't be something cute because you see twin there, instead, it will be interestingly productive in the long run testing.
Leaping out of the bounds, Digital Twin will allow its users to enjoy a digital depiction of a specific real-world intelligent entity. In the framework of IoT, DT will bestow the intelligent things with exchanging information as a counterpart, responsiveness towards changes in the interface, and it will also improve operations by adding value to the product. Hence, testers need to equip themselves with a testing skillset that is compatible with Digital Twin.
BlockChain – Disruptive Innovation
BlockChainis another innovative technology focused on reducing human-error. Basically, it was invented to secure the information decentralization processes and to lift the Bitcoin concept.
The Blockchain of information is stored on various networks known as nodes. It dissipates data from a central office to other connected networks and for this reason, it is known as a distributed ledger.
Blockchain technology is expected to minimize money crisis. WhenBlockchain testing becomes a common practice, its node system will make the cyber-criminals punching on the walls.
In a nutshell, 2018 will be all about innovations; therefore, testers, it's time you buckle up and get ready to ride along this wild adventure.