Leveling up your QA teams for 2020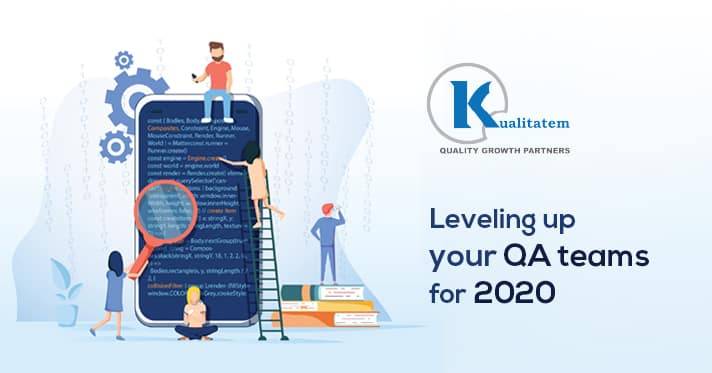 August 29, 2019
Hiba Sulaiman
With the digital revolution, software testing is becoming highly automated. Is it far fetched to consider the Quality Assurance (QA) role to wane? We disagree. We see QA as enablers to the implementation of new processes in software testing.
We look at many new and evolving technological trends that are to dominate 2020. In light of those, we examine the role of QA and what they can do to stay on top of the game.
The first trend we look at is the growing emphasis on big data. Enterprises aiming to maximize their marketing, are paying more attention to studying data analytics. Understanding data segmentation leads to better decision making. QA should gear up for validating big data applications.
Customer satisfaction is paramount to product success. According to a study by Walker, by 2020, consumers' choice of products will tap into the customer experience. This means the scope of testing will broaden and no longer be confined to simple bug detection and fixing processes.
DevOps enable collaboration between operations and development teams, ensuring continuous delivery. QA should be prepared to support DevOps.
Because of the agile processes, the number of releases has increased. QA has to find creative ways to make their solutions scalable for meeting increased testing needs.
Developers do their own share of testing. QA teams should have a centralized process where the testing team is aware of the work of the development team as time is wasted by repeating tests already conducted but not documented.
Artificial intelligence (AI), with machine learning as its core process is definitely on the rise for 2020. A World Quality report lists 55% of the people they surveyed had problems with setting AI projects. QA teams should adopt machine learning techniques for test suite optimization, predictive analytics, and defect analytics. These will help to identify extra test cases, risk areas of applications and predict future outcomes based on data. Greater use of AI in software testing will mean expanding the QA team to include QA strategists, data scientists, and AI test experts.
QA teams should develop an awareness of new technological tools. Investing in research on new technologies and QA testing tools can foster knowledge sharing in the testing team.
The testing team can influence the development of the software by prior engagement with quality engineers. They can offer valuable insights and skills on testing that can guide the developing team towards quality.
In spite of the increased role of the internet of things (IoT), businesses do not have the right testing strategy for them. QA should ensure the following checks are conducted in the IoT field: device versions and protocols compatibility, monitoring connection delays, safety, scalability, and data integrity evaluation.
Software testing processes rely heavily on automation. In 2020, this trend will stay afloat. QA should continue to work on automated code and process verifications.
Although user experience is thought to be relevant purely to a web page, it is key for any software. The more user-friendly a product is, the more is its viability. As we move into 2020, testers will have to factor in an increased emphasis on UI testing.
In the past, the testing focus has mostly been on the performance of the software. In the future, other factors like quality, usability and customer value will be integral to testing.
When products were simple, testing at the end of the development lifecycle was sufficient. As technology is changing, products have become more refined. With that, QA should create more testing centers (TCoE) that provide specific monitoring formats, off-the-shelf platforms and testing tools, boosting software quality processes.
Mobile usage is another trend of the modern age. Mobile apps are abundant, catering from broad to minutest needs of people. Mobile phones are used across the globe. A Statista report shows that in 2018, 52.2% of all internet traffic was generated through mobile phones. With this rising trend, QA teams will have to reorient focus on testing more mobile apps.
Security threats to software have appeared to grow, especially in the financial sector. Hackers are always on the lookout for vulnerable apps. QA teams need to be equipped to answer this surge in demand for security testers.
We hope QA teams will benefit from our forecast trends for 2020 and related tips for QA. We wish QA teams the very best in their pursuits.