Key Considerations Before Partnering with Offshore Testing Teams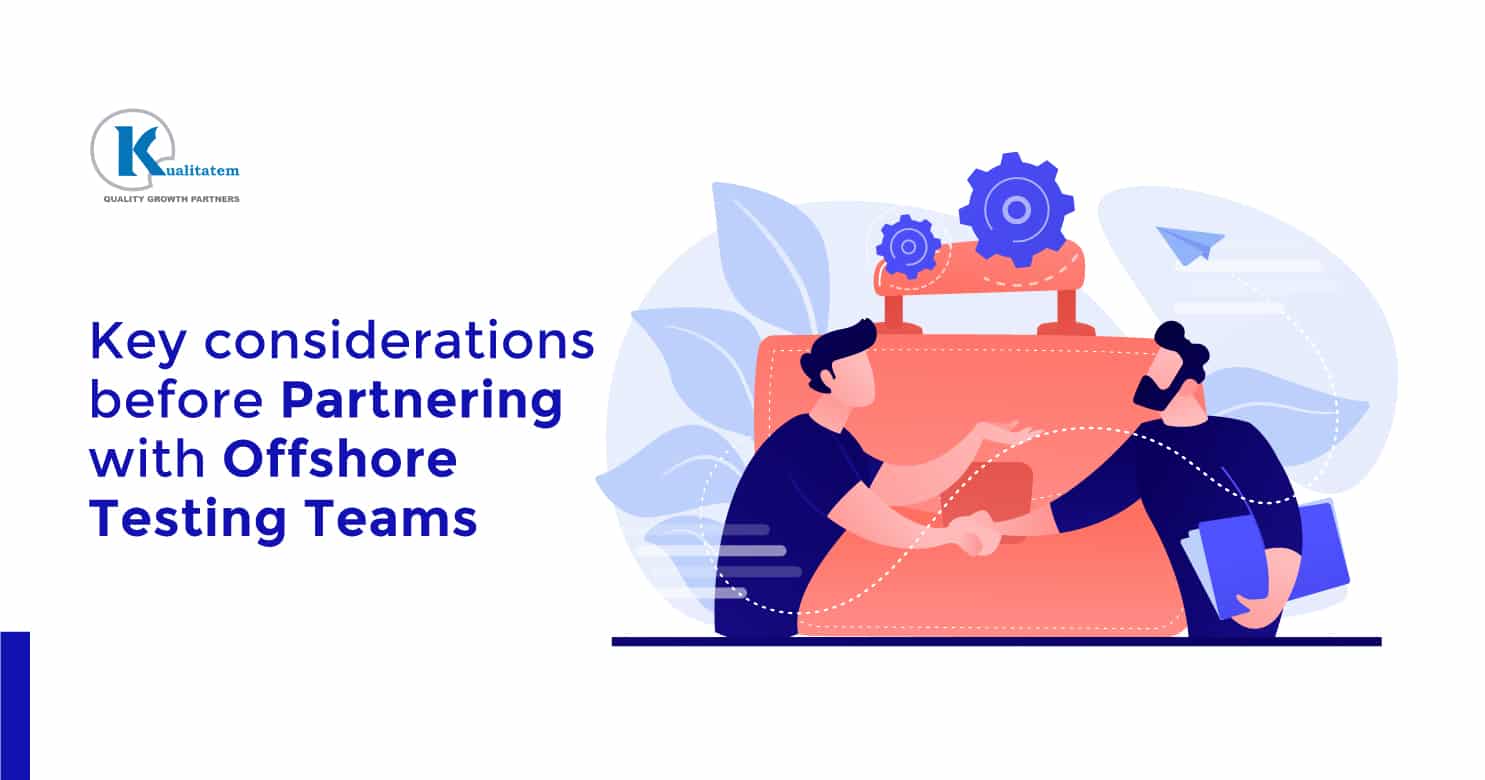 December 17, 2020
Rubab Kazmi
The business world is observing a neck-to-neck competition from the past decades till now. But today the dynamics of this competition have changed. Earlier businesses competed for the sake of reaping profits and market share. Now the businesses compete on the number of satisfied customers or users and the goodwill of the brand. Market share, profits, and financial hunger are still alive. This has made it extremely challenging for businesses to satisfy a pool of users to be on top of the market. Over a period of time, the studies conducted on consumer behavior have shown that consumers are most interested in the quality and unique features of the products are it commodities or even technical products like software systems, apps, etc. But when it comes to software product development, the job of the business owners becomes more challenging.
Technology is now ruling over every single domain. It is not even possible to have an absolute brick and mortar business without involving any software, system, e-commerce portal, mobile and web apps, etc. This has made consumers all the more tech-savvy and conscious of the quality of soft products as well. And that's how software testing or quality assurance originated in the domain of software development. Quality assurance is now considered to be an essential part of the software development life-cycle. Some businesses implement tools to get rid of the software testing burden, while others refer to offshore software testing companies to divert all of their attention towards the core functioning of the business, instead of spending long hours and a large number of resources on conducting software testing in-house.
It is quite difficult to choose an offshore software testing company as the processes and plans of different companies are so similar. That's the reason in this article, we have come up with some key considerations to know before you partner with any offshore firm for testing purposes.
Several experiences an offshore firm has – For sure when you plan to hire an individual for a particular role in your organization, you first evaluate him/her for the experience he/she has. Similarly, when it comes to partnering with a team or an independent organization for its services, first look for its experience in the particular domain. The outsourced software testing company should have the required resources for the timely and successful completion of the project.
Market reputation and brand goodwill – If you do not want your finances to go waste by getting onboard the wrong organizations, you must check the organizational reputation and goodwill before you partner. Make sure you evaluate an offshore software testing firm in terms of its name and reputation in the market to not repent later on for any misuse of your sensitive information, any sort of fraud, invaluable testing results, or other similar issues..
Models of engagement – While you plan to acquire testing services from an offshore firm, it is also important to consider the company's participation model. It includes different aspects such as geographic location, business strategy elements, and landscape. The participation model is incremental outsourcing and total outsourcing. In incremental outsourcing, companies can reduce outsourcing opportunities by assigning tasks to small outsourcing companies. In total outsourcing, entire projects are outsourced to an outsourcing service provider who provides all program management. It also includes delivery to customers.
Company's infrastructure and resources – Make sure the organization you are thinking of partnering your major process with, must have an adequate number of human resources with the perfect skill set and expertise needed to get the job done. The infrastructure of the organization must be perfectly equipped with manual testers and special testing tools. You must beware of which software testing tool will be used to complete your project.
Policies of security – There's no such company in the business world that has no security or safety policy. And if there's such a company then it is not trustworthy. That is why before you partner with any offshore firm and allow them to tackle the project on your behalf, you must consider their security policy first. When it comes to software testing, the IP protection factor must be considered as primary concern. Also, make sure that your partner signs up an agreement or guarantees you the safety and security of your sensitive internal organizational data. The service providers must not expose your valuable information to any third party.
Effective communication – Undoubtedly, the organizations that grow are because of their strong internal communication. But when it comes to managing an offshore or outsourced team, effective and good communication becomes a necessity to ensure the appropriate project status and delivery. Strong communication at your partner organization's end makes you able to be on the same page in terms of project status and information. It also enables to measure the performance, redirect market strategy, and affect any change if required. Whereas on the other hand the lack of communication hampers the supervision ability and tarnishes transparency in approach.
Approach and Integration – A software testing company willing to adapt to your business ethics, working hours, communication medium, and integrate with workflow can be a great asset. The approach should be transparent, ethical, and considerate of your business requirements. This enables better coordination and creates trust between the vendor and developer which is an essential requirement for client satisfaction.
Final Thoughts
No matter how busy you are in your core organizational functioning, never consider every offshore testing firm can suffice your testing project concerns. You need to be very careful, conscious and must have an owl's eyes to look for the best suitable organization to partner with. Because if you fail in the selection of an appropriate and best partner for yourself, you have to later repent in terms of unexpected results and less market share. Sometimes you lose both satisfied users and ROI, and it gets difficult for your business to recover from such loss.