Is Covid-19 Challenging the Ecommerce Sector?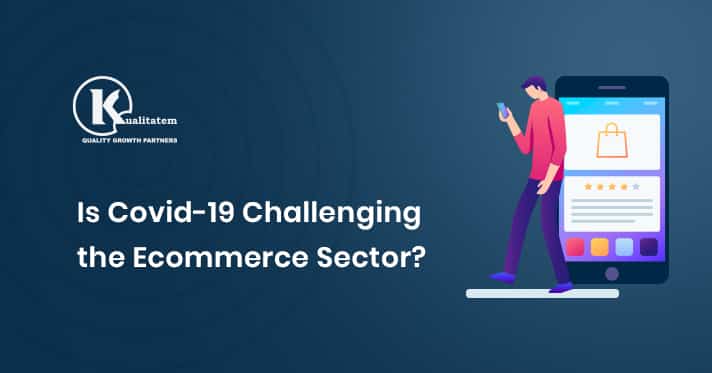 May 4, 2020
Hiba Sulaiman
Whether it is an economic recession or a dreadful pandemic, things are changing how businesses are operated. With Covid-19 spreading all around the globe, it is high time that consumer behaviors shifted. Although remote working is gaining more importance, businesses like airlines and tourism, are facing adverse impacts. However, Covid-19 is changing the way consumers behave and consume information and their concerns about how businesses operate.
Irrespective of how much industry leaders are trying to survive the current situation, the fact remains that there is going to be a global recession in 2020 and a few years ahead. However, the magnitude of the impact on each industry is different. So the most important question right now is how Covid-19 is giving birth to new challenges for the eCommerce sector? And what is going to happen once all of this is over? It also opens new opportunities for offshore software testing services to explore how to expand their services in the best interest of the retail businesses. Let's have a look at it:
E-Commerce and Covid-19 Challenges at its Peak
With lockdowns implemented all around the globe, the brick-and-mortar retail owners are facing huge losses. Governments have enforced quarantine and restricted outdoor trips, and with all the social distancing, these businesses can't seem to survive. On the contrary, eCommerce faces continuous challenges with respect to shipping and supplying goods. According to research in China, consumers are expecting this situation to persist for another four months. In addition, consumers are expected to spend more on consumer products in the coming months as compared to the past few years. All the forecasts with respect to eCommerce sales are expected to rise globally in 2020.
Quality Applications – Need of the Hour
Since eCommerce deals with the sale of goods and services online, it is emerging as one of the best solutions in the pandemic state. Online grocery shopping and medical assistance, are aiding social distancing and reducing the risk of spreading the virus. Thanks to technology, video calls, live streaming, online education, and entertainment make social distancing measures more practical and bearable. This is why it is important to test software applications that are being used in eCommerce regardless if it is a web-based or mobile wallet application.
Similarly, e-commerce is one of the platforms to help preserve jobs during the existing crisis. Many restaurants have closed down due to economic conditions, yet online delivery services have become a lifeline for survival. Teachers and trainers continue their jobs via video conferencing.
A Boost in the Online Grocery Stores
Currently, there is a severe lockdown situation in all countries. The number of people who have gone into isolation is increasing exponentially. As a result, consumers are looking towards online grocery stores to get their basic necessities. According to Carrefour, a French retailer stated that the delivery of vegetables has increased by 600%. Let alone, a Chinese retailer reported that there was a 251% increase in the online grocery sale since the end of January 2020. Thus, it becomes extremely important for a software testing services company to ensure that there are no issues in the software applications, and it has the best user interface to help people get their necessary supplies conveniently.
A Major Hit on Smartphone Delivery
Due to the issues with the supply chain during the quarantine period, the online sales of smartphones are expected to decrease by more than 20%. Due to the disruption in the supply chain, Apple is also concerned about not being able to meet its objectives in the first half of 2020 so far.
A Ray of Hope Amid Pandemic Crisis
Even though Covid-19 is a contagious virus, however, innovators are coming up with revolutionary ideas. It is time for companies to experiment with their robots, drones, and automation technologies for delivering products. It is a difficult time for many businesses but innovative ideas with respect to selling their products/services online will certainly help them survive.
Reducing Physical Contact with Contactless Solutions
Since there is a greater need to minimize physical contact, businesses can come up with contactless solutions and prevent significant losses. For instance, the food delivery businesses encourage payment via cards and their delivery experts leave the food on the door to make it a contactless transaction. This idea can be used by various other businesses that are looking forward to developing technologies that can work seamlessly, but they need to have their applications tested to ensure safe and convenient transactions.
Using Virus Protection Products
Health and government authorities urge people to maintain hygiene and avoid touching their faces. This is a major reason why people are stocking up on gloves, sanitizers, masks, alcohol-based cleaning agents, etc. Where businesses are laying-off their employees and hardly surviving, millennials are ordering these products online. This aids eCommerce portals to earn revenue. But here, the importance of a software testing services company cannot be denied. It is extremely important to test the innovative software solutions that companies are introducing to extend their products and services online. So we agree that businesses are getting shut down due to the current economic wave that has hit across the world, yet the eCommerce sector can overcome all these challenges smartly until the lockdown is relaxed. Online shopping portals are going to be the future shopping malls for a long time now, at least till there is a vaccine and everybody has access to it. It is also a real challenge to remain focused and result-oriented in these crises but let's hope for the best.