Biggest IoT (Internet of Things) Challenges in 2018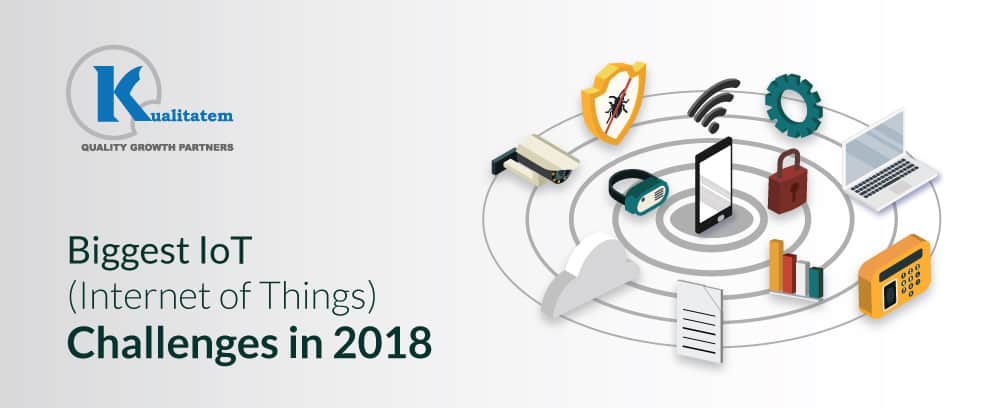 February 8, 2018
Kualitatem
Just not businesses, but the consumers are also anticipated to adopt using the next level technologies —the Internet of Things (IoT) being one of them. Just imagine your car's tires communicating wirelessly via a telemetry system to save you from an accident in case you doze off while driving. Amazing, right? All thanks to IoT Technology that's here and staying around to bring more convenience to our everyday life and work activities.
Gartner predicts that by 2020, IoT technology will be in 95% of electronics for new product designs.
Business Insider adds more to your amazement by estimating that within next 5 years, $6 trillion will be invested in the IoT practices alone. 2017 just saw the beginning of IoT industrial revolution that has greatly wheeled the businesses, consumers, as well as the governments throughout the previous year.
In 2018, IoT is expected to appear along with more powerful tech trends such as Digital Twin, Cognitive Computing, SaaS, Blockchain, etc.
However, there are still some serious challenges in the way of IoT adoption. Read on to know the biggest IoT challenges that will likely be witnessed in 2018.
Lack of Standardization
We are transforming digitally at a fast pace. But do you think stakeholders are ready to minimize the Device Fragmentation?
Even though IoT is progressing vigorously, it can be expected that the progress might be a bit a slow in the coming years. Most probably, the chief reason is lack of standardization in handling unstructured data and lack of technical skills to use top-tier tools. These challenges become tougher if high-end companies do not set any standards. Moreover, it would be far better if the government enforces restrictions on doing business with companies with no specified rules.
Security and Privacy Concerns
The most interesting yet concerning facts about IoT is that it will be totally engraved into our lives. What gets more challenging is our information and assets that won't be much secure in the long run.
Even in 2017, it had been a serious threat to minicomputer systems, thermostats, remote wearables, smartphones, drug infusion pumps, radio in your car etc. Moreover, healthcare and banking sectors have encountered drastic attacks coming through IoT in the previous year.
However, if IoT testing becomes a common practice, we will be able to deal with many of the existing challenges. However, the security-related concerns might alert the stakeholders about the importance of software testing as well as IoT testing in order to create unbreakable cyber walls.
Connectivity Glitches
The future will be all about billions of things being connected to the internet and trillions would be spent on them. But, this mega interlinking of connections will likely rebel the prevailing communication modules and top-of-the-line technologies.
As per the current trends, there is a concept of client/server systems that recognize and interlink with other several devices in the row. Currently, these devices are around thousands or millions in number only, but in future, the sun will rise in billions.
According to Gartner's prediction, 20.4bn connected things will be in use by 2020.
The prediction is enormous, but tackling billions of IoT would be a real-time challenge.
Probably, the centralized connections will be bottlenecked!
Sadly, the IoT systems will require large money banks to maintain the cloud-based environments that will tackle the large-scale information transplantation. Plus, the entire system will collapse if the connection goes down.
It is good, but pretty risky at the same time!
Intelligent Data Analysis
One of the most important and challenging stages of IoT is to extract insights from huge databases for logical analysis. The intelligent data analysis is done by cognitive devices, but the actual point to ponder is the vast aggregates of data. A single fallacy and a mistaken assumption can wrong the whole analysis. Skeptical enough.
No Business Model?
IoT is a great attraction for mega business and there are many predictions that indicate about huge investments to be reserved for achieving IoT resources.
But a question arises here!
Does IoT provide a business model for the IoT framework? It doesn't look like it.
Manufacturers, media professionals, finance masters, governments, educational institutes, etc. are looking at a wide level connectivity platform. However, long-term planning without a business model would lead to irreversible failures.
Compatible Hardware and Software Design
Expectedly, huge IoT connectivity would be a hurdle in security and privacy patterns. Hence, it is crucial that there should be a compatible hardware and software design. Otherwise, it won't work out.
Basically, technology is bringing us numerous inventive trends, but it is still ironic to look into how the above-mentioned challenges will be tackled.