Enhance In-House Development Quality with Offshore Testing – Kualitatem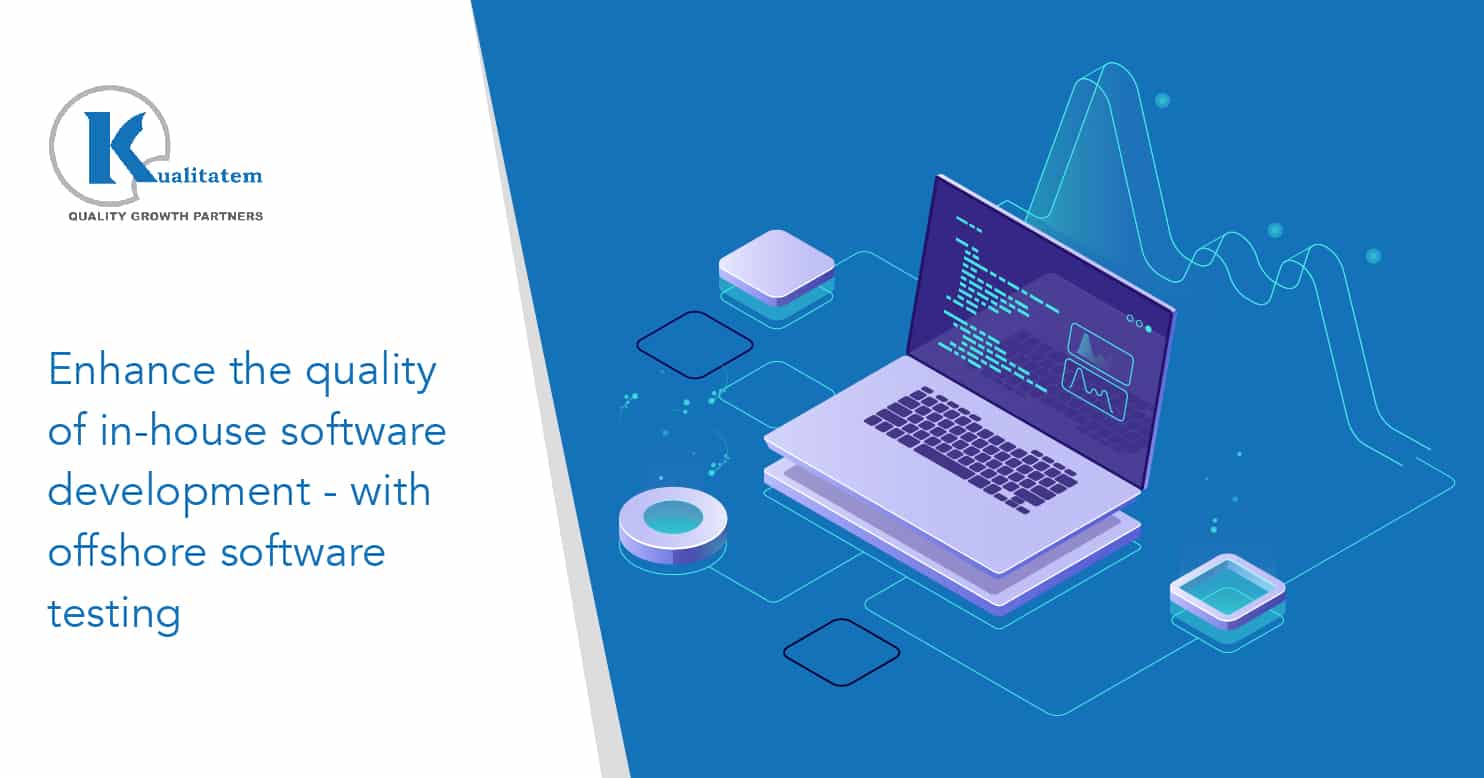 November 6, 2020
Rubab Kazmi
Acquiring offshore software testing services is one of the greatest ways to improve or enhance the quality of an in-house developed software but many businesses and organizations either show reluctance towards this approach or don't know exactly how to get the most out of it. We are living in the age of innovation and with innovation comes convenience. When you are being offered a piece of cake, don't avoid it by saying you're on a diet. Sometimes your sweet tooth must be satisfied. Similarly, your in-house software testing demands some extra efforts and energies. Consider making a software product or application as baking a cake, and acquiring services from offshore testing companies as icing on the cake.
But what if you refer to an offshore testing firm for your quality assurance needs and still do not achieve the desired objectives? This is because the information technology professionals who acquire services from offshore testing companies take a risk of releasing a product with the best quality in a short time to market. When a person is in a hurry, he/she tends to ignore small things but these minor glitches or loopholes between two parties can cause major harm to the software product and hence lost testing efforts and objectives. That's why it's highly important for organizations who are planning to partner with an offshore firm for their expert testing services to approach them appropriately. But how can organizations rightly approach their offshore partners?.
Till the end of this article, you will be able to answer the question of how firms can appropriately approach their offshore partners to enhance their in-house efforts.
Selection of offshore testing service provider
It all starts with choosing or selecting a service provider. There are plenty of options available for businesses to partner with offshore quality assurance service providers. Some of those service providers are highly professional, expert, and have a skilled team of testers while others may have relatively less skilled software testers but have a more competent set of tools that can perform the tasks with efficiency. The level of a service provider competency depends upon the number and types of testing objectives you've created. This totally depends upon you as a business owner with whom you would like to partner.
But before partnering with offshore teams and firms, it's important for businesses to evaluate these firms on two basic criteria.
One of these criteria is that the firm you are planning to start conducting software testing on your behalf must have at least one expert software tester i.e 3-4 years of experience and technical knowledge in order to gauge the project requirements meet the project results or not.
The second criterion that must be considered before you partner with any offshore software testing company is domain knowledge or having expertise in a particular domain. This is of not so great importance in the case of simple applications but the applications that are complex are mandatory to be developed by the team of members having expert domain knowledge. Another factor or criterion that is of great importance when it comes to partnering with a distanced team of firms is to know the price or financial resources it will take to partner with a particular firm. Remember that the better you've evaluated a firm before partnering, the more you'll be able to achieve your desired objectives timely and with cost-efficiency.
Defining your needs and priorities is an important task
The common mistakes that most of the organizations and businesses make these days is not defining their needs and requirements of the quality assurance or software testing for particular software products or apps. However, this can be the stupidest of all. If you as a business owner want to really get out of your software testing efforts or the efforts you've acquired while investing your financial resources from different offshore firms, the only way out is to first complete your homework; jot -down all the necessary items that will be needed for you to become successful in achieving your software testing goals. After you make a list, prioritize the tasks according to your business requirements that can not be compromised at any cost and must be done on priority.
Your list must be comprised of the following items;
Type of software testing you need to indulge in your testing project that best suits your requirements.

Number of years of experience the software testers must have

Which set of testing tools will be sufficient and will help the tasks done efficiently?

Are usability and performance testing a necessity for your software product?
The list goes on and on…
A healthy relationship between both the parties
A successful partnership is one in which every partner has equal freedom of speech. Interaction with your offshore quality assurance team must be productive. You must not initiate the blame game and blame the other team members if the testing efforts fail. Because the failure can be a result of your own incompetence in defining the project needs and communicating them to the service providers.
It is solely your responsibility to communicate the business and project goals as clearly as possible to your service provider to avoid any future discrepancies.

After you receive the defect reports from the service provider, carefully evaluate the defects and prioritize which defects or errors must be fixed first.

Arrange daily morning meetings with your service providers to track the project status and to enable a sense of responsibility at your side while ensuring that service providers are in touch with you and your team.
Final Thoughts
If you want to develop a sophisticated, user-intensive system that is supposed to provide an exceptional customer experience, you should hire a quality assurance provider whose competency aligns best with your project requirements.